Background
:
Presidential Platforms
Exclusive
Platform of a Presidential Candidate
An Interview with Haji Mohammed Yassin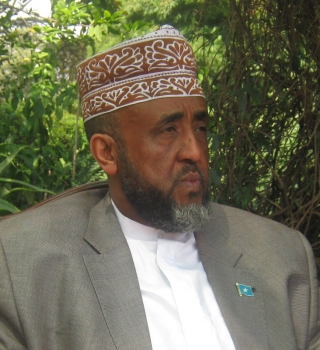 As Somalia gears up for presidential elections in August of this year, Somalia Report will be providing a forum for candidates to publish their platforms. Without endorsement, we will offer equal footage to each candidate and an opportunity for the public to learn more about those who wish to represent them. The third candidate to speak with Somalia Report is Haji Mohamed Yassin Ismail and this is his message.
In His Own Words
My name is Haji Mohamed Yassin and I was born in 1953 in Mogadishu. Although my parents are originally from Puntland, I have grown up and gone to school in Mogadishu.
Between 1972 to 1978, I worked as an auditor for the government of Somalia. I then resigned to join an opposition group against former president Mohamed Siad Barre. The opposition group, Somali Salvation Democratic Front, was formed in Ethiopia and led by former President Abdullahi Yusuf.
I served in the opposition for three years and when Barre's government collapsed I resigned and got into the real estate business in Zimbabwe.
I have my first degree in public administration and studied management, politics and business administration.
I have three wives and 18 children.
This will actually be my second attempt at running for Somalia's presidency. In 2004 I was a presidential candidate but lost to Abdullahi Yusuf.
Being a Somalia national I feel that I have a responsibility to make Somalia not only a peaceful country but a better place. Somalia has had over 21 years of instability that has shattered its economy, infrastructure, lives and led to many splintered regions as well as a rise in religious and tribal extremism. Apart from that we are also plagued by piracy, poor leadership and Somalia is currently the most corrupt country according to the 2010 corruption index, making it a failed state.
I am vying for the presidency to bring the country back to its feet under a government that will revive the rule of law.
As a country Somalia never failed, but its leaders did, especially the regime of Sheikh Sharif. They were handpicked and imposed on the people. They rose to power with no program or plan to tackle Somalia's problems. Their aim was to acquire power through foreign sponsors and amass wealth for themselves.
They have sustained the crisis and war in Somalia because they are using conflict as a cash cow with nobody holding them accountable. Sharif's regime has also used their influence to avenge against those tribes that don't pledge allegiance to them. Through the help of foreign patronage, they have intensified animosity between various communities instead of using money from the international community to build trust and promote reconciliation.
There have been three governments in the last 10 years all of which were geared towards reconciling the rival groups and none has made any significant step. The past regimes were supposed to establish federalism in the country but they failed as well. They were tasked to prepare an acceptable constitution for the country but that failed. In actual fact they have been busy keeping Somali in turmoil and lengthening their tenure so they can continue accumulating their wealth.
I believe such failed leaders are responsible for the past and present crisis. Since there is no central government, other groups like religious extremists have taken advantage. They now control many regions in the country; equally piracy has become a huge menace because there is no ground force which holds them to account.
Political Party
Candidate Haji Mohammed Yassin and his political party - Justice, Peace, Progress (JPP) - seek to preserve the unity and integrity of Somalia. JPP also aims to strengthen the forces of peace and promote economic growth through competition and self-reliance with an emphasis on quality and social justice.
JPP is committed to establishing a peaceful, prosperous and democratic Somalia that creates opportunities for all Somalis to reach their personal and national goals and dreams.
"Justice is the concept of moral rightness based on ethics, rationality, law, natural law, religion, fairness, and equity. Peace describes a society or relationship that is operating harmoniously and without violent conflict. Progress is the idea that the world can become increasingly better in terms science, technology, modernization, liberty, democracy, and quality of life," the candidate explained.
Interview
To learn more about his platform, Somalia Report interviewed Haji Mohammed Yassin in Nairobi, Kenya.
You are returning for a long trip overseas. Tell us about your recent trip abroad.
I visited a number of countries including Turkey, Qatar, Saudi Arabia and Egypt. In Turkey I met Turkish officials and including education officials. I also met with a number of businessmen and visited their companies. I also visited Qatar, Saudi Arabia and Egypt to learn more about their policies, which is important for a president. By learning about international affairs, I can help Somalia if I am elected.
In Somalia one of the strongest problem is piracy. If you become president what is your plan against piracy?
The root of this problem is lack of government. We have the longest coastline in Africa with more than 3,300km which are unsecured. There is illegal fishing in our sea and sometimes those ships destroy the equipment of local fishermen and steal our fish. This is what caused the piracy; finally fishermen decided to work together to defend against these illegal fishing vessels.
The solution of this problem is first to get the central government on the case. There are not more than 500 pirates so only 2,000 troops highly trained can beat them. But, the aim is not only to fight with pirates. First we have to give a chance to Somalia's fishermen. We have respect them. They must get their rights.
The sheikhs have been taking a larger part in Somalia's policymaking in recent years. How does this affect your candidacy?
When the leadership becomes bad, they will make bad decisions and this causes a lack of confidence among the people. Today many Somali leaders are looking to get elected only for fame and money. All sheikhs are not bad, nor are all military leaders are not bad. While the population has lost confidence in some moderate sheikhs, I am still in my white shirt and believe people still have faith in me. I am not looking at the presidential place as a personal right, but my team - made up of men and women- are looking to lead the country as a team. We can help this country.
What is your plan against the opposition?
The opposition forces are Mullah 'sheikhs' and they are fighting with another Mullah who is leading the country. The Mullahs who are fighting can be part of the solution. Most of the current candidates are not sheikhs and they are promising if they win they will destroy armed militants who are mullahs.
I have different idea from this. If elected, I will begin to solve the problem with negotiations before using power. Power will be the last option. Also in my plan you need funding. The newly elected person must have the money to pay for his administration's first year. I am confident I can do this.
Furthermore, I am a sheikh and the current problem in the country is between Mullahs and only moderate sheikh like me can get the solution of this problem.
I am also a well known businessman and businessmen are those the government need to pay taxes. I understand the problems of business and can work with them.
How is your relationship with the current leaders of the country?
I have strong relations with the current leaders and also I have an affect on all Somali regions. In Puntland were I come from, I have a relation with the current President Abdurahman Shiekh Mohamed Farole. We know each other and we have worked together before. That is the same with Somaliland's President Ahmed Mohamed Mohamoud (Silanyo). I also have good relations in the southern regions.
Do think that the election will happen on the August 20th deadline?
The Road map signers promised the world, the international community and the Somali people that the election will happen on 20 August, insha'allah. The people are so tired of the current government.
Editor's Note: This comes as part of our reports on who is running for president and Somalia's political parties. To read the political platforms of other candidates, please see: Abduraham M. Abduallahi (Baadiyow) and Abdirahman Abdishakur.