19 July 2012 Daily Media Roundup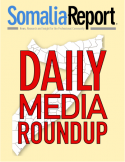 Somalia News Highlights: The World Must Not Tire of Aiding Somalia; Somali Women Discuss Their Role in Federal Government; Two Held Over Attack on Policemen in Mandera; Majengo Youth 'Recruiting Terrorists'; Parents, Government Urged to Collaborate for Sake of Somali Diaspora; Germany Plans to Regulate Anti-Piracy Security Firms; Red Emperor Confirms Oil Shows at Somalia Well; Somalis Again Dying on Journey for Food; Four TFG Soldiers Executed in Mogadishu for Murder; National Security Leaders Met in Mogadishu; Al-Shabaab Spokesman Held a Press Conference on Recent Attacks; Al-Shabaab Claimed Responsibility for Assassinating Top TFG Official; UK Ambassador to Somalia Welcomed TFG's Progress to End Transition; Somali Pirates Threatened to Kill Two Kidnapped Kenyan Aid Workers; Indefinite Nightly Curfew Imposed on Beledweyne; Somali President Accused of Using Public Funds for His Re-election; and Governor of Bakol Vowed to Eradicate Al-Shabaab From the Region.
COMMENTARY ON ISLAMIC WEBSITES
Amiir Nuur - The pro-al-Shabaab website alleged Somali President Sharif Ahmed was behind the assassination of the Deputy Director of the Ministry of Finance, Mohamed Ali Osman, who also was the former Governor of the Central Bank. The Islamist website alleged that the killing coincides with the release of a UN report which accuses the Somali President and other top officials of rampant corruption.Somali Language
POLITICS
Gulf News - While it may seem that sometimes — no matter what we do — the suffering never ends, the world cannot give up trying to help the sick and starving in Somalia, and other countries, who are battling political instability and natural disasters. Although the famine in the east African country was declared over in February, dire conditions remain, with the threat of a new drought and continued conflict. Aid workers estimate there is a shortage of about Dh2 billion in the aid that is required. Governments, individuals and aid organisations must step in to bridge this gap.
Garowe Online - A one day Women's conference was held in Garowe, where women from regions across Somalia discussed their role in the proposed new federal government, Garowe Online reports. Puntland President Abdirahman Mohamed Farole officially opened the Women's conference held at the Ministry of Women and Family affairs in Garowe Puntland. Women officials from Galmudug, Himan and Heeb, Ahlu Sunna and Hiiraan region and officials from the UN were all in attendance to discuss women's role in the new proposed constitution. Puntland Minister of Women and Family Affairs Asho Gelle also gave a brief statement to begin the conference welcoming the different women representatives who travelled to Garowe to attend the conference. "I want to thank the women who came from across Somalia and took time in their busy schedule to take part in this very important conference," said Minister Asho.
SECURITY/AL-SHABAAB
Capital News - Police announced on Wednesday they were holding three suspects over Monday night's killing of a police officer in Mandera. The suspects were arrested on Tuesday and police said they were still interrogating them to establish if they were involved in the attack that left another officer with injuries. "We have reason to believe they were part of the attackers," Philip Tuimur, the North Eastern Provincial police chief said. The suspects were found with more than 50 bullets.
The Star - The UN has warned that the Muslim Youth Council is continuously recruiting and training youth to fight in Somalia and launch attacks in Kenya. According to the UN monitoring group on Somalia and Eritrea, the MYC, which has since been renamed Al Hijra, is based in Majengo, Nairobi and is using its havens in Somalia to launch attacks in Kenya. "Monitoring Group investigations reveal that the MYC in particular has been deploying several operational cells to Kenya in recent months for this purpose," the report reveals.
The Globe and Mail - Canada must give young Somali Canadians more opportunities to succeed or they will remain at high risk of being recruited into extremist organizations and gangs, two ministers from the independent government of Puntland in northeast Somalia said. The government ministers – both are Canadian and Somali – echoed concerns from within the Toronto diaspora that youth are turning to criminal activity because they lack job and education opportunities here. "The second generation is lost. And that's why you see some of them are joining the extremists, recruited from here, elsewhere, in the States and Europe," he said. "I think that's where the risk is, and Canada has to focus on this."
MARITIME
Deutsche Welle - Sea piracy off the coast of Somalia has dropped dramatically, in part as the result of private security forces accompanying the ships. The German government now wants to regulate their certification. The German Cabinet has agreed on legislation to introduce a licensing procedure for security companies on board ships. The draft bill determines which requirements these firms have to fulfill if they are protecting German-registered vessels. The government coordinator for the maritime industry, Hans-Joachim Otto, welcomed the decision. "We want reliable, well-trained security teams, not desperados and mercenaries," Otto said on Wednesday. Beginning in mid-2013, only licensed companies will be allowed to take over security on German ships.
OIL EXPLORATIONS/PUNTLAND
Stock Market Wire - Red Emperor Resources has confirmed. that the Shabeel North well in Puntland, Somalia, has penetrated a 50-metre gross section of upper Jesomma sands with oil shows. The well - which is being drilled by Red Emperor's joint venture partner Horn Petroleum - is at a current depth of 1,967 meters. Red Emperor says an open hole drill stem test is currently under way to determine if this zone is oil or water bearing and should be concluded within the next 24 to 48 hours. Regardless of the result of this test, the well will continue to drill to the base of the Jesomma sands to evaluate any additional lower Jesomma potential pay zones. Red Emperor holds a 20% working interest in two licences in Puntland.
HUMANITARIAN CRISIS
Associated Press - The long, dusty walks from hungry homes to far-away refugee camps are again claiming lives in Somalia one year after up to 100,000 people died in the country's worst famine in generations. Two lethal factors are again combining to send families fleeing from their homes: Too little rain and too many guns. Enough rain did fall in Somalia this year to prevent a repeat of last year's massive famine, but it wasn't enough to keep everyone fed. In addition, al-Shabaab militants who have been forced out of larger cities are infiltrating smaller towns where they are demanding payments from families in money, livestock or children, residents said.
RADIO ROUNDUP
Radio Mogadishu - A pro-government radio station
The Somali military court on Thursday publically executed four men - all of whom were either Somali police or national forces - after being charged with killing innocent civilians in Mogadishu. The execution was attended by the Chief Commander of the Somali Police Force General Sharif Sheekhuna Maye, Chief of the Military Court Hassan Mahamed Muungaab, and other top officials. General Maye hailed the execution and stated that "this is justice." A Somali military court had already executed dozens of soldiers after they murdered innocent civilians.
A security meeting attended by the Defense Minister Hussein Arab Isse, Internal and National Security Minister Abdisamad Mo'alim Mohamud, Commander in Chief of the National Forces, Chief Commander of the Police Forces, Banadir region governor and other government officials was held in Mogadishu on Wednesday night. The national security leaders discussed the improvement of the national security, especially the secure and safety of Mogadishu.
Radio Andalus - A pro-al-Shabaab radio station
Al-Shabaab Mujahideen military spokesman Sheikh Abdiaziz Abu Mus'ab held a press conference for the Islamic media and talked about the recent military operations against the infidels and their slaves across the country. The spokesman claimed that the Mujahideens fulfilled three attacks on Kenya infidels' bases in Qoqani, Hosingow and Afmaow districts on Wednesday night. He also stated that over ten Kenyan infidels were killed after one hour of fighting in Qoqani. Four were also killed in Afmadow district. In Gedo region, the spokesman stated that the infidels failed to seize Tarako village near Badere after the attack and the Mujahidens rebelled and forced them to run away. In Mogadishu, military vehicles were burned and pro-infidels officers were killed as the military operations took place in the capital every night.
Radio Al-Furqaan - A pro-al-Shabaab radio station
The deputy director of TFG finance ministry Mohamed Ali was shot and killed by gunmen on Thursday night in Hiliwa district of Mogadishu and the gunmen immediately escaped from the scene. TFG militias reached the scene and took the body of the official. No one has yet claimed responsibility for the attack, but al-Shabaab Mujahideen routinely fulfill attacks against TFG and the foreign troops across the country.
Radio Bar-Kulan - An independent radio station
British ambassador to Somalia Matt Baugh has welcomed the Somali government efforts to end the transitional period. In an exclusive interview with Bar-Kulan Radio, Matt Baugh said they are quite optimistic that the set timeline will be met in accordance with the roadmap and by 20 August the transitional period will be over.
Two Kenyan aid workers who were kidnapped in central Somalia by notorious Somali pirates a week ago have stated that they fear for their lives and appealed for help to secure their release. The two are now being held at Towfiq village near Gara'ad district of Mudug region, according to Sa'eed Osman Warsame, an employee of Mines Advisory Group (MAG UK) who visited the Kenyan hostages. Warsame said the pirates holding the two Kenyans threatened to kill them in response to any forceful rescue mission. He added that the pirates demanded unspecified amount of money as ransom from the hostages. The duo who works for a Swedish group International Aid Services were last week kidnapped by a group of Somali pirates together with a Somali doctor.
Hiiraan's Regional Administration has on Wednesday imposed an indefinite nightly curfew on Beledweyne town after demolition of illegal businesses created a public outrage. The curfew which came into effect last night will be effective from 7:00 pm till in the morning for two consecutive nights for security reasons, according to Beledweyne Mayor Mohamed Hassan Nuriye. The mayor told Bar-kulan that government soldiers were deployed into the city to conduct security operations but there are no arrest was made so far. The Regional Government soldiers in the city on Wednesday pulled down scores of structures illegally erected along the area main road.
Radio Shabelle - An independent radio station
Abdirahman Abdishakur Warsame, a Somali presidential candidate for the upcoming elections of Somalia, said on Thursday that Somali President Sheik Sharif Sheikh Ahmed is using the national income for his re-election campaign to hold on to presidential office in the second term. In Radio Shabelle interview, Mr. Warsame declared that Somali president misuses public funds to earn more supporters and buy votes to win the next election in August 20. "It is out of the law and authority, we are aware there was more funded live event aired by a privately Somali owned satellite-channel, with music bands and singers held on Wednesday night at the president compound by Sheikh Sheikh Ahmed," said the presidential contender.
Mohamed Mo'allin, the chairman of Hudur district of Bakol region, stated that the Somali national army will spare no efforts to eradicate the Islamists from the rest of Bakol region in order to restore law and order under the Somali government. "Al-Shabaab has turned into armed gangs who ambush and loot the public vehicles traveling along the raods streets in the government-controlled areas in Somalia," said Mr.Mo'allin. The Somali national army is in control of several key towns in Bay and Bakol regions, mainly Hudur and Baidoa towns of southern Somalia, after al-Shabaab left without showing much resistance.