18 July 2012 Daily Media Roundup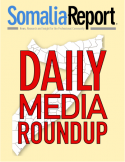 Somalia News Highlights: UN Envoy to Somalia Urged Somali Leaders to Prove No Corruption; UN Monitoring Group is Against Peace in Somalia, Says President Sharif; Somali Anger at Corruption Report; China Rescues Fishermen Held by Somali Pirates; UN Warns of Impending Humanitarian Crisis; Somalia's Two-Strong Olympic Team Arrives in London; Somali Elders Conclud Constitutional Reviews With Few Changes; 17 Al-Shabaab Fighters Killed in Bardhere Fight; Al-Shabaab Claimed to have Killed 10 Kenyan Soldiers in Qooqaani; Ethiopians Expected to Desert Bay Region Bases Due to Daily Al-Shabaab Attacks; Al-Shabaab Allegedly Killed Top Kenyan Police Officer in Garisa; Over 300 Somali Migrants Detained in Libya Complain About Abuses; Outrage Over Demolition of 30 Makeshift Businesses in Beledweyne; TFG's Newly Appointed ASWJ Administration for Guri'el Welcomed by Locals; and Massive Security Search Underway in Beledweyne to Find Suspects of IED Attack.
COMMENTARY ON ISLAMIC WEBSITES
Somali Memo - The pro-al-Shabaab website claimed that explosions have rocked entertainment centers in Garisa town of Kenya. The IEDs attacks at two night clubs caused an unspecified number of deaths and injuries and Kenyan police and ambulances are flocking to the town center. There is no further information on the incident so far.Somali Language
POLITICS
Garowe Online - Based on BBC Somali Service interview, the UN's Special Envoy to Somalia, Augustine Mahiga spoke about the UN report on the rampant corruption of the Somali government and its leaders. Mr. Mahiga emphasized for the need of the top Somali leaders to produce documentations before the UN Security Council than issuing a mere denials through the media. And the UN Envoy to Somalia stated his office has no connections with the report as well as the timing of the report which coincides with the transitional period. Somali Language
Garowe Online - The president of Somalia's Transitional Federal Government (TFG) Sharif Sheikh Ahmed has accused the U.N. Monitoring Group and its coordinator Mr. Matt Bryden of being "against peace in Somalia," Garowe Online reports. President Sharif attended a well-organized ceremony Wednesday in Mogadishu, which was organized by supporters of the TFG President's bid for re-election to win the Somali presidential seat next month. Supporters described the televised event as the launch of President Sharif's re-election campaign. "Matt Bryden is not ashamed to suppor the division of Somalia into two countries. Matt Bryden has a track record of being against the restoration of peace in Somalia," said President Sharif to the crowd's applause.
BBC - Somalia's Prime Minister Abdiweli Mohamed Ali said that if some of the accusations contained in the report were not retracted, it "could result in defamation and libel lawsuit". "The PMO, prime minister's office takes great exception to the careless and irresponsible publication of false reports that can create wrong impressions and perceptions thereby misleading the Somali people," the Somali government statement said. Somalia's interim government has denied allegations of corruption contained in a leaked UN report. The UN Monitoring Group report warned that the successful transfer of power might be hijacked by some politicians, which could revive al-Shabab's fortunes. "While such 'spoiler' behaviour is partly an expression of legitimate political competition, it is also symptomatic of pervasive corruption," the report said.
MARITIME
Reuters - China has rescued a group of 26 fishermen, mainly Chinese and Vietnamese, who were taken from a Taiwanese trawler and had been held by Somali pirates for the last 18 months, the Chinese government has said. The fishermen, who worked on the Taiwanese trawler "FV Shiuh Fu No 1", were seized in December 2010, the Chinese foreign ministry said in a statement on its website (www.mfa.gov.cn) late on Tuesday. It gave no details about how the rescue was accomplished. The crew consisted of 13 mainland Chinese, 12 Vietnamese and one Taiwanese, it said. "After the hard work of many sides, the whole crew of 26 people was safely rescued on the evening of July 17, Beijing time," the brief statement said.
HUMANITARIAN CRISIS
IPS - The United Nations has called for sustained aid efforts in Somalia to prevent the war-torn country from experiencing another humanitarian crisis as more than three million people remain in need of urgent aid. The U.N. said on Tuesday Jul. 17 in Nairobi that while the situation in the Horn of Africa nation had greatly improved over the last few months, millions remain threatened by acute food shortages and a lack of basic necessities. This, the U.N. said, was compounded by insecurity and insufficient rains. It warned that if aid agencies do not step in to stem the escalating situation, a humanitarian catastrophe could develop. "While famine conditions are no longer present, we need to make no mistake - the absence of famine does not mean that people are not in crisis. Today, 2.51 million people are still in urgent need of aid and a further 1.29 million could slide back into crisis without sustained assistance," said Mark Bowden, the U.N. humanitarian coordinator for Somalia.
SPORTS/OLYMPICS
ITV News - After training in one of the most lawless cities in the world, the two athletes that make up Somalia's Olympic team have arrived in London. Twenty years of conflict has left most of the country's sports facilities in ruins. The athletes' preparation for the Games has been early morning runs through the bullet-ridden streets of their capital Mogadishu. Speaking from her home in the Somali capital before making her journey to London, Zamzam told ITV News: "I am very much excited. It's un-imaginable that I'm coming from a country destroyed by 21 years of conflict to compete with (players from) serene, peaceful and developed countries that have never seen war." (Editor's Note: There is a brief video embedded within the written story.)
RADIO ROUNDUP
Radio Mogadishu - A pro-government radio station
Somali traditional elders have reviewed the Draft Constitution and made their recommendations that will be presented for debate to the National Constituent Assembly. This milestone was reached after days of open discussions and deliberations. The Minister for Constitution and Reconciliation, Abdirahman Hosh Jibril, welcomed the key move, "We are glad to move forward with the process, the Somali people are keen for change and this historic move ensures that. We must continue to work together in the spirit of reconciliation to secure the future of generations to come and see a state that serves the Somali people with effective governance through representative, inclusive and accountable institutions at all levels," he said.
Reports from Gedo region indicate that al-Shabaab militias fled from Bardere town after the national forces killed 17 al-Shabaab fighters and the TFG captured villages near Bardere on Tuesday. According to government military officials in Gedo, the national forces seized military equipment and forced the militias to pull out their main bases in the area. The national forces are now preparing themselves to enter Bardere town, which is one of the only two districts that al-Shabaab controlled in the region.
Radio Andalus - A pro-al-Shabaab radio station
Ten Kenyan Christian soldiers were confirmed dead and over ten others were injured al-Shabaab Mujahideen attacked Qooqaani district of Lower Juba region on Tuesday night. Local residents told Radio Andalus that they could hear the sound of heavy gunfire and the fighting continued more than an hour. The Mujahideens broke into the Kenyan military bases in the district and they seized a large cache of weapons and military equipment from the enemy forces. The Mujahideens also burned military equipment from the enemy after they shelled the other infidel military bases in the area. At least two pro-infidels militias were killed in heavy fighting between al-Shabaab Mujahideen and the pro-infidels militias in El-adde village of Gedo region on Tuesday night. The Mujahideens forced the enemy to pull out of their positions and briefly controlled the village.
Reports from Bay region indicated that at least 50 Ethiopian infidels military vehicles vacated from Baidoa on Wednesday and other ten vehicles fled Qasah-dhere and headed to Berdaale district. Reports say that the Ethiopians are expected to evacuate all its Bay region districts since they failed to take a full control the region and stop the attacks from the Mujahideens.
Radio Al-Furqaan - A pro-al-Shabaab radio station
A top Kenyan police officer was shot and killed and another officer was injured by gunmen in Lagdera village near Garisa on Tuesday, according to police officers and local residents. The gunmen attacked a police checkpoint in the area and escaped from the scene after the operation. This will be the second operation inside Kenya within 24 hours. On Monday al-Shabaa Mujahideen fighters killed three police officers in Liboyo district of Kenya.
Radio Bar-Kulan - An independent radio station
Reports from the Libyan city of Misrata indicated that close to 300 illegal Somali immigrants who are being held in custody by armed gangs are facing severe human rights violations as they are constantly subjected to continuous abuse including torture. Speaking to Bar-kulan from Misrata, a Somali immigrant woman, Sadia Mohamed, appealed to the Somali government to immediately intervene their situation and help them to tackle what she called "constant abuses". Most Somali immigrants take a dangerous route to reach Italy and European countries via North Africa in search of a better life.
Government soldiers in the central Somali town of Beledweyne on Wednesday pulled down scores of structures illegally erected along the area main road. The demolition squad led by area mayor Mohamed Hassan Nuriye brought down over 30 makeshift kiosks along the main road and the demolition has sparked an outrage from small business owners. The move is intended to restore the original beauty of the city, according to Mayor Nuriye. Nuriye who spoke to Bar-kulan claimed that they overran these structures to clear the areas along the main road in order to improve security in the city.
Local authorities and residents in the central Somalia town of Guri'el have today welcomed administration leaders recently appointed by the TFG as local administrators. Hundreds of locals and their leaders in the district today attended a colourful ceremony to welcome the new administration after the former ASWJ administration was transformed into a regional authority that will come under the Somali government. The ceremony was organised by the already the "re-branded" ASWJ Administration and local elders in support of the new administration. Speaking at the ceremony, Ahlu Sunna's current area deputy district officer, Ali Bashi Adan Diriye promised to work with the newly appointed government officials in the district and the entire region.
Radio Shabelle - An independent radio station
Somali forces in the central region of Hiiraan launched on Wednesday a massive house-to-house security operation in Beledweyne town. Sheikh Osman, the district commissioner for Beledweyne, confirmed to Shabelle Radio that there are ongoing security operations and the TFG forces are searching for the masterminds of yesterday's deadly roadside attack that killed Ethiopian soldiers. Witnesses said Ethiopian troops have killed at least 10 innocent civilians, including women and children, and wounded 9 others, some of them seriously, after opening fire indiscriminately on crowd near the bomb site at a village in eastern Beledweyne town on Tuesday. "The Ethiopians arrested 200 local people over the landmine blast on Tuesday... we don't know where these people were taken or being held by the troops. We are shocked and terrified about the army's behavior and actions," a witness told Radio Shabelle.