Breaking News
Tensions High as Bardere Braces for War
Allied Forces Prepare to Seize City From Shabaab 'Within Hours'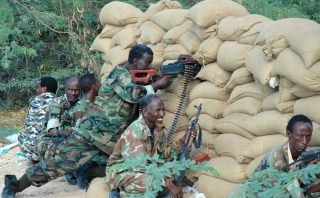 The allied forces of Somalia, Kenya and the Ahlu Sunna Wal Jamaa militia are preparing to seize Bardere, a town in Somalia's Gedo region, from the al-Shabaab militant group 'within hours' after making advances towards the city in recent days.
As al-Shabaab sends reinforcements from Burdubo, also in Gedo, the allies are approaching from Garbaharey and Elwak and plan to encircle Bardere, according to officials and residents who spoke with Somalia Report.
Fighting on the outskirts of the city and nearby towns broken out repeatedly over the last 24 hours when the allied forces seized Jungal village, 30km from Bardere, forcing the militants to retreat to Bardere.
Guleed Ahmed, a Somali military official on the frontlines, told Somalia Report the forces are now only eight kilometers from Bardere and plan to capture it within hours.
"We defeated the enemy who was harassing the innocent people of Gedo. They lost many towns in the region since last year. They only have Bardere which we plan to liberate within the coming hours and Burdhubo which is also one of our targets. These towns are strategic ones to our forces. In the past few hour we destroyed two war vehicles of the enemy and we captured other one," said the official.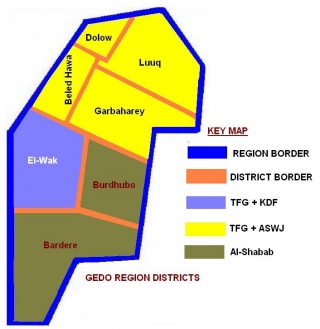 Residents report tensions are high in Bardere as many fear fighting is imminent. While many residents are starting to vacate the town, al-Shabaab fighters are preparing defenses to repel the allied advance. Land Cruisers equipped with machine guns and fighters carrying rocket propelled grenades have been seen moving throughout the town, scattering themselves in every direction.
"I believed the situation is different these days. Since last night, we have been hearing the sound of heavy guns on the outskirts of the town. We heard the allied forces are almost entering the town although the militia are making strong defenses. We don't know how the situation play out and the many residents started packing their goods and closed up their businesses shops fearing that there will be looting after allied forces capture the town. It will be tough because al-Shabaab is well prepared and well equipped here," said Mr. Abdille, a resident of Bardere.
Losing Bardere would be a strategic blunder for al-Shabaab, particularly after losing Garbaharey, Beledhawao and Luq. The militia is doing its best to defend Bardere by re-strategizing and collecting their fighters from all over Gedo region to help defend the city from the allied advances.