17 July 2012 Daily Media Roundup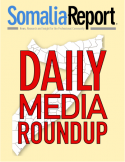 Somalia News Highlights: President Kibaki Calls for Sustained Engagement on Somalia; Former Somali PM Rejects Corruption Allegations; UN Envoy Condemns Murder of Former Somalia Trade Minister; Somali, South Sudan Police Train in Kigali, Rwanda; Three Kenya Police Killed Near Somali Border; Eritrea Demands UN Sanctions Be Lifted; Somali Pirate Kingpins Enjoy "Impunity", U.N. Experts; Somali Refugees Surpass One Million in Horn of Africa; A Delegation Led By Turkish Deputy PM Arrives Mogadishu; TFG Forces Expected to Capture Marka Town from Al-Shabaab; Al-Shabaab Claimed to have Killed Eight Including Three Burundian Soldiers in Afgoye; Ethiopians Are Accused of Distorting Bribe Money from Beledweyne Traders; Five Ethiopian Soldiers Killed in IED Attacks in Beledweyne; Al-Shabaab Claimed Responsibility of Killing Three Kenyans; and Fierce Fighting Erupts Between al-Shabaab and TFG-AMISOM Forces.
COMMENTARY ON ISLAMIC WEBSITES
Amiir Nuur - The pro-al-Shabaab website claimed that the American government is set to spend millions of dollars on propaganda campaigns in Arab and Islamic countries, according to a leaked US State Department plan. The propaganda is intended to win the minds and hearts of the Muslim populations by projecting a good image of the American and Jewish states. The Arab and the Islamic nations have lost trust with the American government and its allies.Somali Language
POLITICS
Daily Nation - President Kibaki has called for sustained efforts by the international community towards consolidating the gains so far achieved in Somalia as the term of the Transitional Federal Government comes to an end in August this year. Speaking during discussions on the Report on the Activities of the AU Peace and Security Council on Monday, President Kibaki said the world has witnessed an unprecedented opportunity for turning Somalia from conflict to peace over last few months and underscored the need for sustained efforts to protect the gains so far achieved. Said the President: "As the transition period comes to an end in August 2012, Kenya urges sustained engagement by IGAD and neighbours of Somalia, the African Union and the international community to protect the gains so far achieved, and guarantee a smooth and peaceful conclusion of the current administration."
All Africa - Former Somali prime minister Mohamed Abdullah Farmajo has rejected Tuesday misappropriation, embezzlement charges during his time in office as PM for the current Transitional Federal Government in 2011. While giving an exclusive interview with Shabelle Media via phone fromNairobi, Mr. Farmajo said: "the allegations suggested for me by the UN, quoting the present Somali Prime Minister Abdiweli Mohamed Ali is totally baseless and false." When asked about statement made by PM Abdiweli Mohamed Ali who told UN Monitoring Group that the missing money intended for Somalia Government went into hands of his predecessor government, namely which led by Mohamed Abdullahi Farmajo, he answered.
UN News Center - The top United Nations political envoy in Somalia has condemned the murder of a former trade minister in the capital, Mogadishu, and called on the authorities to ensure that those responsible are brought to justice. The former minister and current member of parliament, Mohamed Abdinur Garweyne, was killed and at least six others wounded by a car bomb attack in front of the Bin Ali Hotel in the capital's Hamarweyne neighbourhood yesterday. The attack was allegedly carried out by the Islamist insurgent group known as al-Shabaab. In a statement, the Special Representative of the Secretary-General for Somalia, Augustine P. Mahiga, said that this "cowardly" attack will not be allowed to derail the ongoing peace process.
SECURITY/AL-SHABAAB
The New Times - A team of 32 senior police officers from four post-conflict countries, including the world's newest nation South Sudan and troubled Somalia, yesterday, began a two-month training programme at the Rwanda National Police headquarters in Kacyiru, Kigali. Participants will acquire technical skills in preventing, detecting and investigating transnational organised crimes. They will also train in police command dimensions, leadership as well as management and human rights issues, according to organizers. The course was opened by the Internal Security Minister Sheikh Musa Fazil Harelimana, who said the training will help equip participants with skills to deal with sophisticated crime. "New crime trends require regular and more focused training programmes to keep law-enforcers abreast with the level of sophistication used in organised crime," he said, urging participants to make good use of the training opportunity.
Reuters - Three Kenyan police officers were killed in an ambush in northeastern Kenya near the Somali border on Monday, the local police chief said, the latest in a rash of attacks in the region. Kenya has been hit by a wave of grenade and bomb attacks since its troops crossed into Somalia last October and has blamed al-Shabaab, al Qaeda-linked militants, and the group's sympathizers inside its lawless neighbor. The attackers have targeted Kenya's northeast, the capital Nairobi and the port city of Mombasa, threatening the country's lucrative tourist trade. "Three administration police officers from Liboi have lost their lives. They were attacked while on the way back to Liboi," Garissa county police chief George Kingi told Reuters. Liboi is a border town near Somalia.
Voice Of America - Eritrea's UN envoy said Asmara has petitioned the Security Council to lift sanctions on his country after a monitoring group said it found no evidence that Eritrea supports the Somali-based Islamist militant group al-Shabaab. Ambassador Araya Desta said Eritrea has yet to officially receive a copy of the UN monitoring group's report before it was allegedly leaked to some media organizations. "It's a pity we have not yet received officially the copy of the report. But, we have seen it in Reuters today that they have got a copy and they are talking about it," said Desta.
MARITIME
Reuters - Somalia's president has shielded a top pirate leader from arrest by issuing him a diplomatic passport, according to a United Nations investigation which criticizes the "climate of impunity" enjoyed by pirate kingpins in Somalia and abroad. The U.N. Monitoring Group on Somalia said in a report to the Security Council, seen by Reuters, that senior pirate leaders were benefitting from high level protection from Somali authorities and were not being sufficiently targeted for arrest or sanction by international authorities. The Group said it had obtained evidence a diplomatic passport had been provided "with the authorization of Somali President Sheikh Sharif Sheikh Ahmed" to pirate leader Mohamed Abdi Hassan "Afweyne", who presented it to authorities in Malaysia on a trip there in April.
HUMANITARIAN CRISIS
Voice Of America - The United Nations refugee agency (UNHCR) says the number of Somalis who have fled their country has surpassed one million. According to the agency, most of the refugees are fleeing to neighboring Kenya and Ethiopia. The most recent arrivals, like previous ones, cite continued unrest and food shortages in Somalia. "The most recent rains which were the April to June rains - our weather and food security colleagues are telling us - they were poorly distributed, arrived late, they were below average in other words. They didn't deliver the amount of rain that was necessary. So what we are seeing as a result is displacements, localized more so than generalized of people within certain regions inside Somalia," he said.
RADIO ROUNDUP
Radio Mogadishu - A pro-government radio station
A delegation led by Turkish Deputy Prime Minister Bakar Bozdag on Tuesday arrived in the Somali capital of Mogadishu and was warmly welcomed by high-ranking TFG officials including Somali Prime Minister Dr. Abdiweli Mohamed Ali. Mr. Bozdag had a meeting with top TFG officials including the president and the prime minister.
The Somali defense ministry on Tuesday announced that the Somali government has completed preparations to secure the liberated areas of the southern Somali regions. Deputy Defense Minister Mohamed Ali Atoosh stated that the aim of the government is not only to seize territories but also to secure the safety of the civilians who are supporting the operations of the national forces after defeating al-Shabaab. The TGF forces are now advancing to Marka town of Lower Shabelle region after they recently captured one of the largest al-Shabaab training camps in Laanta Buuro village.
Radio Andalus - A pro-al-Shabaab radio station
At least eight pro-infidels militias and infidels, including three Burundian soldiers, were killed in two separate fights between al-Shabaab Mujahideens and the enemy that took place in Afgooye and Elasha Biyaha in Lower Shabelle region on Tuesday. The first fight took place in Elasha Biyaha were three Burundians were killed, and the others died in Afgoye district. Grenade attacks have also killed two pro-infidels militias in Afgooye town on Monday night.
Dozens of Somali traders were arrested in Beledweyne town of Hiiraan region by the Ethiopian Christian troops and their slaves after they refused to pay bribes, which the infidels demanded from the Somali traders. It is reported that the Ethiopians demanded every businessman to pay $1,000 and all the Somali traders objected their demand. Local residents told Radio Andalus that the Ethiopians have detained and tortured the traders.
Radio Al-Furqaan - A pro-al-Shabaab radio station
At least five Ethiopian soldiers were killed and several others were injured in two separate explosions targeted at the Ethiopians in Beledeweyne town of Hiiraan region on Tuesday. One of the explosions was targeted at the Ethiopians in Taako village east of Beledweyne while the Ethiopian troops were fetching water and the other targeted explosion occurred in Bundo-weyn area.
At least three Kenyan security soldiers were killed in an ambush by al-Shabaab fighters in Liboi district of north-eastern region in Kenya. One of Kenyan police officers confirmed the attack, which happened on Monday to the news agencies. Kenya is experiencing grenade and hit and run attacks since their troops invaded Somalia last year.
Radio Bar-Kulan - An independent radio station
At least five people are believed to have been killed and dozen others were injured when fierce fighting erupted between the al-Shabaab militant group and Somali troops backed by their allied Kenyan forces on Tuesday on the outskirts of south-west Bardera, Gedo region. The fighting occurred in an area between Fafah-dun and Bardere town, some 80 kilometres from the rebel held Bardera town when the allied troops launched attacks on rebel bases in the area, according to a Somali military officials, Col. Abass Ibrahim Gurey claimed they seized an area approximately 40 kilometers from the militant fighters, adding that they are now close to Bardera town. Although Col. Gurey claimed they suffered no deaths, reports say the five killed during the fight are combatants from both sides of the fight. Injured militants were reportedly taken to Bardera town for treatments. Reports from the areas say today's battle is the heaviest ever to erupt between the rebel fighters and the allied forces in the region since the onslaught against the militant group started mid last year.