KDF Airstrike Hits Jungal Village
17 Shabaab Fighters Killed, Weapons Seized as Allies Advance on Bardere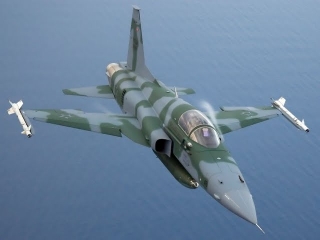 Kenyan Defense Forces (KDF) launched an airstrike on Jungal village, 30 km from Bardere (Baardheere), a stronghold of the al-Shabaab militant group in Somalia's Gedo region, paving the way for the allied forces to advance on the village.
Soldiers from Somalia's Transitional Federal Government (TFG) quickly entered the town after the airstrikes and engaged in close range fighting, finally seizing control of Jungal after nearly two hours of fighting. The allied forces killed 17 al-Shabaab fighters and seized their weapons, according to Colonel Warfaa, the TFG spokesman in Juba and Gedo regions.
"The fighting was what we had been planning over the past few weeks and it went as planned. We used the proper fighting strategy to ensure we faced the enemy hard. Today was our day and we outweighed them in the fighting which took for about one hour and 45 minutes. For now, we are happy with the way things happened and our target is achievable which is capturing Bardere," said Warfaa.
"In today's operation we killed 17 al-Shabaab fighters and dozens were injured. We seized 13 AK-47 rifles, 2 PKMs (machine guns), and three other artillery batteries. The enemy escaped after they couldn't face us in the widespread fighting," the spokesman told Somalia Report.
Though the TFG officials did not offer a number of casualties for their side, independent sources in Jungal village told Somalia Report they did see the bodies of TFG soldiers in the streets.
"I was in the market when the fighting erupted. After about two hours the shooting stopped so I decided to move home for safety. On my way, I saw the bodies of three TFG soldiers and five al-Shabaab fighters. The TFG soldiers were dressed in their uniforms and al-Shabaab bodies were masked," said Abdullahi, an elder and resident in Jungal.
The fighting had also affected the general atmosphere of Bardere after residents reported hearing the heavy weapons used in Jungal.
"We heard the sounds of weapons used in the fighting at Jungal. We were anticipating such a fight as the allied forces are advancing to Bardere. The atmosphere in Bardere is not good and there is the feeling that war that can erupt any time now," said Fatumo, a Bardere resident, told Somalia Report.
Somalia Report could not reach al-Shabaab officials for comment.
This is not the first time that KDF launched airstrikes aimed at the al-Qaeda linked militia. Earlier this month Kenyan warplanes struck between Burdubo and Garbaharey.
Fighting in Taraka
Elsewhere fighting erupted in Taraka village, 40 km away from Bardere, at noon today. The TFG claimed that they killed four al-Shabaab militants and confirmed two TFG soldiers were injured - one seriously and the other only slightly. The fight was brief and the TFG seized the area after an attack by the Islamists.