Shabaab Defectors: Legitimate or Spies?
Defections Highlight Flawed System; Shabaab Forced to Recruit More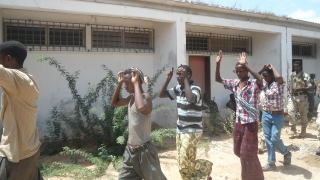 Since al-Shabaab, the hardline Islamist group battling for control of Somalia, were forced from Mogadishu in August 2011, hundreds of fighters have defected or surrendered. While this may seem to be a positive development, concerns are growing that many may have been plants to conduct guerrilla-style attacks from within the government.
To accommodate the influx of former fighters, Somalia's Transitional Federal Government (TFG) established large centres to provide a support network and rehabilitation training programs. The largest of these is Hamma Dhowr where many defectors are asked to hunt down their former fellow fighters on behalf of the TFG.
Experts believe, however, that many so-called defectors are still loyal to al-Shabaab and have been placed in the camps to conduct guerrilla operations and hit and run attacks. Over the last nine months, the group has claimed responsibility for a string of assassinations, suicide attacks and on-going hit and run attacks on throughout the capital.
Security analyst Mohamud Ali Noor argued that some al-Shabaab defectors are responsible for the attacks in Mogadishu. Despite the rehabilitation training, their loyalties still lie with the hardline Islamic group.
"These young boys are given $200 USD a month to hunt their former al-Shabaab colleagues who are potentially hiding inside Mogadishu. The problem is that they face a difficult dilemma. During the day they work as government soldiers, but when night falls some are lured back into service for Shabaab. Other true defectors become Shabaab targets because the group vowed to eliminate those spying for what they call the enemy of Islam," Mohamed Nor explained to Somalia Report.
Prisons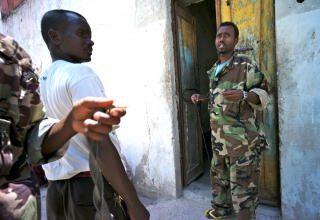 In Mogadishu there are a multitude of official and unofficial jails filled with prisoners, including Hama Dhowr, the Central Prison, and smaller jails within the National Security Agency (NSA) and Criminal Investigation Department (CID) compounds. Most defectors are taken to the Central Prison and CID for processing while serious criminals are taken elsewhere.
As Somalia Report recently reported, some Mogadishu residents have been arbitrarily arrested on suspicion of being al-Shabaab fighters.
"I was one dozens of people arrested from Yaqshid villages when government forces carried out a massive crackdown operation. We were placed behind bars located inside the NSA building for four months," Nur Abdi, one of those arrested, told Somalia Report. "There is no justice. Our families did not know where we were for days. They were not even allowed to visit us."
Everyday, mothers and fathers can be seen outside the NSA headquarters looking for their children who have been arrested by TFG forces on suspicion of having links to the militants.
"My son was arrested and is in one of the jails run by the TFG, but I don't know where he is detained. I am only sure that is he is under arrest," Halima told Somalia Report.
Judiciary and courts
Corrupt and barley functioning courts are another dilemma facing those arrested and their families, where money - rather than justice - rules.
"If there is an controversial issue between two people, the court will side with the one who pays more," said a parent of a suspected Shabaab fighter.
Experts agree that the courts are operating outside the law.
"There is injustice and corruption. The 'prisoners' are for sale. If the families of victims pay ransom then the suspects are freed. Where does that money go? There is an invisible hand that runs these operations," said security analyst Mohamud Ali Noor.
Clan based issues also create confusion and heighten the corruption within the court system. If there are two people facing the judge over, for example a land issue, and one is from minor clan and other one from major clan, the court will side with the one who is from major clan due to the power and influence the clan has over the court, one resident told Somalia Report on the condition of anonymity without offering specific examples.
The residents' claims come as the UN Somalia-Eritrea Monitoring Group released is report on widespread allegations of corruption. Somalia President Sharif strongly opposed the accuracy of the report, and assaulted the leader of the UN monitoring group, saying "they are the enemy of our nation" during a ceremony in Mogadishu today.
The recent assassination of a prominent Somali journalist highlighted the corruption of the Somali courts.
The family of Hassan Osman Abdi (Hassan Fantastic), the director of Radio Shabelle who was assassinated by al-Shabaab, was distraught after hearing the murderers, Ibraahim (Uus) and Bakar Tiribi, were freed from the Central Prison on June 7th after paying bribes.
Hassan Fantastic was killed on January 28th of this year in front of his home in Nasteho village in Wadajir district of Mogadishu. The suspects were quickly arrested by local forces loyal to the TFG and handed to the CID. In turn, the CID transferred them to the Central Prison in the capital.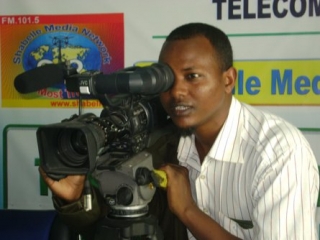 The family was optimistic that the Somali government would investigate the case fairly and would bring the killers to justice, and their release came as a shock.
Ibraahim (Uus), one of the suspects released, was seen last Thursday at Nasteho village in Wadajir district after he was released for $200, according to his mother. Uus young brother once visited Hassan's elder brother at Black Cobra, a popular private school, and claimed that prison officials agreed to release Uus for $200 so that he could see their dying father, according to the younger brother and his mother.
"After a lot of hard work, we have managed to release my son from the prison, paying some cash to those who facilitated the release," the mother claimed.
Meanwhile Habibo Adam Ahmed, Hassan's widow, and their three children - two daughters and a son - got financial supports from only two foreign journalists from England and Germany who were Hassan's closest foreign friends, but has been otherwise left to fend for herself.
Assassins in Mogadishu are rarely found or arrested including the gunmen that have killed other Somalia journalists this year.
Forced Recruitment
Meanwhile, the legitimate defections and surrenders have taken their toll on al-Shabaab, which has turned, once again, to forced recruitment.
Over recent weeks, the group has ordered tribes to bring no less than 150 boys from each community surrounding Kismayo, a port city and Shabaab stronghold in Lower Juba region, to join their ranks, and threatened they would take necessary action against any tribe that refused to implement the order.
Kismayo resides who spoke to Somalia Report said that if they refused, they will face fierce retribution.
Al-Shabaab has been facing stiff challenges from the joint forces Somalia and Kenya in southern Somalia forcing them to vacate several key strategic and economical towns.
Despite re-grouping in Kismayo and forced recruitment, al-Shabaab fighters told Somalia Report they are worried the number of Mujahidiin fighters are too small compared to the enemy they are likely to face.
An elder who resides in the port city of Kismayo spoke to Somalia Report on condition of anonymity and said it was impossible for each community to bring 150 boys and their guns due to the current financial constraints.
"Al-Shabaab issued orders instructing us to do what is beyond our capacity as far as our economic status is concerned so we will rebel if they refuse to listen us and we shall never cooperate," said the elder.
To avoid conscription, youths in Lower Juba region have started flocking into the neighboring border towns in Kenya, according to by another elder, Ibrahim, who spoke to Somalia Report.
"Most of the youths escaped and ran away immediately after they realized that they would be forcibly recruited into al-Shabaab," said Ibrahim, who asked to be identified by only one name for security reasons.
Al-Shabaab, residents said, are growing desperate and planning to make Kismayo their last stand against the allied forces who are planning to seize the city in the coming months.
"Life here in Kismayo is worsening day by day as the extremists impose strict rules which are difficult for us to obey," said a Kismayo resident who asked to be identifed as Abdiwahab for security reasons. "We are shocked and worried about our lives. The remorseless militia group of al-Shabaab is forcing us to be their troops which will never help us."
"If we don't obey, there will be arbitrary arrests, detention, youths and elder people will be executed or tortured, which is what al-Shabaab does when the people under their control refused their orders," Abdiwahab told Somalia Report.
The Islamist have already forced every class of society - whether they are female, male, teacher or students - to participate what they called the Holy War (Jihad) aganist the 'infidels' who invaded their country, referring to all allied forces.