Background
:
Presidential Platforms
Platform of a Presidential Candidate
Candidate Abdurahman M. Abdullahi (Baadiyow)
As Somalia gears up for presidential elections in August of this year, Somalia Report will be providing a forum for candidates to publish their platforms. Without endorsement, we will offer equal footage to each candidate and an opportunity for the public to learn more about those who wish to represent them. The second candidate who spoke to Somalia Report is Abdurahman M. Abdullahi (Baadiyow) and this is his message. This comes as part of our reports on who is running for president and Somalia's political parties.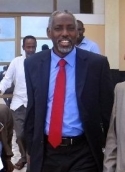 Interview
In a brief interview with Somalia Report at the Mogadishu's Aden Adde International Airport, presidential candidate Abdurahman M. Abdullahi (Baadiyow) called for the strongest possible punishment for those Somali politicians who have been accused of corruption and mismanagement, referring to a recently leaked UN report on the country.
"I won't name anyone for this mismanagement, but those who are found such a guilty must be held accountable for their wrongdoings," he told Somalia Report.
Mr. Baadiyow confirmed to Somalia Report that he will run for Somalia's presidency next month's election.
"Somalia needs to be a strong nation again after civil war that has been raging for almost two decades. After all those hardships and poor leadership in our community, we decided to come out and stand for the presidency. It is really the right time for educated Somalis to see if they can unite this country," he explained.
"If I win the election, we will focus on building all the sectors of the Somali army because it is shame for us to rely on African Union peacekeeping forces or just troops from the neighboring nations," he added referring to the nearly 20,000 African troops fighting al-Shabaab militants in the country.
Political Platform
Responding to the Call to Serve
In these moments when our beloved nation lies bruised and tired from over three decades (starting from the Ethiopian Somali war in the late 1970s) of downward slide, a straw has been thrown at us by the grace of Allah and the support of people of goodwill to raise ourselves up to our full stature of the proud nation that we once were.
Brothers and sisters, it is with great pride and privilege that I seek the presidency in order to rescue our beloved country from the miserable situation it is in. It is my strong belief that only a highly competent leadership can rescue Somalia. Being one of those who responded to the call to serve, I firmly stand to lead this nation with a new vision and direction that would our country back in the world map as a beacon of peace and prosperity.
Please allow me to present my profile, my conception of the challenges we face as a nation, and my proposal on how we can together address these challenges.
Profile
My name is Abdurahman M. Abdullahi – known to many of you as "Baadiyow". I was born in 1954 in the district of Eel-Dheer, Gagaduud region. I served in the Somali National Army (1971-1986) where I trained in the former Soviet Union and the USA reaching the rank of Lieutenant Colonel. I have also been an Assistant Lecturer in the Somali National University (1981-83).
I have been married to Muhbo Haji Iman, my beloved wife, for 32 years. We have seven children, one girl and six boys. All of our children have either completed university degrees, or are in the process of pursuing higher education, all the while being active members of their communities.
Brothers and sisters, as you all know, 1980s was a tough period for our country as clan-based armed factions emerged and the regime at that time responded with brutal force while our national army was assigned to carry out this difficult job. The choice for me was to either fight against my people or leave the army and I chose the latter. At the same time, I decided to refrain from joining the armed insurgencies where many of my colleagues vigorously invited me to join. Instead, I enrolled at McGill University in Montreal, Canada to obtain master's degree and PhD in modern Islamic History.
While living in the Diaspora, I was very active within the local Somali community through student organizations as well as youth and women groups. Among the organizations I played a major role in establishing was the Somali University Students Association (SUSA) in Canada, which is still active after 22 years.
However, I always had the dream of one day going back home and when the first opportunity availed itself, I returned to Somalia in early 1993 as the Regional Director of Mercy-USA for Aid and Developments' East Africa Program (1993-2007). With Mercy-USA we have reached out to many communities throughout the country and we participated in relief and development efforts, establishing primary and secondary schools as well health centers and Supplementary Food Programs for malnourished children. During this period, I also joined hands with other concerned Somalis to establish the civil society movement in Somalia. In this regard, we have established schools, clinics, women and youth organizations, initiated sports activities, reconciled warring clans and advocated for peace.
For instance, one of the first networked civil society organizations which I helped establish was Peace and Human Rights Network (PHRN/INXA) where I was a Co-founder and Chairman.
In the education sector, the pinnacle of our endeavor in reviving education in our country was the establishment of Mogadishu University in 1996 of which I am one of the founders and Chairman of the Board of Trustees. Thanks to our collective efforts, MU is now ranked among the best 50 universities in Africa.
My desire for peace and commitment to reconciliation led me to become the Chairman of the Somali Reconciliation Council (SRC) in 1994, an NGO focusing on reconciling communities using innovative conflict resolution methods based on Islamic and Somali culture. The SRC worked and delivered successful reconciliation initiatives in Galgadud, Hiiraan, Middle Shabelle, Banadir and the Jubba Valley region, among others.
After years of revived, active civil society organizations and setting conducive environment for national reconciliation, the National Reconciliation Conference was held in Arta, Djibouti in 2000. I was selected as one of the members of the Technical Committee organizing the conference. My responsibilities included overseeing the drafting of the National Charter. I was also present at all subsequent conferences such as that in Kenya (2003-2004) and in Djibouti (2008-2009).
All these were achieved together with many members of my organization- Islah Movement. Islah is a pacifist Islamic organization founded in 1978 and it has established chapters all over Somalia and in the Diaspora. It believes transforming society gradually by invoking its Islamic values of justice, peace and brotherhood. It advocates for the adoption of a Sharia-compliant constitution and the promotion of Islamic values in the state and society. I have been a member of Islah Movement in Somalia since 1985. As one of its key leaders, I served as a member of its Shura Council since 1995, director of political office (1995-1999), the deputy chairman responsible for international relations (1999-2008) and again director of political office since 2008.
Challenges
We are a nation entangled in more than three decades of conflict; a country that has been recognized as the longest failed state in the modern era. The implications of this prolonged conflict and lack of functioning state remains catastrophic in the livelihood of our people and the destiny of our country as a sovereign nation-state.
After the complete collapse of the state in 1991, anarchy and lawlessness severely escalated. We have been unable to sustain a formal economy. The basic livelihoods of our people are compromised due to insecurity, shortage of food supplies and the lack of vital social services.
Somalia has become the subject of international security discourse. The Somali waters are dotted with maritime vessels some belonging to Somali pirates and others to different nations of the world deployed to deter piracy. Internally, Somalia has no functioning government capable of protecting the weak and vulnerable, let alone providing rudimentary public services. Whatever public resources there are, they have not always been exploited for the benefit of all because of rampant corruption and weak institutions. Many of our young people have had difficulties accessing education and indeed employment. According to many observers, Somalia remains at the lowest rank in terms of Human Development Indexes.
Currently, because of our inability to handle our security, the United Nations Security Council has sanctioned the presence of AMISOM troops in our country.
The security threat of violent armed groups extends from bases in Somalia to the whole of the Horn of Africa region, and that constitutes the biggest obstacle for peace and security in the entire region. Since 2009, African Union forces represented by AMISOM troops (Uganda, Burundi, Kenya and Djibouti) are fighting side by side with the Somali national army to dislodge these violent armed groups. In addition, Ethiopian troops have intervened militarily in late 2006 and remain in the border regions of our country. This situation has been further complicated by persistent drought, which led to the declaration of a famine situation in five regions of Somalia in 2011. Some of these regions are yet to recover.
Somalia remains divided politically and socially because of erroneous policies of the former military regime and the shortsighted response of the armed factions, which resulted in gross violation of human rights. The concept of nation state has been gradually waning for the last 30 years and this led to a total fragmentation of our society. This is the result of failed leadership and imprudent policies that negatively impacted on our social cohesion and economic development.
Nevertheless, the situation of our country was not always like this. After independence in 1960, Somalia was one of the first democratic countries in Africa and it enjoyed such status for the first 9 of its young modern life. And in the 1970s, we made progress in different fields. Together we achieved much in the first two decades of our nationhood. There were days we felt unified. There were days we produced the food we eat and exported the surplus. There were days we exported our fruits and livestock, which brought in considerable amounts of hard currency for our nation. There were days we were entertained by our own artists and poets, our armed forces gallantly protected our borders, our religious and traditional leaders provided guidance that all of us trusted.
Brothers and sisters, we must believe that together we can change the situation we are in and that we can restore our pride and glory by standing up for justice and equality for all Somalis so that this great nation can one day be a respected member of the community of nations.
We can sum up the main challenges we face in the following:
1. Incompetent national leadership to build effective state institutions, restore cohesion in the society and revive the economy.

2. Gross mismanagement of the limited government revenues and widespread corruption to the level of topping the world corruption indexes.

3. Weak or non-existent state organs that are capable of providing basic public goods such as security, education, healthcare and infrastructure, making us lag behind all other countries in meeting the Millennium Development Goals (MDGs).

4. Lack of appropriate foreign policy both at the regional and international levels.

5. Unresolved and ongoing tension between the state, Islam and clan identities.

6. Armed and violent groups that threaten the nature of the Somali state, tarnishes our Islamic values and provokes foreign interventions.

7. Piracy and organized crimes, which hamper the economy of our country, damage its international image and hinders the free flow of international trade.
Vision and Values
My vision for Somalia is the restoration of a well governed nation that is cohesive, secure and at peace with itself and with its neighbours. The renaissance of Somalia along those lines should ensure upholding basic constitutionality, Islamic principles and values, democratic ideals, territorial integrity and unity, consistent with the United Nations Charter.
1. Utmost enforcement of the Islam-compliant Somali constitution and harmonizing all the laws with the Shari'a according to the moderate interpretations of the great mainstream Muslim scholars of the past and present.

2. Supremacy of the law above all citizens, the provision of equality and justice for all, and establishing competent institutions to administer justice, and creating a Constitutional Court.

3. Promotion and protection of basic human rights principles and the promotion of human dignity and freedoms for all Somali citizens.

4. True reconciliation and peace promotion among war-torn communities based on the teachings of Islam and positive societal customs and norms.

5. Fighting all forms of mismanagement and uprooting corruption.

6. Empowerment of women and marginalized groups to take their rightful share in government institutions, economic development, employment and educational opportunities.

7. Empowerment of the youth with sense of pride and patriotism by providing them with educational opportunities, recreational activities as well employment so that they can be productive members of their society.
Platform
According to the Somali Transitional Constitution, the President is the head of state. As President, I will take special care to appoint a qualified Prime Minister who will appoint an all-inclusive team of competent ministers who share our common vision to save our country and rebuild our national institutions. This team will demonstrate the ability to implement the programs of the government which are designed to meet the basic services that our people expect from us.
My government will tackle the challenges we face by taking action in the following broad areas: good governance, enhanced internal security, appropriate foreign policy, economic revival, engagement of the Diaspora, and provision of basic services.
Good Governance
Promotion of good governance and an unrelenting fight against corruption are what Somalia needs the most at this juncture of our history. Therefore, my administration will:
1. Implement principles of good governance, accountability and transparency in all branches of the state institutions.

2. Ensure that holders of public offices and government employees exemplify national values, exhibit good governance practices and deliver services with humility and respect.

3. Encourage and strengthen professionalism and best practices in managing government operations and the civil service by avoiding nepotism, favouritism and special interest-driven appointments.

4. Create the culture of teamwork, collectivism and cooperation among national and provincial institutions.

5. Establish mechanisms whereby grievances of the people against the state institutions and holders of the public offices will be addressed promptly and justly.
Internal Security
Internal security must be understood as wide and comprehensive concepts, which include multiple sectors that address major threats, which have an impact on the lives, safety, and well being of citizens. There is also interdependence between internal and external security. Somalia being a collapsed state requires a new approach for rebuilding its internal security capabilities. To rebuild our internal security, we will:
1. Develop internal security model based on our national vision, values and respect for human dignity and protection of human rights.

2. Build national security institutions capable of granting public safety, dealing with internal security threats and ensuring the rule of law.

3. Change the conventional image of the security forces from being an oppressive apparatus of the regime to the humble servants of the people.

4. Ensure that the Somali National Defence Force (SNDF) will be apolitical and professional, not aggressive and not oppressive.

5. Provide physical, technical and trained human resource capabilities for the security institutions as well as adequate provision of all necessary resources including but not limited to salaries, benefits, and retirement pension plan.

6. Demand that national internal security personnel should reflect inclusiveness of all regions and communities and should provide equal opportunity for all the citizens.

7. Develop regional and international security cooperation linkages to deal with common threats such as violent armed groups, piracy, organized crime and drug trafficking.
Foreign Policy
Foreign policy and national security are twins and drive form each other's imperatives. It is therefore my vision to base our foreign policy on the following principles:
1. Adopting a strategy of comprehensive peace, maintaining good relations with neighbors, and promoting a regional integration agenda among IGAD member states.

2. Improving Somalia's tarnished world image reputed as the abode of violent armed groups and piracy by projecting the new Somalia as a responsible and respectable member state in the world community.

3. Effective participation in the regional and sub-regional organizations such as African Union (AU), Arab League (AL) and Organization of Islamic Cooperation (OIC).

4. Establishing special relations with the countries hosting sizeable Somali Diaspora communities.
Economic Recovery
The economic challenges of Somalia are multiple and include destroyed physical, human and social capital, distorted economic incentives, widespread poverty, massive unemployment and criminal networks that plunder our national resources. Thus, economic recovery policy should include restoring confidence in social, political and economic institutions. It should give priority to employment, encouraging foreign investment, and mitigating business risks. To achieve economic recovery, my government will adhere to the following guidelines:
1. Economic recovery should be based on nurturing indigenous economic drivers whereby national actors must take the lead in the economic recovery process.

2. Provision of an enabling environment and appropriate regulations for the Private Sector to flourish as the prime driver for job and wealth creation.

3. Regulation of financial sector; adoption of stringent fiscal and structural policies, control of government expenditure and audit of public finances.

4. Prudent exploitation of natural resources and opening of export markets.

5. Creating conducive environment for international investment and encouraging mixed economy.

6. Working towards the creation of free trade zones and making Somalia a business center and a gateway to African and Middle Eastern markets.
Somali Diaspora
It is estimated that more than 14% (about two million people) of Somalia's population live outside the country. A large number of Somalis abroad live in Europe, North America, the Middle East and neighboring countries such as Kenya, Ethiopia, Djibouti, Uganda and Tanzania. According to the World Bank, the Somali Diaspora communities around the world send as remittances more than $1 billion per year and it is believed that a good percentage of that amount goes straight to Somalia with a large percentage used for monthly allowances by families of those sending the money. It is also a fact that a lot of this money goes into the private sector mainly in the shape of creation/stimulation of small businesses, purchase of properties and so on. It is therefore very vital for my government to understand the importance of the contributions made by the Diaspora communities in sustaining our nation in the last 20 years.
Being a Diaspora person myself, my government will engage all Diaspora communities around the world by emphasizing with them the vital role they play in our economy and that they will be encouraged to continue to do so. Among our priorities on the Diaspora file are:
1. Creating a ministerial position for Diaspora Affairs and representatives at Somali embassies abroad responsible to facilitate Diaspora affairs.

2. Establishing embassies and consular services and commercial attachés in the major world cities where our Diaspora is concentrated.

3. Registration of the Diaspora at the Somalia embassies in order to enable them to participate in future elections.

4. Providing special incentives for the economic projects shared by members of Somali Diaspora and foreign companies registered in their second country.
Essential Services
My government will work tirelessly to reestablish and expand basic social services, especially in the health, education and infrastructure, throughout the county.
Heath Sector
Provide primary healthcare for children and mothers with emphasis on water, sanitation and nutrition. Create and foster strong partnership with the bilateral and multilateral organizations, and various international and local NGOs with a view of creating a common strategy for the health sector. Work closely with relevant UN agencies, International NGOs, local NGO as well as local communities to revamp and take ownership of government hospitals and health centers across the country.
Education Sector
1. Collaborate with stakeholders in the education sector with a view of streamlining the education curricula for all levels of education.

2. Work closely with stakeholders in the education sector including private schools and universities on how to achieve the best ways of promoting education and learning.

3. Enforce free and compulsory primary education.

4. Take ownership of government schools across the country.

5. Prioritize the establishment of vocational training institutions to increase youth employability.
Infrastructure Development
1. Work closely with local governments, the private sector and other stake holders to establish physical infrastructure for all sectors including water wells, roads, hospitals, clinics, schools, and electricity.

2. Work closely with the telecommunication sector and improve on the reach and service delivery of the Internet, landline and mobile phone services.

3. At a minimum, my government will work towards the establishment in all districts of schools, hospitals and health clinics, district offices including district courts, and community centers.