Feature
Aid Workers Under the Shadow of IDPs
IDPs Create Dilemma: Too Risky to Assist?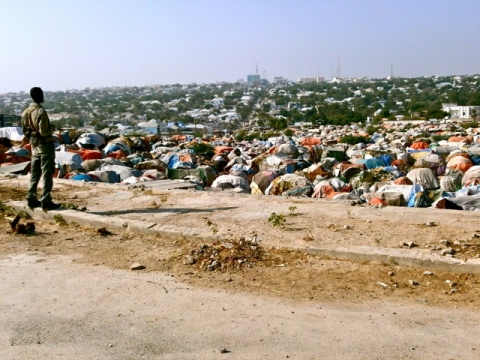 The children sit in a makeshift tent made from twigs, tattered sacks and worn out polythene bags, that lets in rays of the scorching sun, and water when it rains. Their mother left early in the morning to beg for food. Al-Shabaab militants killed their father at a food distribution centre when the militiamen thought the rations would get finished before they got their share.
"Move. You have stayed here for too long," an armed African Union peacekeeper says. It's an order to stop offering the few remaining biscuits to hungry children and move away from them, for the sake of our security.
"This is a danger zone. You can't go near the tents alone. You can't get close to the displaced person. You have to be near an armed soldier if on foot. And always be close to the armoured vehicles and the rest of the group," the soldier further warned, with his gun ready for any eventuality.
Like other Somalis, they suffer and live in danger because of the war on al-Shabaab by African Union Mission in Somalia (AMISOM) forces and allied fighters. A number of attacks have occasionally killed women and children and a number of youth who never dreamt of taking up arms. Satellite images have captured more than 500 internally displaced persons (IDPs) settlements in areas surrounding Somalia's capital city Mogadishu alone. Two decades of war have seen children born and become adults in makeshift camps in this insecure country, which celebrated its 52nd independence day on July 1.
Rarely do humanitarian workers stay at an IDP settlement camp for more than 45 minutes. Not even when speaking to young children who appear harmless.
"Even spending the 45 minutes can be too risky," Kilian Kleinschmidt, the UN's deputy humanitarian co-ordinator in Somalia, and a veteran of crisis who helped set up the world's largest refugee camp Daadab in Kenya, says.
For over two decades, Somalia has suffered state collapse, violent lawlessness and warlordism, internal displacement and refugee flows, that has resulted in what the UN describes as one of the ultimate "hardship spots" in the world.
It's a case of a human tragedy. Nobody knows the actual figures.
Since the United Nations came back to Somalia last year, UN officials have been struggling to give hope to Somalia's displaced people.
During the World Refugee Day on June 20, United Nations High Commissioner for Refugees (UNHCR) said it was difficult to put exact figures to the number of internally displaced people inside Somalia. The UN relief agency estimates there are about 1.35 million displaced people inside Somalia.
"The displaced persons move frequently and satellite images pick up only temporary, makeshift shelters that remain empty most of the time, except when there is an aid distribution," the UNHCR representative for Somalia, Bruno Geddo, told journalists in Nairobi.
Mr. Kleinschmidt describes Somalia as the "most complicated, logistically difficult and most dangerous place in the world to offer humanitarian assistance today," while the UNHCR terms it as "the heart of one of the worst humanitarian crises in the world".
Recently, the horn of Africa country, believed to have some of the most beautiful beaches in Africa, was ranked first in the Failed States Index which uses factors such as demographic pressures, presence of internally displaced persons and refugees, group grievance, uneven development and respect for human rights. It was the fifth consecutive year that Somalia was topping that list.
In its photo essay "Postcards From Hell 2012, What does living in a failed state look like?", Foreign Policy Magazine painted a grim picture of the country, "Last year, one of the deadliest droughts in decades resulted in a famine that killed tens of thousands of people and displaced hundreds of thousands in the country, where 16 per cent of the population was internally displaced in 2011 — the highest rate worldwide."
"We want help. We have lost our livelihoods. People are sitting idle, there is no place for them to work and most of us have no skills," Halima Mohammed, a mother of seven whose husband was killed by a mortar in Bakara market two years ago, pleads.
The camps, with their domed shelters made of rags and sticks, are now surrounded by stagnant water. There is a heavy stench of human waste and there are rising cases of sexual violence. Survivors sit among the clouds of flies.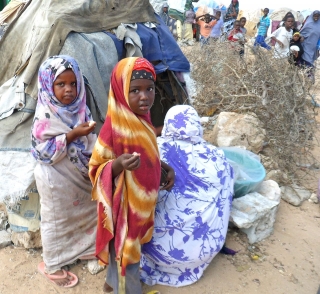 "It's not just here. All the 6,000 toilets constructed to assist the displaced people are now full. We are more afraid about what happens next since Mogadishu has no sewerage disposal system," says Hibaaq Ahmed, the committee chairperson of Sonak IDP camp.
The water is contaminated, keeping Mogadishu and its environs permanently alert over cholera outbreaks.
Families scoop a few mouthfuls of water to drink from muddy pools. Everyone asks when the next food rations will arrive. And when they arrive, they wonder how long they will last.
Most of Somalia is a desert of rock, stone and sand, with some mountains. A scorching sun allows almost nothing to grow for most of the year, except vicious thorn scrub and cactus.
In addition, years of fighting in a country with masses of weapons supplied by the world's superpowers have forced millions of Somalis to either flee to exile, or take their chances in its sprawling IDP camps.
The IDP camps are very similar. You come across thousands of people waiting for help from international aid workers and UN agencies.
Somalia is still extremely dangerous for foreigners, especially humanitarian workers. According to the Aid Worker Security Database accessed on February 19, 2012, between 2000 and 2011, 260 aid workers were killed. The worst year was in 2008, when 87 foreign workers were either gunned down or killed by explosives.
In January, US Navy SEALs rescued an American aid worker and her Danish colleague after three months of captivity in central Somalia. Last December, a disgruntled member of Médecins sans Frontières shot and killed two of his colleagues in Mogadishu.
Very few foreign aid workers spend significant time in Somalia's capital city, Mogadishu. Areas in the south have remained inaccessible for several years.
On November 28, al-Shabaab banned 16 aid agencies, among then UNICEF and WHO, from its areas of control in southern and central Somalia, regions where drought and famine were most acute, accusing them of financing, aiding, and abetting subversive groups seeking to destroy the Islamic penal system.
In Xayo town, a family surrounded by fields of green watches the planting season pass them by. "We have nothing to plant. Even when we plant, the al-Shabaab will say that we have received planting material from groups (international aid organisations) that they have banned and destroy the food. We depend on handouts," says Ahmed Yusuf.
We met Sofia Agane standing outside her makeshift hut on the outskirts of Afmadow town, waiting for help. "The locals have no power to defend themselves. You can plant and then the al-Shabaab will come and take away all the crops," she said.
With the Kenyan Defence Forces' (KDF) incursion into Somalia in October last year, only a few officers have been allowed into the area.
"These people needed any kind of help. We started by offering them food, water and medicine," Colonel Cyrus Oguna, the KDF spokesperson, recalls.
Ahmed Ali, a clan elder from southern Somalia, says only places like Kismayo, Somalia's most urbanised town in the south, is served by three international non-governmental organisations (NGOs). "But they all use local operators," he clarifies.
In Afmadow, al-Shabaab militia destroyed books, chalk and other materials donated by UNICEF, before fleeing the town.
Athman Seif, an official of the Islamic Relief Organisation, says UN agencies face high risks. "We keep away from where they eat and visit so as to minimise the chances of being attacked," Mr Seif says.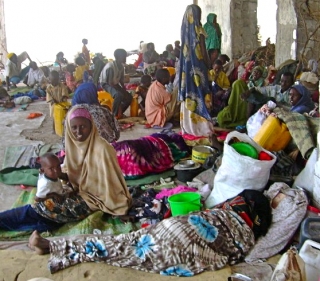 Although they remain high-value targets of elimination by al-Shabaab militants, the return of the UN to the country last year, after UN agencies and peacekeepers were kicked out in the early 1990s, is creating new hope.
At various IDP camps, the eyes of children are glowing with anticipation and joy, and those of the adults, often characterised by brutality, reflect a glimpse of a new future.
"It is still a complex problem, but this is a new chance for us to make a difference. Even when we get to save a single life, it's very important for us in Somalia," Kleinschmidt says as he points at a severely malnourished diabetic woman they rescued from an IDP camp, now recovering at the Egyptian-run Zam Zam hospital.
"The UN is now assisting in coordinating humanitarian assistance. This is something we thought would take several years, but through their help we are getting a more organised effort," says Amina Hosi, the executive director of Save Somali Women and Children.
Some efforts are already bearing fruit. The Somali Transitional Federal Government (TFG) has allocated four-square kilometres of land just outside Mogadishu to build a camp for displaced persons, the first one in the country, which is expected to meet UN standards.
"The problem we have is that the site like many others is flooded with land mines and other unexploded ordinance. The UN mine action service is working with Amisom and TFG to clean up the place," Mr Kleinschmidt explains.
He estimates that construction at the site will start in the next three or four months.