Exclusive
Sneak Preview of 2012 UN SEMG REPORT
Somalia Report Has Obtained An Advance Copy of the Arms Embargo Document
Somalia Report
has obtained an exclusive leaked copy of the upcoming 2012 report prepared by the UN's Somalia-Eritrea Monitoring Group (SEMG) which investigates possible UN arms embargo violations.
This is an initial report that is missing back matter and appendixes but it provides a glimpse into what the final report will cover.
The final 330+ page Report of the Monitoring Group on Somalia and Eritrea pursuant to Security Group Resolution 2002 (2011) will be published here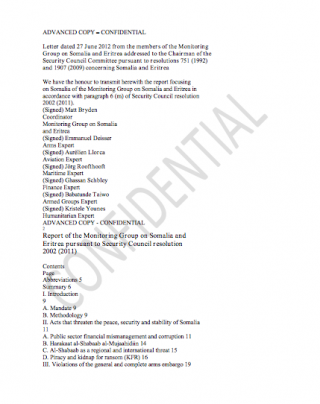 For now readers may download a June 27, 2012 preliminary draft To UN_REPORT_2012.pdf
The main focus of the 2012 appears to be al-Shabaab, the land based anti-piracy program in Puntland and TFG corruption.
Some highlights
- The definition of a new armed group called the "al Shabaab Northeast Somalia (ASNE) and detailed discussion on al Shabaab financing and support

- Focus on islamic groups in Kenya, a negative report on Puntland, and detailed lists of individual kidnapped

- Pressure on the UK (who has yet to be sanctioned for funding pirate groups via ransoms)

- Calling out former pirate "Afweyne" as colluding with the TFG who provides him diplomatic status - Reduced claims of Eritrea involved in backing al Shabaab

- Identifying the UAE, Ethiopia, South Africa, Uganda for supporting private security companies specifically Sterling, Pathfinder and offshore use of armed companies

- Confirming illegal Ethiopian, Kenya and Djiboutian (CIA) activity inside the country including the secret "Linda Mpaka" operation that preceded "Linda Nchi"

- Obstruction and theft of humanitarian supplies

- Eleven individuals and one company suggested for economic and travel sanctions

- A 40 page Annex targeting of Sterling Corporate Services, Australian African Global Investments and senior management with a recommendation for targeted measures

- Detailed investigations showing theft by TFG members based on Abdirazak Fartaag and a World Bank report

- Fraud in Somalia Passport corruption and currency printing
"During the course of the Monitoring Group's mandate, 17 states did not cooperate with the Monitoring Group, 12 provided only partial information, and 12 replied comprehensively to SEMG requests. As a result, the Monitoring Group just received 24 letters responding fully to SEMG's requests, out of 78 letters sent, what is representing a response rate of 30.7 per cent."