13 July 2012 Daily Media Roundup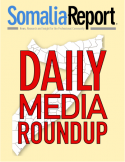 Somalia News Highlights: UN Envoy Visits Puntland to Discuss the Conclusion of the Roadmap; Peace And Little Else in Rural Somalia; Kenya Braces for Attack as Somalia's War Continues; Somalia Sends Troops to Rescue Aid Workers Nabbed by Pirates; Debbie Calitz Raped by Somali Pirate Captors; Cholera Spreads in Somali Insurgent Bastion; Over 69 Al-Shabaab Members Arrested in Mogadishu Security Operations; Airstrikes Destroy Al-Shabaab Military Vehicles in Gedo; Three Pro-TFG fighters Killed in Clashes Between Pro-TFG Militias; Al-Shabaab Claim Ambush of TFG-AMISOM Convoy Between Mogadishu and Afgoye; Al-Shabaab Arrest Four Prominent Khat Traders in Kismayo; TFG Defense Minister Reiterate Commitment to Anti-Child Soldier Action Plan; and AMISOM Recovers Relief Goods Confiscated By Al-Shabaab in Afgoye Area.
COMMENTARY ON ISLAMIC WEBSITES
Amiir Nuur - The pro-al-Shabaab website posted a travelogue written by an Andalus Radio Journalist named Tooshow (The Flashlight) who paid a visit to Jannaalle town of Lower Shabelle. The Islamist Journalist claimed that Jannaalle is teaming with people and grain traders from all over southern Somalia, especially from the Banadir, Bay and Bakool regions. The influx of people to Jannaalle is due to cheaper agricultural commodities and Jannaalle is under the control of al-Shabaab's Lower Shabelle administration. (Editor's Note: Is it possible that these newcomers to Jannaale are al-Shabaab leaders, fighters, and supporters escaping from areas captured by the TFG-AMISOM forces?) Somali Language
POLITICS
Garowe Online - A UNPOS delegation led by the United Nations Special Envoy to Somalia Augustine Mahiga, has visited today the capital city of Puntland. The UN Envoy held talks with high-ranking Puntland officials including the president Farole and the two parts focused on the conclusion of the Somalia Road map, since Puntland president Abdirahman Farole is one the Road Map signatories. Somali Language
Global Post - The main problem here last year was al-Shabaab, Somalia's regional Al-Qaeda affiliate. Now it's everything else. "The main problems here are lack of water, medicine, education and food," said Ali Mansour, an elder in the coastal town of Buur Gaabo. "We don't take baths or wash our clothes. We live here like animals. Our children are all fishermen, not students." Since a local militia, backed by the Kenyan army, chased al-Shabaab militants from this part of southern Somalia in October, fear has subsided and security has improved. But little else has changed. "Everything is from scratch," said Abdi Raghe, co-founder of the African Rescue Committee, a local nonprofit. "There are no schools, hardly any wells for fresh drinking water and no hospitals."
SECURITY/AL-SHABAAB
The Star - The al-Shabaab has always used Kenya for support — moving money, fighters and weapons across the border. The theory was that there was an uneasy truce until the kidnappings of foreigners pushed the Kenyan government to act and it sent its troops into Somalia. The al-Shabaab, for its part, had been reluctant to strike in its own backyard. Now discussing the potential for a large-scale attack, reminiscent of the 1998 bombing of the U.S. embassy here that killed more than 200 people, security officials all start with the same "it's not if, but when" adage. In January, the MYC announced that it had officially joined forces with the Shabaab. Imam Ali, the self-proclaimed "Supreme Emir," now lives in Somalia, where it's believed he provides the link between the al-Shabaab's Kenyan members and its Somali leadership. He has declared Kenya a "legal war zone."
The Christian Science Monitor - Soldiers for the transitional Somali government in Mogadishu have increasingly taken on pirate gangs, as they extend their authority outside of Mogadishu. Three Kenyan aid workers have been kidnapped in the central Somali town of Galkayo, and Somali authorities say they have sent soldiers to rescue the aid workers from the pirate-controlled town of Garaad on the Somali coast. "Security officials told me that the team was travelling between Margaago village and Baadweyn about 45 km from Galkayo," Mr. Farah said. "Our forces tried to save the aid workers but pirates have used heavy weapons to kill and seize foreigners. We deployed our armed forces around those areas and we will try to rescue the kidnapped workers."
MARITIME
IOL News - Debbie Calitz says was raped by her captors during her 20-month hostage ordeal in Somalia, a report has said. Speaking to the Daily News in Durban on Wednesday, Calitz and her partner Bruno Pelizzari, who landed in South Africa almost two weeks ago, relived aspects of their capture. "Bruno was asleep and I had finished my shift. Peter just started his shift when I saw three speedboats. From a distance they looked like whales," she said. "Peter took one look and knew they were pirates. He went downstairs and made a emergency call. Within a minute the leader was aboard, pointing a bazooka at me."
HUMANITARIAN CRISIS/PUBLIC HEALTH
AFP - 
Cholera is rising in the last major town held by Somalia's Al Qaida-linked Al Shahab, with most of those stricken by the disease children, the World Health Organisation (WHO) warned Friday. The UN agency "is very much concerned about the increased number of cholera cases, particularly in Kismayo town," it said in a statement, warning that the infectious diarrhoeal disease could kill within hours if untreated. "One health facility did a rapid test among a sample of 10 patients, and a total of six cases tested positive for cholera," the WHO statement said.
RADIO ROUNDUP
Radio Mogadishu - A pro-government radio station
After massive security operations over the last few days in Mogadishu and its surrounding area, the security forces arrested at least 69 al-Shabaab officers and fighters, the government said on statement on Friday. The goal of the operation is to eliminate al-Shabaab elements hiding in the capital and also to secure Mogadishu for the upcoming Somali constitutional conference. The security operations were also extended to Bal'ad and Afgoye districts, where al-Shabaab terrorist members were captured.
Reports from Gedo region in southern Somalia indicated that al-Shabaab members were killed and two al-Shabaab vehicles were destroyed in airstrike at 60 kilometers from Garbaharrey town, according to TFG military officer in Gedo, Jamaal Hasan Saneey. Mr. saneey stated that the militants faced fear and the national forces are preparing themselves to immediately reach Bardhere and Burdhubo districts.
Radio Andalus - A pro-al-Shabaab radio station
At least three pro-infidel militias were killed and several others were injured as two pro-infidels group fought in Dhooblay town of Lower Shabelle region on Friday. The fighting erupted between militias loyal to Ahmed Madobe and others loyal to Colonel Abaas. It is reported that the all killed men were Madobe's supporters and tensions are very high in Dhoobley town. Ahmed Madobe and his militias are regrouping in the outskirts of the Dhooblay, since they were chased from the town.
Radio Al-Furqaan - A pro-al-Shabaab radio station
Several foreign troops were killed and one of their military vehicles was burned after al-Shabaab Mujahideens ambushed a convoy of foreign troops in between Mogadishu and Afgooye on Friday. Al-Shabaab Mujahideen military officers told Radio al-Furqaan that they killed enemy soldiers. Al-Shabaab Mujahideen fighters have scaled up their guerilla style fighting since the foreign troops started to spread themselves out in southern Somalia regions.
Radio Bar-Kulan - An independent radio station
Al-Shabaab militants in the port city of Kismayo reportedly arrested four khat traders on Thursday, for illegally smuggling the commodity into the city. The group also seized a minibus that was ferrying consignments of Khat near the area airport. A prominent businessman Hassan Mohamed Jibril is among those detained. Militant leaders have not yet commented on the issue. The militant group have launched attacks on Khat traders in the city for the last few months. The group recently set on blaze small fishing vessels and donkey-driven carts, allegedly used for transporting the plants into the city.
Just a week after signing an Anti-Child Soldier Action Plan in Rome, Italy, the TFG leadership has today again pledged to uphold the action plan it signed. Speaking to Bar-kulan, Defence Minister Hussein Arab Isse said his government is committed to end the recruitment and use of child soldier in its forces, adding that they will safeguard the rights of all children in the country. The Action Plan outlined concrete steps to be taken by the government of Somalia to ensure a child-free national army. In the Action Plan, the Somali government committed itself to end and prevent the recruitment and use of children in its armed forces, reintegrate all children released from armed forces with the support of the United Nations, criminalizing the recruitment and use of children through national legislation and providing the UN with unimpeded access to military installations to verify the presence of children.
Radio Shabelle - An independent radio station
The African Union force in Somalia has today revealed that it has recovered over 500 sacks of stolen relief food from Al-Shabaab training camp captured in Lanta-Buro, some 40 kilometres west of Mogadishu. The camp was on Thursday attacked by Somali government forces backed by the African Union troops in Mogadishu. The food, which was meant for humanitarian relief for the Somali people, had been confiscated by the Al Qaeda‐affiliated Al‐Shabaab militant group, who used it instead to feed militants at the camp in Lanta‐Buro, according to a press release by the African Union Mission in Somalia. AMISOM said the recovered food has been returned to the local people. The force said it has also recovered a cache of weapons, which included machine guns and bomb-making equipment, adding that 11 militants were killed and four others captured.