11 July 2012 Daily Media Roundup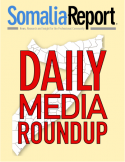 Somalia News Highlights: Foreign Minister Endorses Country Investment By Diaspora; TFG Claims a Military Victory Against Al-Shabaab Militants; ASWJ, Ethiopian and TFG Forces Vow to Crush Al Shabab; AU, Somali Forces Target Al-Shabaab Training Camp; Former Somali Militants Recall Cruelty, Death; Documents Found On Slain Al-Qaeda Leader Gives Chilling Look at Somalia's Al-Shabaab; UN Political Office for Somalia Launches Social Media Platforms; British Ambassador to Somalia Sends Off Somali Olympic Team; TFG-AMISOM Forces Seized No-50 Airport and Base from Al-Shabaab; Al-Shabaab Claimed to have Killed Seven TFG Intelligence Officers; Tensions High as Al-Shabaab Deployed More Fighters in Gedo; TFG Seized Cache of Explosives at Elasha Biyaha; Somali PM Urged the Civil Society to Help to Meet the Roadmap; TFG Pledged to Improve Mogadishu's Security; TFG Soldiers Complain About Unpaid Salaries; and TFG-AMISOM Troops Claimed Gains Al-Shabaab in Bay Region.
COMMENTARY ON ISLAMIC WEBSITES
Amiir Nuur - The pro-al-Shabaab website posted a commentary by al-Shabaab's leader of Banadir region, Sheikh Mohamed Hassan Omar (Abu Abdi Rahmaan), who stated that the appointment of Djiboutian spokesman for the infidel African Armies (AMISOM) is just deception and al-Shabaab's stance on Jihad against the infidels will not change. (Editor's Note: The newly appointed AMISOM spokesman is an ethnic Somali and Muslim hailing from Djibouti nation.)Somali Language
POLITICS
All Voices - Minister of foreign affairs of the Somali Transitional Federal Government, Abdullahi Haji Hassan has warmly welcomed the diaspora homing back and investing their country. Speaking to UN-funded Radio Bar-kulan, Somali government's minister of foreign affairs, Abdullahi Haji Hassan said that the cause of Somali communities in the diaspora coming back home and currently investing the country comes the government's efforts on the security progress. The speech of the Somali's minister of foreign affairs coincides as the capital Mogadishu attracts both Somali people in abroad and foreigners arrive in for a visit, evaluate and invest it as security changes emerged since Al-Shabab quit from Mogadishu August last year.
All Africa - Military commanders in Somalia government are claiming the upper hand of a heavy combat against Al shabab militants tied to Al Qaeda near Baidoa, situated 256 kilometers (159 mi) northwest of the capital Mogadishu. Aden Doodshe, the police commissioner of Bay region for Somali government, told Shabelle Media by phone that TFG forces have killed many Al shabab combatants while several others captured in a live during a fighting took place on Tuesday on the outskirts of Baidoa town, the third largest city in Somalia. "Our troops carried out coordinated military operations at rebel-held villages close Baidoa on Tuesday, to wipe out Al-Shabaab in the entire region of Bay, and had left fighters of the Al-Qaeda linked extremist group in disarray after losing ground and military equipment," he added.
SECURITY/AL-SHABAAB
Shabelle Network - Army chiefs of Somalia government, Ahlu Sunna Waljama'a (ASWJ) and Ethiopian, promised on Tuesday that they are committed to terminate swiftly the long-running fighting against al-Shabaab militants in south of the country. "Our troops will pursue and crush al-Shabaab fighters inside Somalia's Southern regions of Bay, Bakol and Gedo with an iron fist approach, where there are currently big military movements against the militants, which have claims to links with the Al-Qaeda," said ASWJ official. Somali government soldiers supporting by Ethiopian forces and ASWJ fighters conquered many key locations in south and central Somalia from al-Shabaab in the past few months.
Voice Of America - African Union and Somali forces have launched a military operation against what they say is a major training camp for al-Shabaab militants outside Somalia's capital. The African Union Mission for Somalia (AMISOM) said in a statement Wednesday the operation aims to capture Lanta-Buro village, 40 kilometers west of Mogadishu. Officials hope capturing the village will help secure the capital, which is preparing to host a constituent assembly that aims to end 12 years of transitional rule in Somalia.
Fox News - Defections from al-Qaida-linked militant group al-Shabab are accelerating as Somali and African Union troops take new territory around the capital Mogadishu, according to officials in Somalia. Militants who abandon al-Shabab risk retaliatory assassinations from fighters still loyal to the militia, but a government-run program in Mogadishu houses several hundred former fighters, many of them teenagers. It provides them with meals, housing and courses on patriotism, anti-violence and religion. Mohamed Saeed, 18, said that militants didn't dare share plans about defecting with even their closest battlefield friends. Trust, he said, could get you killed. "The plan was to keep secrets to yourself," he said.
Torstar News Service - A cache of intelligence found on the body of Al-Qaeda's African leader, and inside the bullet-ridden Toyota truck he tried to ram through a Somali government checkpoint, provides a chilling look at the global aspirations of Somalia's al-Shabaab. Obtained exclusively by Torstar News Service, the meticulously prepared documents that detail plots for a kidnapping and attacks on London's prestigious Eton College, Jewish neighbourhoods and the posh Ritz and Dorchester hotels, were uncovered last year when senior Al Qaeda leader Fazul Abdullah Mohammed, 38, was shot dead by Somali forces. Fazul was indicted in the United States for the 1998 U.S. embassy bombings in Tanzania and Kenya that killed 224. He was a close ally of Osama bin Laden and considered the key link between Al Qaeda's top leaders in Afghanistan and Pakistan and the al-Shabaab, the terrorist group that has grown out of Somalia's decades of chaos.
SOCIAL MEDIA/POLITICS
SABAHI - The United Nations Political Office for Somalia (UNPOS) has launched three new platforms for online engagement ahead of the country's scheduled transition to permanent government on August 20th. "During the remaining days before August 20th -- and for the weeks that will follow -- communication with and between our key audiences will be increasingly critical," UN Special Representative to Somalia Augustine Mahiga said in a statement released Monday, July 9th. "To this end, UNPOS will be reaching out broadly, through new media platforms to help get the word out and to provide a forum for us to hear from you."
SPORTS/DIPLOMACY
Raxan-Reeb - The British Ambassador to Somalia Matt Baugh on Wednesday joined the prime minister of the transitional federal government (TFG) of Somalia Dr. Abdi Weli Mohamed Ali at Villa Somalia to wish the Somali Olympic team well on their journey to the to the London 2012 Olympic Games. Earlier in the day the British Ambassador met with the Somali Olympic delegation at Mogadishu airport where he and other officials from the British commission took the team through immigration formalities required to ensure trouble-free entry to the UK". "It is a great pleasure for me and the whole Somalia that athletes from our country take part in such big global sporting event despite Somalia suffering from decades of civil wars and terrorism,"the Somali Prime minister said adding that he hoped success for the Somali athletes.
RADIO ROUNDUP
Radio Mogadishu - A pro-government radio station
The Somali National Forces supported by the African Union peacekeepers on Wednesday seized the strategic No-50 airport and Laanta Buur military camp, 50 kilometers from Mogaduihu in Lower Shabelle region. The head of Somali military operations, Ali Araye Osoble, told Radio Mogadishu that they killed 11 al-Shabaab militias and captured three others. He hailed the local residents since they helped the National Forces to hunt down the elements of al-Shabaab in the area. He vowed that they will soon reach the strategic coastal town of Merka.
Radio Andalus - A pro-al-Shabaab radio station
Al-Shabaab Mujahideen's special forces on Wednesday night conducted a well-planned military operation after they entered a house of pro-infidel intelligence officers in Yaqshid district of Mogadishu. The Mujahideens killed seven, including two women and safely returned to their bases. The Mujahideens also seized military equipment and cash from the house.
Radio Al-Furqaan - A pro-al-Shabaab radio station
Tensions are high in Gedo region after al-Shabaab Mujahideen fighters in that region started military movement and deployed more troops in Busar village area on Wednesday. Al-Shabaab Mujahideens fighters launched mortar strikes at Kenyan military bases in El-'Adde village and inflicted losed to the Kenyans. Three Kenyan military vehicles were also burned and the Mujahideens ambushed their convoy in between Kulbiyow and Badhadhe of Lower Shabelle region.
Radio Bar-Kulan - An independent radio station
TFG soldiers in Elasha Biyaha on Wednesday reportedly seized explosives and other military supplies that were hidden in the area by al-Shabaab militants. The weapons seized include parts of anti-aircraft missiles, different kinds of ammunition, bomb-making materials and military fatigues, according to commander of the Somali Armed Forces Gen. Abdikarin Yussuf Dego-badan. Dego-badan said joint military and police raided the area and uncovered the weapons hidden in underground holes. The added the move came after they received tip-off from locals in the area.
Prime Minister Abdiweli Mohamed Ali urged civil society groups in the country to play a role in implementing the country's political process dubbed the "Roadmap" in order to wind up the current transitional period. The PM made the appeal in a meeting with civil society groups in Mogadishu on Tuesday evening. Ali stated his government's commitment in finalizing all unfinished activities to realize their goal. Ali assured the civil society groups that the national constituent assembly will be representing the full spectrum of Somali society including women, youths and the diaspora communities. The PM noted the significance of non-governmental actors' role in contributing ideas, recommendations and refinement of loopholes that may arise during the process.
Security operations aimed at strengthening the security situation in the Somali capital will continue until Mogadishu is free from crimes, according to Interior and Internal Security Ministry. Cabinet minister Abdisamed Mo'alim Mohamoud whose national security falls under his docket said the operations by the Somali and the African Union forces in Mogadishu will continue until they attain reliable security in the capital. He said the operations will be made daily adding that the city has now absolutely reliable security. The minister however attributed this success to the recent operations were more than a hundred suspects were netted and co-operations between security apparatus and the public.
Radio Shabelle - An independent radio station
TFG chairman in Beledweyne town of Hiiraan region, Sheik Osman Barre, claimed that the TFG troops in the region have not been paid for the last several months. "Basically, the soldiers operating in Hiiran region have not received their monthly salaries for many months since the start of this year. The troops have succeeded in improving the insecurity in the town," Mr. Barre said. He called upon the officials of Somali government to pay the regular salaries for the combat soldiers in the region, whom the chairman said they are in duty to defeat al-Shabaab militants.
TFG military officials are claiming the upper hand of a heavy combat against al-Shabaab militants near Baidoa, 256 kilometers northwest of the capital Mogadishu on Tuesday night. Aden Doodshe, the police commissioner of Bay region, told Shabelle Radio that TFG forces killed many al-Shabaab combatants, while several others were captured in alive during a fighting took place on Tuesday on the outskirts of Baidoa town, the third largest city in Somalia. "Our troops carried out coordinated military operations at rebel-held villages close Baidoa on Tuesday, to wipe out al-Shabaab in the entire region of Bay, and had left fighters of the Al-Qaeda linked extremist group in disarray after losing ground and military equipment," he said.