10 July 2012 Daily Media Roundup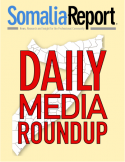 Somalia News Highlights: UN Envoy Urges Somalis to Focus on Country's Future; Puntland Development Activities Very Encouraging, Says Mark Bowden; UN Special Envoy Praises Somali Constitutional Process; Briton Among 133 Foreigners Nabbed in Terror Swoop in Kenya; Widow of London Bomber Training Female Terrorists; A Fire Destroyed Over 200 Makeshift Shelters in an IDP Camp Located at Bosaso City; Aid Slow to Reach Somali Region Free of Al-Shabaab; Former Police Officers Recalled As New Recruits in Central Somalia; Newly Trained Soldiers Deployed in Gedo to Uproot Al-Shabaab; Al-Shabaab Claims To Kill Burundian Soldiers in Lafole; Kenyan Soldiers Confırmed Killed in Ambush, As Claimed By Al-Shabaab; Al-Shabaab Allegedly Attacks An Ethiopian Military Base in Baidoa in Broad Daylight; TFG Forces Accused of Looting Businesses in Afgoye; Senior Al-Shabaab Leader and Bodyguards Surrender To TFG in Gedo Region; Five Civilians Arrested By Al-Shabaab For Spying for TFG; Somali-American Women Donate $70,000 For Renovation of Abudwak Airstrip; and TFG Forces Accused of Confiscating Humanitarian Goods in Afgoye.
COMMENTARY ON ISLAMIC WEBSITES
Somali Memo - The pro-al-Shabaab website claimed that the Ethiopian Consulate in Hargeisa city of Somaliland suspended its diplomatic services due to heightened security threats. The Ethiopian consulate, which provides services to the residents of Hargeisa, has been closed for the last several days. The Somaliland authorities confirmed the closure.Somali Language
POLITICS
UN News Center - With slightly more than a month to go before Somalia's current transitional governing period comes to end, the top United Nations political official for the East African nation today called on all Somalis to help their country on its path to peace and stability. "The end of the transitional period will be an important benchmark, but it is time for us all to begin to look past 20 August and think about the future political dispensation of Somalia," the Secretary-General's Special Representative and head of the UN Political Office for Somalia (UNIPOS), Augustine Mahiga, said in an open letter to the people of Somalia. "Let me urge all Somalis who are stakeholders in the peace process to sustain the political commitment for a broad-based, inclusive and representative post-transitional arrangement. Somalia deserves a political dispensation based on election, not just selection. Somalia deserves peace, prosperity and development," he added.
Garowe Online - President Abdirahman Mohamed Farole met with UN Humanitarian Coordinator for Somalia, Mark Bowden, at the presidential palace in Garowe on Tuesday. The two had a long private meeting where they discussed drought problems in coastal areas, development in coastal and rural areas and the issue of charcoal trade in Somalia. Mark Bowden took a tour of ongoing projects and various sites in Garowe, saying that the development activities in Puntland were "very encouraging" and indicated his pleasure with Puntland's developmental progress.
Sabahi Online - United Nations Special Representative to Somalia Augustine Mahiga addressed the Somali people in a letter on Monday, praising the constitutional process and encouraging Somalis to look towards the future. "The draft constitution is fully compliant with Islamic law and written by Somalis after consultation with Somalis, specifically through the Independent Federal Constitution Commission and the Committee of Experts," Mahiga said. "It is a living document which provides a framework to end the transition as foreseen by the Mbagathi and Djibouti Agreements of 2004 and 2009 respectively."
SECURITY/AL-SHABAAB
Capital FM - A Briton and two Pakistanis are among 133 foreigners arrested in Nairobi on Sunday night, for allegedly being in the country illegally, police said. Others are 81 Somalis, 47 Ethiopians and two Sudanese nationals who were picked up from various estates in a security operation mainly targeting foreigners staying in the country illegally. "The suspects will be arraigned in court later today (Monday)," Police chief for Nairobi Antony Kibuchi said. Most of the suspects were arrested in Eastleigh, South C, Pangani and estates in Eastlands, police said.
The Telegraph - The 28-year-old widow of one of the terrorists in the 2005 London transit bombings is now living in Somalia, working with al-Shabaab militants and recruiting and training female terrorists, reports the Telegraph. Samantha Lewthwaite, who is known as "Dada Mzung" or "white sister" in Swahili, has been in East Africa for some time, narrowly avoiding capture in Mombasa late last year. A blog post on a website for Kenyan radicals calls Lewthwaite a "tormentor" of non-believers in the region with her all-female terror squad. "Now every Muslim sister wants to be like our 'Dada Mzungu.' Inshall'allah, I will join you," wrote one posting.
Hiiraan Online - A huge fire destroyed parts of a IDP camp in the city of Bosaso in Puntland. It is reported that the fire destroyed over 200 makeshift shelters of Bulo Ajuran IDP Camp but the fire which started in the morning is contained as claimed by local authorities.
HUMANITARIAN CRISIS
Voice Of America - Last October, the Kenyan military and a regional militia cleared the village of the militants. But, despite the stability, humanitarian aid has been slow to arrive. Small towns such as Ras Kamboni in the Lower Juba region of Somalia have had almost no access to clean water, education or health care for over two decades. Last week, the first international assistance finally arrived. Dr. Omar Saleh, a surgeon and the humanitarian action coordinator with the World Health Organization-Somalia, led a mission to establish an operating room and train local health workers.
OP-ED
Garowe Online - The author, Michael Weinstein comments the never-ending transitional Somali governments and the power of donor nations in Somali politics. "Somali actors incapable of determining their political fate. The travesty of the transition to a transition is the result of the 'donor-powers' malign neglect."
RADIO ROUNDUP
Radio Mogadishu - A pro-government radio station
Somali government police officials have started to recall former Somali police officers and recruit them as new police force in central regions of Somalia. The chief of Somali police of central regions colonel Mohamed Jim'ale Osoble told Radio Mogadishu that they will re-training the former police officers as new recruits to participate the security operations of the country. Osoble said the move is aimed at recruiting healthy and energetic youths who will be serving their country.
The Somali National Forces on Tuesday advanced towards the strategic districts of Burdhubo and Bardere in Gedo region. Newly trained soldiers, who completed their training in Dolo district, were deployed in those areas to eradicate al-Shabaab elements in the region. The chairman of Gedo region Mohamed Abdi Kalil told Radio Mogadishu that the national forces will soon reach the only two districts those al-Shabaab controls in the region. On the other side the national forces in Lower Jubba region are expected to reach the coastal town of Kismayo.
Radio Andalus - A pro-al-Shabaab radio station
Al-Shabaab Mujahideen fighters on Tuesday shot and killed three Burundian infidels in Lafole district of Mogadishu outskirts. Local residents told Radio Andalus that they witnessed the Mujahideens shooting the infidels. The infidel forces have conducted massive operations in the area after al-Shabaab shot and killed the infidel troops. It is also reported that the infidel troops evacuated their dead friends from the scene.
It is also reported that unspecified Kenyan infidels soldiers were killed and a military vehicle was burned after the Mujahideens ambushed a convoy of Kenyan infidels near Kulbiyow village of Lower Jubba region on Tuesday. Mujahideen military officials told Radio Andalus that the fighting continued more than hours and the Mujahideens forced the enemy to stop their journay.
Radio Al-Furqaan - A pro-al-Shabaab radio station
Heavy fighting between al-Shabaab Mujahideen fighters against TFG and Ethiopian troops took place in Baidoa town of Bay region on Tuesday. The fighting erupted when the Mujahideens attacked bases of the allied forces at the center of Baidoa. Local residents told Radio Al-furqaan that both sides used heavy gunfire. Al-Shabaab Mujahideen military officials stated that the burned military vehicles from the enemy and inflicted lose to them. It's the first time that al-Shabaab Mujahideens attacked the Ethiopian military bases in a daylight since the Ethiopians entered Baidoa three months ago.
Reports from Afgoye town of Lower Shabelle region indicate that TFG troops robbed business centers in the town on Monday night. An eye witness told Radio Al-furqaan that the troops broke more than ten shops in Dhagah-tuur neighborhood and took all the properties in those centers. In one shops, the TFG soldiers looted more than 60 mobile phones by force. Since the TFG and foreign troops entered Afgoye, they were harassing the local residents, robbing their property and killing them.
Radio Bar-Kulan - An independent radio station
A senior Al-Shabaab militant leader and his bodyguard have surrendered to the allied forces in Garbaharey town of Gedo region, ASWJ has claimed on Tuesday. The alleged militant, Mohamed Hassan Abu Amara, is said to have been responsible of the militant group's security wing in Burdubo town. Abu Amara was reportedly quoted as saying that he decided the defect his militant group after realizing that the group's activities contravene Islamic teachings. Ahlu Sunna spokesman in Gedo, Mohamed Hussein Issack said the two were warmly received in Garbaharey. Issack said the two were given amnesty after they confessed that they have been brainwashed by the militant group. Isscak also urged other militant fighters to immediately surrender and denounce their militancy. Abu Amara also reportedly called on his colleagues still fighting alongside with the militant group to take peace and surrender to the government and its allied forces in the region.
Al-Shabaab militants in Jowhar town have reportedly arrested five people for allegedly spying for the Somali government. Two of the suspects were picked from Besha Biya Ade area, some 40 kilometres from Mahaday town while another two were picked from Jowhar town and the remaining one from Qalimow area. The militants tortured some of the accused civilians before locking them up in Jowhar town, according relatives of the accused individuals. The militant group has been making indiscriminate arrests in the area for the past few days in order to suppress dissident.
A philanthropic Somali womens group donated $70,000 to Abudwak airport for renovations on Tuesday. The U.S based womens group, Somali American Women's Foundation, said the money is intended to renovate Abudwak airport which has been undergoing massive renovations since early this year. The group's chairlady Shukri Ahmed Sa'id said they donated the money after they received several applications from the committee tasked with the reconstruction of the airport asking for financial support. Shukri stated their readiness in helping all groups seeking financial support to rebuild vital public institutions and facilities in the country. She said their group took part in the recent efforts to save the lives of millions of Somalis who were badly hit by drought and famine during the recent human tragedy. She added that they will open up more offices in Somalia in order to bring their services close to the needy people in the country.
Radio Shabelle - An independent radio station
Pro-government soldiers in southern Somalia reportedly looted truckloads of food meant for drought-famine victims in Afgoye town of Lower Shabelle region, Witnesses and officials said. Witnesses told Shabelle Radio that Somali government soldiers on Tuesday held up in broad day light two trucks transporting humanitarian aid materials that intended for IDPs in the town. "We shall take measures against those soldiers who were behind the looting activities of the trucks carrying food aid that meant for the internally displaced people," security official told radio Shabelle. This seriously undermines efforts to help hundreds of thousands of people locating in areas between Mogadishu and Afgoye district, many of whom have fled south and central Somalia in a state of famine and drought in 2011, according to aid workers.