9 July 2012 Daily Media Roundup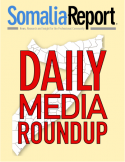 Somalia News Highlights: Djibouti Colonel Appointed as Spokesperson for AMISOM; Somali Elders Stall Political Transition Over Constitution Concerns; Somali-American Presidential Candidate to Campaign Outside of Mogadishu; U.N. Mulls Sanctions Against Eritrean Officials; Translating Early Warning Into Early Action; Somaliland Calls for Urgent Response to Drought; Rooting Out Somali Piracy Starts On-Shore; NUSOJ Comdemns Assassination Attempt Against Another Somali Journalist; A Major Political Rift Erupted Among Al-Shabaab Over Money Extorted from Civilians; Somali Lawmakers and ASWJ Called For Aid To Be Delivered to Southwest Regions; Hiliwa District Leader Escapes Fourth Al-Shabaab Attempted Assassination; Al-Shabaab Claimed to Assassinate Top Security Official in Mogadishu; TFG Files a Formal UN Complaint Against Kenya for Illegal Territorial Expansion; Al-Shabaab Arrested 10 Farmers in Jowhar for Failing to Pay Forced Tax; Galmudug Administration Implemented A Somali Literacy Campaign at 01 Villages; Hundreds of ASWJ Fighters Re-occupy El-Bur As Al-Shabaab Retreats; and IDPs Around Mogadishu Complain About Water And Food Shortages.
COMMENTARY ON ISLAMIC WEBSITES
Amiir Nuur - The pro-al-Shabaab website claimed that the Ethiopian Christian troops are mistreating and abusing the residents of Beledweyne, especially religious leaders and teachers of Koranic schools. The Islamist website claims that most of Beledweyne residents have fled from the town due to continued fighting, but the few remaining residents are under constant abuse and violations of their human rights.Somali Language
POLITICS
Somaliland Press - In an effort to win the support of that local population, AMISOM appointed Col Mohamed Aden Houmed of the Djiboutian Armed Forces as its new spokesperson. Djibouti recently launched its bid for the post and it is believed its position was favored over the Ugandans by the locals and European Union NAVFOR. Lt. Col. Paddy Nkunda from Ugandan relinquished his duties as the head of the information office for the mission on Saturday welcoming Col Houmed during a press ceremony held at the mission's headquarters in Mogadishu. "I wish to welcome Col Houmed from Djibouti army who will be leading AMISOM's information office," he said. Lieutenant Colonel Nkunda has held the post since April 2011.
Voice Of America - Time is running out for Somalia to end its long-running political transition and elect a new president in accordance with a U.N.-backed plan. But a group of elders is holding up the process due to concerns about the draft constitution. Chairman of the Hawiye clan elders, Mohamed Hassan Haad, says the council first wants a chance to review the draft constitution. It looks like there is some hurry to pass it, he says, and it is not something he says they want to do in a hurry, noting he believes there are some important corrections that have to be made. "It would not be consistent with their responsibility and mandate to withhold or push," said Mahig. "Eventually it is the members of the constituent assembly, rather than the elders, who have to provide their 'yes' or 'no' vote."
Somaliland Press - Today the People Party of Somalia's Presidential candidate, Said Issa Mohamud, the first and only candidate to campaign outside of Mogadishu, travels to central Somalia to campaign. This is the second time that Mohamud has left the relative safety and security of Mogadishu to travel to meet Somalis in the more dangerous regions of the country. "It is a crime that most politicians running for President hide in Mogadishu, if they are in Somalia at all," said Mohamud before departing.
SECURITY/AL-SHABAAB
Reuters - Eritrea said on Monday the United Nations was considering imposing sanctions on two Eritrean military officials over allegations they had helped Islamist militants in Somalia, and accused Washington of being behind the plan. The United States Treasury included the two Eritreans on a list of six people placed under sanctions last week for their role in the Somali conflict, which U.S. officials see as a growing threat to stability across east Africa. "On July 3, the U.N. Sanctions Committee included the personal details of two Eritrean military officials in its list of persons allegedly 'associated with terrorist activities' in Somalia," the Eritrean foreign ministry said in a statement.
MARITIME
ISS Today - The dilemma facing those trying to solve piracy in Somalia is that any such efforts should start on-shore. Yet piracy's yields are significant and alternatives are limited. On October 31 2011, Tayé-Brook Zerihoun, United Nations (UN) Assistant Secretary-General for Political Affairs, summed up this dilemma in a statement made to the United Nations Security Council: 'The Somali people, especially the youth, need greater incentives not to succumb to the lure of piracy. Economic rehabilitation and creation of alternative livelihoods, especially development and rehabilitation of coastal fisheries, must be the centre of efforts to fight piracy. But as long as piracy is lucrative, alternative livelihood options will be hard to sell.' The effective combatting of piracy and armed robbery at sea is a prerequisite for economic viable solutions on land, as well as the development of a secure regional maritime trade.
MEDIA
Raxan-Reeb - A Somali Journalist survived an assassination attempt near his home at Madina District in Mogadishu on Saturday evening, around 6:00pm local time, when two unidentified gunmen approached him and shot him four times, he is recovering at the Hospital, NUSOJ reported. Two unidentified gunmen on Saturday shot and seriously injured a reporter and anchor for the Universal Television, a privately owned TV station based in UK, near his home at Madina district, witnesses said. The journalist sustained four gunshot wounds from stomach, and right leg. The National Union of Somali Journalists (NUSOJ) strongly condemned the act and called it barbaric, "We are deeply concerned about the continued assassinations and assassination attempts directed to the journalists at this critical time," Mohamed Ibrahim, NUSOJ Secretary General said, "We call for urgent investigation into the matter."
HUMANITARIAN CRISIS
IRIN News - After this, just the latest of a long series of failures to translate early warnings into timely action, researchers at London's Chatham House embarked on a project to try to find out why. Rob Bailey, who is leading the project, says previous research had tended to focus on technical issues. "If only we could improve the early warning information; if only we could improve the way organizations coordinate with each other, then we would be able to get a better response. This has been the focus in research and policymaking for the past couple of decades, and yet it has only really demonstrated marginal improvements at best, and it did nothing at all in the case of Somalia last year." Instead Bailey says he wants to understand why delay is the typical outcome of the decision-making process, and why politicians, nationally and internationally, might be unwilling to acknowledge a crisis and respond early on. Some pointers have already emerged.
Somaliland Press - The Somaliland Non State Actors Forum (SONAF) calls on the International Community and the Somaliland Government to provide urgent humanitarian assistance to the communities affected by the current drought. SONSAF further proposes the formulation of a long term national strategic plan to address these recurrent droughts in the country. Besides the press release in today's meeting, SONSAF members started collecting donations from individual members of the Forum in order to set an example for the other social sectors and urged every Somaliland citizen to play his part in this national effort.
RADIO ROUNDUP
Radio Mogadishu - A pro-government radio station
A major rift over bribe money broke out between the al-Shabaab officers in Hiiraan region in central Somalia. The officers disagreed on the way the bribe money is collected from the transportation and traders in territories under their control. Some al-Shabaab leaders have proposed to reduce the bribe money from the civilians while the others refused. Locals told Radio Mogadishu that the rift has reached the boiling point.
Somali parliament members and religious leaders of ASWJ met in Mogadishu on Monday called for the aid agencies and the government to deliver relief aid to the residents of Bay, Bakool and Gedo regions. The officials stated that food shortages exist in those areas and humanitarian crises could worsen if immediate relief aid is not delivered to those regions.
Radio Andalus - A pro-al-Shabaab radio station
At least ten pro-infidels militias were killed and dozens others injured in seven heavy explosions targeted at pro-infidels militias in Mogadishu. Most of the explosions took place in Hiliwa district and one of them was targeted at a house of the TFG's chairman in Hiliwa district Omar Jacfaan, but the chairman has escaped from the attack. This will be the fourth time that chairman Ja'faan survived similar attacks waged by the Mujaahideens attack within a month. On the other side, two pro-infidel militias were killed explosions took place in Baidoa town of Bay region on Monday night. Meanwhile, at least three pro-infidels militias were killed as the Mujahideens ambushed a convoy of their vehicles in between Mogadishu and Afgoye on Monday night.
Radio Al-Furqaan - A pro-al-Shabaab radio station
A top TFG security official colonel Mohamed Muse Janaqow was shot and kiiled in Mogadishu on Monday night. The officer was shot by unknown armed men while he was coming out from his house in Dharkinlay district and he died at the spot. The armed men immediately murders escaped the scene. Janaqow was an important officer for the fighting against al-Shabaab in Mogadishu.
Radio Bar-Kulan - An independent radio station
The government has accused neighbouring Kenya of taking advantage of the current political crisis in Somalia by illegally exploring oil and gas in its coastline. In an exclusive interview with Bar-kulan, Somalia's Foreign Affairs minister Abdullahi Hajji Hassan said his government is aware of illegal contracts awarded to foreign companies by Kenyan government to explore oil and gas in Somali waters. He said Kenya has no rights to explore gas and oil in their territorial waters, adding that Kenya should not take advantage of the current political crisis in Somalia. The minister said his government has already lodged a formal complaint with the United Nations, which oversees maritime border laws and is awaiting feedback.
Reports from Jowhar town say al-Shabaab militant have arrested over ten local farmers in the area for allegedly failing to pay taxes. The farmers were reportedly picked from Shinaha Qeybta Barrow area after they allegedly failed to pay 400,000 Somali shilling (around $20) for every hector of land. Locals who spoke to Bar-kulan on condition of anonymity in fear of reprisal said effort to secure the release of the detained farmers hit a snag after militants demanded 600,000 shillings. The group has earlier compelled local farmers to pay a huge amount of money in effort to meet its growing needs.
Over four thousand villagers in central Somalia regions have gained from a two-month long literacy campaign that was sponsored by Iftin, a local NGO. The campaign which was concluded on Sunday was aimed at teaching thousands of adults and children in these regions how to read and write Somali language. The director of Iftin's education cluster, Abdullahi Sheikh Hassan, told Bar-kulan that the campaign was targeted at ten villages in Mudug and Galgadud regions, and lasted for two consecutive months.
Radio Shabelle - An independent radio station
Hundreds of ASWJ fighters on Monday moved towards the main town of El-Bur in Galgadud region after Al-Shabaab retreated, ASWJ security Official Abdirahamn Ali Igal said. Mr Igal stated that ASWJ fighters are in Bula'ley village, on the outskirts of El-Bur, preparing to take over the town and set up a local administration.
Despite the UN announced last year that the Somali famine was over, it is reported that residents and IDPs living certain villages near the capital, Mogadishu, are affected by food and water shortages. More than thousand of IDPs at make-shift shelters in a 'Arbiska village located at the outskirts of Mogadishu claimed that they are suffering from poor and difficulty living conditions. "We didn't get so far any assistance from local and international relief organizations as well as Somali government. The bad living condition is leading in their situation to deteriorate day after day," Said Kadijo Mohamed, a mother at an IDP camp in Carbiska area which sits between Afgooye and Mogadishu.