Shabaab Attacks Ethiopian Convoy in Hurdur
7 Dead, 10 Injured After Fighting Spreads to Nearby Villages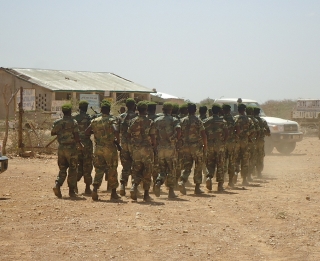 Heavy fighting broke out between al-Shabaab militants and forces from Somalia's Transitional Federal Government (TFG) and Ethiopia on Tuesday when al-Shabaab attacked an Ethiopian military convoy heading to Hudur, the capital city of Bakol region in southern Somalia, according to government officials in the region.
At least seven people were killed and ten others were wounded when the fighting spread to small villages around Hudur, including Teed settlement which links El-Berde and Hudur district.
According to Ali Osman, a local resident in Hudur, the fighting was fierce.
"You could hear sounds of the bullets when you were in Hudur because the militia were using heavy machine guns. The fighting was going more than one hour. After the fighting ended, dozens of Ethiopian troops arrived here," Osman told Somalia Report.
While the official number of casualties remains unknown, local government officials in Bakol claimed victory.
Mohamed Moalim, government commissioner in Hudur, said that they killed five of al-Shabaab fighters and wounded others.
"They attacked the base of our forces at the corner of the town. They also attacked Ethiopia's convoy heading to the town. They were dozens but our forces captured three of the fighters during the fight and killed five others," the commissioner told Somalia Report.
As al-Shabaab attacks Ethiopian troops and other government forces in parts of Bay and Bakol region, the allied forces are planning to seize other main districts in the regions including Wajid and Dinsor, according to officials.
Although no comments were available from the Islamist group linked to Al-Qaida, al-Shabaab has been escalating hit and run attacks against allied forces in recent months.