ASWJ Seeks Independence from TFG, Ethiopians
ASJW Wooing Local Communities to Strengthen Power, Secure Towns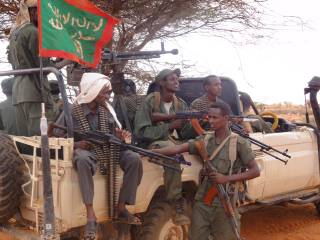 The Ahlu Shunna wal Jamaa (ASWJ) pro-government militia group of Somalia's central region of Galgadud have been facing a dramatic disagreement with the Transitional Federal Government (TFG) over the articles in the draft constitution and the appointment of leaders in the region controlled by the ASWJ. As a result, al-Shabaab militants have been able to recapture major towns in the region like El-Bur after ASWJ, TFG and Ethiopian forces were forced to flee.
To consolidate their power and regain lost ground, ASWJ officials have begun moving away from supporting both the Ethiopian forces, which are supporting the government in their fight against al-Shabaab, and the TFG as they move towards an independent entity by mobilizing residents in regions under their control. The group started holding meetings with the community in the region and plans to involve every resident in their plans to recapture the towns they were forced to abandon.
The chairman of the ASWJ in Galgadud, Ahmed Hassan Ciyow, said the group will start talks with the Himin and Heeb state in the region, which has not been operating on good terms since both sides claimed control of the region.
"It is time to talk to the residents of the central regions. No matter what differences we had initially, we are going to come together with Himin and Heeb state and discuss the future of our regions," said Ahmed Hassan Ciyow.
"We have already had talks with the senior officials of the Himin and Heeb state. The state has made many developments in the region so it is very important to join hands with each other and plan the well-being and the future of the region," he added.
"We are planning to establish a police force in the region in order to maintain peace and order, and curb terror activities in our region. We are planning to also set up an outstanding army with the residents and the people here in order to eliminate the al-Shabaab terrorists from the region," the chairman added.
This comes after a major disagreement broke out between the two groups last year when ASWJ accused the Himin and Heeb administration of carrying out looting in the region which the Himin and Heeb state angrily denied and instead accussed the ASWJ of being the ones causing problems in the region.
Today, both sides appear ready to move past their differences in order to fight their common enemy of al-Shabaab and guard their region from external intervention, including the Ethiopians.
ASWJ officials said talks will start soon with the Himin and Heeb state and will plan to achieve their goals of establishing security and re-seizing districts from al-Shabaab by working with local residents rather than the TFG and Ethiopians