29 June 2012 Daily Media Roundup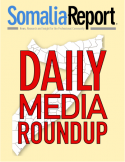 Somalia News Highlights: Islamic Militants Pose New Threat to Africa by US Government; Hundreds of Mogadishu Residents Came Out to Support TFG-Somaliland Talks; Kenya Complains Over Unregistered Mobile SIMs; Somali Government Beefs up Mogadishu Security; Famine in Somalia Offers Lessons For the West in Winning Hearts; Hiiraan Travelers and Residents Complain of Increased Roadblocks; First Batch of Somali Security Force Trainees Flew to Turkey; Al-Shabaab and TFG Forces Clashed in Qansahdher; Al-Shabaab Claims Bodies of Ugandan Soldiers Evacuated to Uganda; Al-Shabaab Withdrew From Parts of Central Somalia Due to TFG-Ethiopia Troop Movements; One Killed and Several Wounded in Clan Clashes in Qalan Qalle; and a Bomb Attack Targeted a Coffee Bar Frequented by TFG Officers in Beledweyne.
COMMENTARY ON ISLAMIC WEBSITES
Somali Memo - The pro-al-Shabaab website posted a lengthy commentary that depicted the Djiboutian leader, Ismail Gelle, and his government as snake that betrayed the Somali people as well as an enemy of Islam. The commentary accuses the Djiboutian leader of rigging the election results, being corrupt by gorging himself with public money, and supporting the infidels and Western nations. It also criticizes President Gelle for sending troops to Somalia to fight along the infidel forces in Somalia.Somali Language
POLITICS
Mail & Guardian - The US says three of Africa's militant groups are striving to coordinate their operations and represent a threat to security on the continent. General Carter Ham, head of the US military's Africa Command, said there were signs that Boko Haram in Nigeria, al-Shabaab in Somalia and al-Qaeda in the Islamic Maghreb are sharing money and explosive materials and training fighters together. "Each of these three organisations is by itself a dangerous and worrisome threat," Ham told an African Centre for Strategic Studies seminar in Washington. "What really concerns me is the indications that are seeking to co-ordinate and synchronise their efforts."
Horseed Media - The Benadir Region leaders, civil society and the residents of Mogadishu have organized today a demonstration in support of the talks between Somaliland and the Somali government. The demonstration was help at Abdiaziz district of Mogadishu and it was attended by hundreds of civilians. Somali Language
SECURITY/AL-SHABAAB
Capital FM - Police Commissioner Mathew Iteere complained that criminals continue to be able to purchase and use unregistered SIM cards despite a presidential directive for the operators to register and keep a database of all their subscribers. "Since our Kenyan security forces engagement in Somalia last year in October, we've had so many attacks and the link is one; the use of mobile phones, all of them unregistered. Why are you not joining us in the fight against crime, why do we have to put profits above the national interest?" Iteere challenged the operators. "Last year we had a very big ceremony, where we gave deadlines for SIM cards registration, what has happened? We have seen a lot of resistance from the service providers; Why? Just because of profits, "he added.
All Africa - A security meeting attended by Somali government officials, including army commanders and district commissioners, was held in Mogadishu on Thursday to improve the security of the capital, a spokesman for Banadir regional administration says. The meeting which lasted for hours, and chaired by Somali defense minister Hussein Arab Isse in the absence of the interior minister Abdisamad Mo'alin Mohamud focused on mainly the security, according to Mohammed Yusuf. "With help of Somali people and national security agencies, we are going to terminate the insecurity acts in the capital," said Mr. Yusuf while he was giving an interview with Shabelle Media.
HUMANITARIAN/POLITICKING
The National - It was not feasible for the US, the biggest donor, to deal with al-Shabaab, which it designates as a terrorist group. The US decided its aid would not be used in the al-Shabaab-held famine zones. For its part, Al Shabab would not accept assistance from the enemy. Immediately, the arguments over access began and al-Shabaab was blamed for "refusing access to relief agencies that want to feed the hungry". But there was a hidden agenda. Several aid workers told me that the West, especially America, regarded the famine as a crucial opportunity to defeat al-Shabaab. Neither the West nor al-Shabab won the battle for hearts and minds: instead new actors like Turkey have shown the way. And I hope the world learns from them.
HUMAN TRAFFICKING
Associated Press - Forty-three Ethiopians and Somalis who paid to be smuggled from their homelands in search of better living conditions died in the back of a crowded, suffocating truck, an official said Wednesday. Deputy Home Affairs Minister Pereira Silima on Wednesday said it was sad that so many people died from the illegal smuggling scheme. Tanzania's state television said the dead bodies were thrown off the truck and dumped in the bush after the driver of the truck realized on Tuesday that some of the people he was smuggling had perished. Some 70 people in the truck survived and are receiving medical treatment and being questioned by police.
OP-ED
Somaliland Press - The author depicts Eastleigh of Kenya as center of afloat with cash money but the cash money and the economic boom will shift to Somalia due security improvements in Mogadishu. "Already diaspora Somalis are going back, following military gains against al-Shabaab over the past year. If things ever come right in Somalia, we'll see a lot more business shift. When the time comes, they'll flog everything and take their cash back to Mogadishu."
RADIO ROUNDUP
Radio Mogadishu - A pro-government radio station
Travelers and residents in Hiiraan region in central Somalia complained that al-Shabaab put up dozens of roadblocks between Buule-burde and Beledeweyne towns. Locals told Radio Mogadishu the militias took bribes from the transport vehicles, in addition to beheading innocent people. Al-Shabaab militias increased the harassment on the Somali people since the Somali National Forces drove them from many regions in the country.
The first groups of Somali police and military who will train in Turkey flew from Mogadishu to Istanbul on Friday. The chief commander of the Somali police, General Sharif Shekhuna Maaye, told Radio Mogadishu that 60 Somalis left or training and others might follow them.
Radio Andalus - A pro-al-Shabaab radio station
Heavy fighting between al-Shabaab Mujahideen and the enemy of the Islam took place in Qasah-dheere district of Bay region on Thursday night. The fighting erupted after al-Shabaab Mujahideen launched attacks on pro-infidel bases on the outskirts and the center of Qasah-dheere. Local residents told Radio Andalus that the Mujahideens entered the district and briefly controlled the enemy's bases. Residents of the villages near the district stated that they could hear the sound of the gunfire between the two sides.
Radio Al-Furqaan - A pro-al-Shabaab radio station
Reports from Radio al-Furqaan indicate that the bodies of at least eight Ugandan soldiers were flown from Mogadishu airport on Thursday to their home country. Sources close to the airport said that an airplane also carried an unspecified number of injured soldiers to receive treatment back home. Most of the casualties were killed and injured during the recent fighting in Maslah military cap and Elasha-biyaha village. The foreign troops are always trying to hide their casualties from the media.
Radio Bar-Kulan - An independent radio station
Al-Shabaab militants have reportedly started retreating from several districts in the central Somali region of Hiran, near the border with Ethiopia. Reports said the militant group has withdrawn some of its military hardware from Bula-barde town after reports emerged that TFG and Ethiopian troops were making military maneuvers in the area. Locals told Bar-Kulan that militants were seen packing their military-ware into trucks heading towards Jala-laqsi town. This comes just a day after the militant group revealed that it would not defend Jowhar town in Middle Shabelle from the advancing Somali and AU forces.
One person died when fighting broke out between two rival clan militias in Qalan-qalle area of Galgadud region on Thursday afternoon. Reports say the militias fought over grazing land in the area which later sparked into physical confrontations. Confirming the incident, Ahlu Sunna's Abudwak district commissioner, Hassan Abdi Alas, told Bar-kulan that one person was killed, adding that the victim had already being buried. He urged the rival clans to live together in peace saying that pasture and water found in the area belongs to all clans in the region.
Radio Shabelle - An independent radio station
An explosion is reportedly targeted a coffee bar located inside the town of Bal'ad of Middle Shabelle region that is frequented by Somali government soldiers, with some reports it caused casualties. Mohammed Jinow, the governor of Middle Shabelle region for the Somali government, confirmed the incident to Radio Shabelle,saying the attack did not cause any loss of life. Eyewitnesses said that the blast was huge and could be heard across the district, killed several people at the cafe.