Analysis
Key Points Missing from Anti-Piracy Conference
More Missing than Learned at UAE Hosted Anti-Piracy This Week in Dubai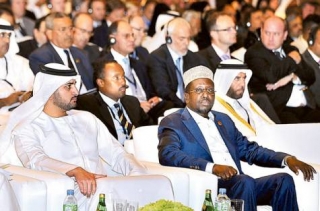 Readers of Somalia Report and attendees of anti-piracy conferences will sense that there might be two separate worlds when it comes to reporting on Somalia and piracy. One world is air-conditioned, with luxury hotel suites, pressed suits, wet bars and dry PowerPoints. The other anti-piracy world is sweaty, gritty and smells like charcoal fires, sweat and brine. Although Dubai is only a week's sail away from Somalia it might as well been light years away in comprehension, action and relevance.
The world of Somali piracy has yet to meet the conference world. The exception would be the few high level Somali politicians who venture forth from Northern Somalia to Dubai to press their case in private discussions while politely meeting and greeting the guests in public.
History on the UAE's Side
This is the second year that the Al Nayhan family and descendants of the House of Al-Falasi have invited foreigners to pitch and woo their solutions to piracy. To the Emirates' credit, they publicly pledge in the low seven figures and politely twist arms over canapés and Perrier in private. Certain members of the UAE are oil rich, but it is above all a maritime nation tossed in more storms than just the threat of piracy.
It should be stated that the rulers of the UAE were not immune to the lessons of the Arab Spring. They have sought the skills and advice of skilled foreigners every since they narrowly avoided being part of Saudi Arabia. Their late but albeit earnest establishment of this conference was a way to get a voice at the crowded anti piracy table populated by much louder and less affected countries.
The sun baked Emirates were once home for pirates. A series of truces between England and ten tiny sultanates or emirates via the Perpetual Maritime Truce of 1853 created what we know as the United Arab Emirates and foreign military power eliminated piracy. Although piracy has moved south, the UAE has the budget, foreign advisors and horsepower to single handedly defeat piracy as they recently demonstrated with the Puntland Marine Police Force, based in Puntland's Bari region.
A rapid reaction force mentored by South Africans leading Somali troops trained on location, backed by a regional government, armed with cash and heavy construction equipment, the PMPF changed the face of piracy within four weeks by pulling in truculent city governments, establishing police outposts and pursuing fleeing pirates away from their stranglehold on law-abiding communities.
The sudden smackdown of Puntland President Farole's high powered, UAE-funded anti-piracy police force was perfectly timed to happen before this conference. It was the gorilla in the room that was never publicly mentioned once. Imagine a UAE sponsored conference about the plight of mariners and scourge of pirates without a single mention that the UAE had perfected the solution.
The Somali invitees included the presidents of Somalia's Transitional Federal Government (TFG), Somaliland, Puntland, Galmadug and the a somewhat similar cluster of quasi authorities with various emerging power bases meeting with traditional power brokers. None of these Presidents are recognized by the UN or other nations.
It was instructive to see Presidents Silyanao, Farole, Ain and Sharif jammed into a side room to witness or sign a completely useless piece of paper that somehow was to show that the TFG and Somaliland were going to work together. To put a finer point on it President Ain who is host to most of the pirates in Somalia and President Farole who chasing them out are not even part of an agreement to " cooperate in the fight against piracy at sea and on land, maritime crime, illegal fishing and toxic dumping".
President Ain and President Farole were kept silent in case they reminded they assembled press that the soon to be fired TFG can't even take a bus to the yet to be recognized Somaliland unless they ask their permission.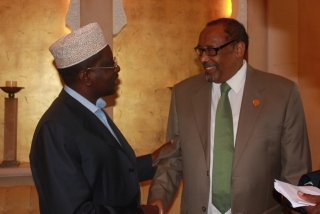 President Farole was not happy after the UAE yanked their magic cash carpet from under him and shut down his Puntland Marine Police Force. In fact he had every right to throw rocks from the back of the room after hearing every single one of the invited speakers give their half baked, over the horizon, solution to piracy when the police in his own region did just that only this month. Initially Farole was the man that broke the logjam that sped up the "Road Map" now his forceful view of federalism and potential control of oil apparently have made his donor knock him down a few pegs. Not quite the message the assembled Presidents wanted to hear.
Anti Piracy Filler
Against this major development and disappointment, the cacophony of same old, same old filled the void. In choosing the circuit players it seemed The UAE does not do a good job of picking speakers for their conference. There are a number of knowledgable players inside Somalia who could enlightened us on what is going on. Of all the presenters, the security crowd seemed the most tuned in.
Most speakers are there as a tip of the hat to prestigious institutions and the critical mass of enough foreign faces to make it worth making proclamations in front of. The big surprise was the million dollar pledge from Oceans Beyond Piracy who actually broke from tradition and put in money instead of more exhortations for others to put in dollars. The usual suspects were there from military, academic, think tank and government. None had anything interesting or new to say and all had some odd little marketing hook that would make a Somali pirate shake his head in dismay. Media coverage was only carried in local papers and Somali news outlets. In all it seemed that the UAE Counter Piracy Conference was just another five star whistle-stop on the anti-piracy boondoggle.
Highlights and Lowlights
Here is a abridged recap of the highlights and lowlights and some wry notes on what Somalia Report thought was missing from the presentations.
The good news is attendees from over forty countries came to Dubai to attend the second annual conference on counter piracy. The UAE wants to be a public player and they write a lot of checks, airline tickets and hotel bills not publicly announced. The focus this year was on the plight of mariners and encouraging the conference members to network. The lead in this program was taken by Sheikh Abdullah bin Zayed al Nahyan the UAE Minister of Foreign Affairs. A documentary paid for by DP World examined the plight of families of mariners and the focus was on the more human aspects of piracy.
Missing: There was no public discussion of what was the singular land-based anti-piracy program or any high profile discussion with Puntland President Farole. Farole pointed out in Foreign Policy that unlike Somalia and the TFG, his region has a functioning state government. He called for increased support for Somalia's regional authorities -- the only institutions currently capable of establishing security and the rule of law.
It should be noted that the Puntland Marine Police Force was sponsored by the UAE Department of State Security and had no role in this conference. The State Security Department (SSD) based out of Abu Dhabi handles the intelligence responsibilities for all of the Emirates other than Dubai.
UAE Donation
The conference opened with a pledge of one million dollars from the UAE government to go into a trust fund to train a 'national guard'. Their hope was that $5 million could be scraped together to train Somali's to fight piracy. Before reader's swoon, the UAE gave half a million just to rebuild one US school after the Joplin Missouri disaster. Considering what piracy costs their maritime companies its hard to fathom why they chose that amount.
Missing: Math. President Sharif immediately embarrassed his hosts and came up with a WAG estimate of about a quarter of a billion dollars a year required to end piracy. Even the $5 million pledged will never hit Somalia's beaches anytime soon. Any funds donated now go through the UN Trust Fund to Support Initiatives of States to Counter Piracy off the Coast of Somalia, affiliated to the Contact Group on Piracy off the Coast of Somalia (CGPCS). The CGPCS has been ordained as the central manager for new funds donated towards the development of Somalia's maritime security capacity.
Peter Chalk
Like most presenters The RAND corporation's Peter Chalk led with IMB figures and estimated that US$159.62 million was paid out in ransoms in 2011. As a counterpoint he provided some costs related to protecting ships in the region: a robust external escort costs between $10,000 and $100,000 depending on the length of the accompanied trip, while an on-board security detail typically runs to between $21,000 and $50,000 per transit. He warned of a PMSC "gold rush" – attracting all sorts of actors that may or may not have appropriate maritime backgrounds. But his point was clear: there is money to be made insuring and protecting ships while nations fiddle with anti-piracy solutions.
Missing: The complete math woud be to "chalk" up the 40% of the 25,000 transits Gulf of Aden transits at even at the low budget three man cost of $10,000 and realize there is a $100 million dollar business at minimum and more likely a quarter billion dollar business. Enough to fill President Sharif's dream of a complete anti piracy program. There was no discussion from a credible military expert of what would constitute an appropriate security apparatus to defeat piracy on land.
Muhyadin Ali Yusuf
Professor Muhyadin Ali Yusuf Chairman of the National Anti-Piracy Task Force (NAPTF) (and the official who seized a $3.6 ransom drop from Salaam Fikira) presented a retro look at what used to pass for a Somali Navy and estimated that a "Somali National Coast Guard (SNCG) would need 3000 men, six 38 meter coastal patrol boats, a dozen 16 meter fast patrol boats, 30 RHIBS, two helos, two fixed wing and fifty 4 wheel drive trucks to patrol 50 kms out of Somalia's rather daunting 3300km coastline." That is one Somalia for every 55 sq km of water and its not even where the pirates operate. That's one cop for the land mass of Manhattan, 24 hours a day. Not going to happen.
Missing:The answer to who exactly would provide the skill sets, equipment and firepower to the SNCG to actually train, refuel, maintain and apply this juggernaut in a country that has no laws against piracy and under a UN Arms Embargo?
Jacqueline Sherriff
Lieutenant Commander Jacqueline Sherriff from EUNAVOR coined a new acronym: DPLD or Disruption of Pirate Logistic Dumps. Not that EUNAVFOR ATALANTA needs more confusing acronyms, but the use of DPLD somehow is going to make air strikes on fishing equipment and make piracy go away. The logic is that sending helicopters to attack DPLDs provides, "credible and visual evidence to the local community of the support that EUNAVFOR is providing to the local authorities to bear down on this criminality."
Missing: Logic. Pirate dumps are actually assembled in remote areas used by fishermen to launch their lobster and pelagic fishing forays. The Somali mariners sleep in crudely made huts or under their skiffs as they chew qat and wait for the tides. What is disturbing about this thinking is that the EU has become judge, jury and executioner, creating the exact opposite effect of engaging and supporting the local population.
Mary Harper
BBC Journo and author Mary Hopkins took a flyer by concluding that "popular stereotypes and widespread media attention to the phenomenon of piracy off the coast of Somalia has in part contributed to unhelpful media myths and stereotypes on the subject, which in turn have led to bad counter-piracy policies." Mary has clearly never met a qat-crazed pirate nor has she invested much time in understanding the glacial dynamics of government institutions that create dysfunctional policy. Her statement that "remains a low-risk, high reward business model" confirms that she has never been 1200kms out to sea in a 20 foot skiff.
Missing: A proper plug for her book: "Getting Somalia Wrong? Faith, War and Hope in a Shattered State" and a apology to Donna Hopkins, who she backhands as having a "a distorted reality of piracy."
Donna Hopkins
The US was represented by US State Department's Counter Piracy Unit Donna Hopkins who took a different turn from her normal presentation and did a nice job of portraying piracy as having human impact in line with the conference's theme. She pointed out cases where not only local Somalis are negatively impacted but that local communities are taking the lead in eradicating the scourge.
Missing: A proactive, substantial and direct American response to the human rights problems she so eloquently pointed out.
Derek Rogers
Derek Rogers, the managing director for the kidnap and ransom (K&R) insurance at Hiscox, provided some curious logic by insisting that: "The insurance industry has at minimum helped limit the impact of Somali piracy through its traditional role of risk transfer. It can also be argued that it has contributed to an ultimate solution by incentivizing the use of best security practices on the vessels themselves."
Missing: A honest statement that the UK insurance industry is directly responsible for putting hundreds of millions in US 100 dollar bills directly into the hands of criminals. Hiscox has been a leader in providing insurance to high risk customers but there also needs to be a direct discussion of their role in piracy's ascent. A hard look at changing the engine that drives the piracy business model. As the Colombians call it - "plato o plomo" (silver or lead). Clearly using "silver" as a from ransom payouts has not done much compared to "lead" in the case of armed security guards aboard ships.
Peter Middlebrook
Peter Middlebrook, co-founder and Managing Director of Geopolicity Inc, an international management and consultancy group based in the UAE explored the 'Pirate Value Chain' and without cracking a smile estimated that: Assuming there to be some 1,500 pirates operating off the coasts of Somalia, Yemen and Oman on average a pirate could expect to earn between US$33,000 and US$79,000 a year, with potential average lifetime earnings of US$168,630 and US$394,200 over a five-year career...Pirate incomes would therefore be 67-157 times higher than national incomes.
Missing: Common sense. With confident monkey numbers like those, the insurance companies should put together an attractive insurance, benefits and retirement plan just for pirates.
Anja Shortland
Anja Shortland was another UK-based academic who wisely veered off her Puntland bashing and dabbled in the same lack of mathematical finesse. Shortland estimated that it would take just under $7 billion to end piracy (that's billion). She makes one correct statement by saying, "Local forces, although not particularly well resourced, are surprisingly effective when they are working with local communities," but continues to pretend that, "The international community can lean on the Garowe authorities to try to project power into the coastal areas and counter piracy." She is blissfully unaware of what is actually going on inside Somalia, however, she makes a valid point that fisheries will not magically save the coastal areas.
Missing: Reports from academics who actually research facts from inside Somalia and spend time on the ground.
Ibrahim Al-Musharrakh
In his brief, Rear Admiral Naval Staff Ibrahim Al-Musharrakh pointed out the various mechanisms that are available and urged better facilitation. He pointed out the vast blind spots and challenge of covering piracy from a maritime perspective.
Missing: The good Admiral did not mention the historical relevance (and successful model) of the UAE as a strategic partner in dealing with piracy nor did he present any concepts on linking up with the existing maritime capability of Somaliland, Puntland and soon the Somali Navy and Coast Guard. There was also no explanation why the MV Iceberg, a UAE-based company owned ship has not been rescued after two long years.
Stephen Askins
While most presenters rehashed incomplete IMB statistics and exaggerated financial cost of piracy from Oceans Beyond Piracy BP, maritime lawyer Stephen Askins, partner at Ince & Co. delivered some of the freshest and most useful information, machine gunning the audience with facts like:
- 220 Maritime Security Companies are in business now
-75% of them based in the UK
- 40% of ships carry armed guards
- 80% of ships comply with Best Management Practices
- Average length of ship theft is 250 days
and more.
Askins was essentially presenting the idea that regardless of much hand wringing, powerpointing and networking that goes on the maritime industry is busy taking care of their problems, with or without an international solution to piracy.
Missing: A sharp rebuke to the attendees that while mariners suffer continue to suffer the shipping industry is charting their own course, and its employees are suffering the consequences of inaction.
Overall the second annual UAE Counterpiracy Conference provided yet another five star location for mingling, a chance for industry pundits to beat their dead horses and some awkwardly stage-managed public performances. But this years event will be more remembered for what was missing. Meanwhile just under 300 souls kidnapped inside and offshore Somali sit and ponder their fate.
Final Statement
Page One 01_e1340992718246.png Page Two 02_e1340992770964.png Page Three 03_e1340992907774.png Page Four 04_e1340992936561.jpeg