Weekly Security Roundup
June 23 - 29, 2012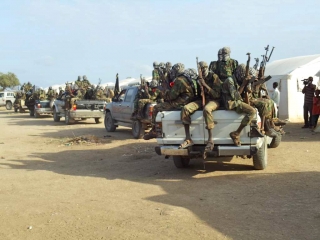 Insecurity across different regions of Somalia this week resulted in the deaths of at least 30 people and 28 others were injured. The incidents ranged from the killing of a local judge in northern Somalia, to fighting in central Somalia that killed two, to the murder of civilian. TFG commanders in southern Somalia claimed to have killed al-Shabaab fighters while al-Shabaab militants ambushed allied forces in Lower Jubba. The incidents occurred mainly in the regions of Banadir, Bay, Galgadud, Gedo, Lower Jubba, Lower Shabelle, Middle Shabelle, Mudug Sool and Togdheer.
Total Casualties for the week of June 23 - June 29, 2012
Total Deaths: 30
Total Injured: 28
Total Casualties: 58

BAY: TFG Soldiers Injured in a Grenade Attack
June 23, Qansah-dere - At least five people, including three TFG soldiers, were injured in an explosion after unknown men lobbed hand grenades into a teashop in Qansah-dere, Bay region, according to government officials. The attackers reportedly fled the area immediately after the attack.
GALGADUUD: Clan Militia Fighting Claimed Two
June 23, Mirro-Owleed - At least two people died and one was injured in central Somalia, after fighting broke out between clan militias in parts of Galgadud region, local eyewitnesses said. The two clan militias reportedly fought over grazing land and water resources in the area sparking tension in Mirro-Owleed, which borders Mudug and Galgadud regions.
GEDO: TFG Claims to Have Killed Al-Shabaab Fighters
June 23, Garbaharey - TFG officials in parts of south-west Somali region of Gedo said they killed an al-Shabaab fighter and injured six others in fighting in Garbaharey town. TFG's Gedo regional commissioner, Mohamed Abdi Kalil, told local media that they removed several al-Shabaab roadblocks along Garbaharey and BeledHawo cities and freed two abducted tracks in the operaton. The trucks were carrying goods for local traders in Garbaharey town.
SOOL: Gangs Killed Local Judge in Las Anod, Northern Somalia
June 23, Las Anod - Armed gunmen on Saturday night shot dead a regional court judge in Las Anod city, Somaliland police said. Ahmed Haji Mohamud (Dun-kalah) was gunned down by gangs armed with pistols. Police said they managed to seize one of the attackers.
Bay: TFG Troops Ambushed
June 24: Berdale - At least five fighters were killed and other three injured in a fight that raged between al-Shabaab militants and Somali government troops in areas between Bay and Gedo regions in southern Somalia.The fight started after the militants attacked TFG owned trucks travelling between Yurkud and Berdale towns.
LOWER JUBBA: Al-Shabaab Attacked Allied Forces Bases in Badade town
June 25, Badade - A fierce gun-battle between TFG troops backed by Kenyan and pro-government Raskamboni forces and al-Shabaab rebel fighters claimed the lives of at least four fighters. Two others were injured in the fight, according to Raskamboni brigade officials. The clash erupted after heavily armed al-Shabaab fighters launched attacks on TFG, Kenya and Raskamboni bases in an area near to Badade district of Lower Jubba region. Badade is part of Lower Jubba districts under the control of allied forces fighting al-Shabaab.
LOWER SHABELLE: Al-Shabaab Killed a Passenger
June 26, Jowhar - Al-Shabaab militants in Middle Shabelle region killed a passenger in area 10 km away from Jowhar district, according to eye-witnesses who spoke to Somalia Report. The deceased, Ahmed Aynte, was a broker of public service transport ferrying goods and passengers between the regions.
LOWER JUBBA: Five Al-Shabaab Killed, says TFG commander
June 26, Badade - Somali government and pro-government Raskamboni milita group officials say they killed a number of al-Shabaab fighters who were involved in an ambush attack on Monday night. Colonel Arab Ahmed told Somalia Report that their troops killed five al-Shabaab fighters and wounded seven others. Al-Shabaab officials were not available for comment.
TOGDHEER: Five Killed in Tribal Affiliated Skirmishes in Northern Somalia
June 26, Buuhoodle - At least five people died and four others were injured when fighting broke out between two clan militias in Buhodle area of Sool region on Tuesday. Reports say the fight of Do'mo village was reportedly triggered by clan animosity and revenge for a murder case that dates back to two months. Elders from the neighboring Buhodle and Las Anod town were dispatched to the area to quell the violence, while injured people were taken to medical centers in Buhodle town.
LOWER SHABELLE: TFG Commander Killed in Road Carnage
June 26, Elasha-Biyaha - TFG deputy commissioner of Elasha Biyaha, Mohamed Adan Qor-gab was killed in a grisly road accident on Tuesday, according to Somali government officials. The accident involved the commissioner's vehicle, area commissioner Farah Mohamed Ga'amey told local media.
BAY: TFG Claimed to Have Killed AL-Shabaab Militants
June 27, Baidao - Somali government officials in Baidoa claimed to have killed five al-Shabaab fighters and injured others in fighting in the outskirts of the city. Abdifatah Ibrahim Gesey, TFG Bay regional commissioner, said TFG forces were ambushed while they were heading to Goof-Gaduud area. One of the TFG soldiers who were involved in the fight, Maadey Abdi Dhuhul, told Somalia Report that two of their soldiers were also injured in the ambush.
(Editor's Note: The TFG, AMISOM, KDF, ENDF, ASWJ, various militias, al-Shabaab and other forces fighting in the country often report conflicting casualty numbers. Somalia Report assembles these weekly incidents from a variety of sources and numbers may vary.)