28 June 2012 Daily Media Roundup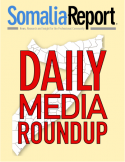 Somalia News Highlights: Historic Agreement Paves Way for End to Somali Bloodshed; Somaliland Minister of Information Staunchly Reiterates Stance on Somaliland Independence; Museveni to Hold Talks With Somalia's Prime Minister; Kenyan Town Near Somali Border Hit By Blast After Fire at Market; Briton Killed for Standing Up to Pirate Fraud Gang; Djibouti is Expected to Send More Troops to Somalia; Pro-TFG Forces Accused of Killing Afgoye Businessman; Al-Shabaab Claimed to have Ambushed TFG-AMISOM Troops in Bal'ad; Clashes Erupted Between Al-Shabaab and TFG-AMISOM in Afgoye; Al-Shabaab Allegedly Targeted Ethiopians in Beledweyne with Roadside Bomb; Somali Speaker Urged Somalis to Support the Constitution; Al-Shabaab is Expected to Desert Jowhar and Revert to Ambush Attacks; TFG Arrested 11 Al-Shabaab Suspects in Bal'ad; and Galmudug Administration Distributed $75,000 to Needy Women.
COMMENTARY ON ISLAMIC WEBSITES
Amiir Nuur - The pro-al-Shabaab website reacted to and exploited an article published by Newsweek/The Daily Beast and used the article as evidence of collaboration between the CIA and Puntland. The website depicted the story as proof of prison torture in Somalia and compared it to Abu Ghraib prison of Iraq.Somali Language
POLITICS
The National - An historic meeting between the presidents of Somalia and Somaliland in Dubai today may be the first step towards ending years of bloodshed there. The meeting, facilitated by the UAE, was the first in 21 years. Sheikh Sharif Sheikh Ahmed, the president of Somalia's transitional federal government, and Ahmed Mohamed Silanyo, the president of the Republic of Somaliland, signed a declaration that paves the way for future talks and cooperation between the nations. "This is a breakthrough and we are happy that our brothers in the north want to speak and negotiate," said Mr Ahmed. "As you know, all Somalis come from the same ethnic background, speak the same language and practice the same religion. So we are looking for solutions that satisfy all the segments of Somalia. Such negotiations need time and we hope it will succeed."
Somaliland Press - As part of its commitment to ensuring peace, stability and democracy throughout the Horn of Africa, the Somaliland representatives reiterated their support for ending the transition in Somalia. Such a declaration in no way implies that Somaliland is becoming an internal actor in the Somalia Road Map process; it is simply endorsing the establishment of a legitimate government in our neighbour, Somalia, a position which Somaliland shares with the international community, and which is in Somaliland's interests. As His Excellency, the President of the Republic of Somaliland overtly declared both in his commemoration of the 52nd anniversary of the independence and on his departure to the Somali talks: "Somaliland's independence is irreversible and nonnegotiable."
New Vision - Dr. Abdiweli Ali became Somalia's Prime Minister as a result of the Kampala Accord which was crafted in Kampala by President Museveni last June. He will meet Museveni on Friday, the Prime Minister Amama Mbabazi and the Army Chief Gen Aronda Nyakairima. Ali will also visit a few families of Ugandan soldiers currently serving under AMISOM, relatives of those who died and those who are wounded. For security reasons, details of the program are guarded but the advance team is already.
SECURITY/AL-SHABAAB
Bloomberg - An explosion rocked a market in the northeastern Kenyan town of Wajir near the border with Somalia, a district official said. The "very large" blast occurred today after waste at a dump site in the market caught fire, District Officer John Kihara said in a phone interview from the town, 500 kilometers (311 miles) northeast of Nairobi, the capital. Five women were treated for shock at the scene, Halima Hassan, a trader at the market, said in a separate phone interview. Police are investigating the explosion, which may have been caused by a device left by people planning to target Kenyan army troops traveling between a base in the town and the Somali border, Kihara said.
MARITIME
The Telegraph - A British marine expert was killed for standing up to a gang who tried to cash in on false claims that Somali pirates had attacked their ships, an inquest heard. David Mockett defied the "bully boys" and paid for it with his life when a bomb blew apart his car as he drove from work in Aden in July last year, the hearing was told. He had been investigating the Brilliante Virtuoso, a Liberian registered oil tanker allegedly attacked by Somali pirates 20 miles off the Yemen coast. In an email to his wife, Cynthia, 65, Mr Mockett had said that he "could not find any evidence of bullet holes or exposure to grenades". After his death, Mrs Mockett spoke to one of her husband's friends, John Murphy, who claimed that Mr Mockett had been killed "because of his investigation" into the tanker.
OP-ED
The Star - The author, Abdirizak Omar Mohamed, criticized the Somali Roadmap and proposed a federal system that brings together southern and northern Somali regions with equal representation of all clans. "Somalia should adopt a system of federalism that is functional and would federate Southern and Northern Somalia. This system must accommodate the diverse clans within these two jurisdictional areas, where power is shared based on density and population."
RADIO ROUNDUP
Radio Mogadishu - A pro-government radio station
Djiboutian President Ismail Omar Geleh announced that his government would send more peacekeeping troops to Somalia. Speaking at the 35th anniversary of Djibouti's independence from France, Geleh stated that the troops would take part in the fighting against the enemy of Somalia. The Djiboutian government has already sent 800 troops to Somalia.
Radio Andalus - A pro-al-Shabaab radio station
The pro-infidel militias who recently seized Afgoye district of Lower Shaabelle region shot and killed prominent businessman Abdi Ma'ow in his house in the centre of Afgooye on Thursday. Reports say that the militias killed the businessman after he refused to pay money (bribe) demanded the militias.
Dozens of pro-infidels militias were killed and military vehicles burned as the Mujahideens ambushed a convoy of infidels between Balcaad and Mogadishu on Thursday. Mujahideen military officers told Radio Andalus that they fulfilled a well planned attack and inflicted loses on the enemy. The Mujahideens forced the enemy to stop their journey. In addition, fighting took place in Yaqshid, Hiliwa and Dayniile districts of Mogadishu after al-Shabaab attacked the pro-infidel bases on Wednesday night. Also two TFG intelligence officials were killed in a special operation in Arafaat village of Mogadishu.
Radio Al-Furqaan - A pro-al-Shabaab radio station
Heavy fighting between al-Shabaab Mujahideen and TFG militias took place in Afgooye town of Lower Jubba region on Wednesday night, following increasing hit and run attacks against the TFG and foreign troops in Somalia. The fighting erupted as al-Shabaab fighters launched attacks on TFG bases on the outskirts of Afgooye. Locals told Radio al-Furqaan that they saw the bodies of two TFG soldiers on Thursday morning.
Radio Shabelle - An independent radio station
A roadside bomb hit Ethiopian soldiers in Somalia's central town of Beledweyne, causing heavy casualties. According to the local residents, the blast targeted Ethiopian soldiers along with Somali troops who were passing a village in the eastern part of the town in the early hours on Thursday. Following the attack from a remote-controlled landmine, Somali and Ethiopian forces opened fire at nearby civilians, but no deaths were reported so far. Casualties on Somali and Ethiopian troops are yet to be established. The Ethiopian military rarely comments on its ongoing operations.
The speaker of Somalia's parliament, Sharif Hassan Sheik Aden, called on the people of Somalia to support the new draft constitution for the country. Speaking to reporters in Mogadishu, the speaker said, "There are rumors circulating among the people, all on the draft constitution, and there are also some opponents, so I suggest people to give their support to it, then we would be able to make changes in draft constitution." 135 of Somali elders are meeting in Mogadishu to select a constituent assembly of 825 elders that will ratify the new draft constitution and form a permanent parliament.
Radio Bar-Kulan - An independent radio station
The al-Shabaab militant group has revealed that it will not defend Jowhar town, Middle Shabelle, from the advancing Somali and AU forces, just two days after the allied forces wrested control of Bal'ad town. The area rebel leader Yussuf Isse (Kaba-kutukade) on Wednesday evening reportedly called together local elders in Jowhar and told them that his militants will pull out of the town without engaging in any fight with the allied forces. He allegedly said they changed their tactics against the allied forces and threatened to shoot anybody who is seen engaging with the allied forces. The militant leader also reportedly disbanded hundreds of militant fighters who were recently collected from other areas in the district in order to defend the town.
Somali forces on Wednesday afternoon reportedly impounded 11 suspected militants and their battle-wagon near the recently captured Bal'ad town. Area regional governor Abdi Jinow said the vehicle and the suspected militants onboard were taken into custody. He said the suspects will appear in court once investigations are complete. There are conflicting reports emerging from the area, with some alleging that the vehicle belongs to the pro-government Ahlu Sunna militia group while others say it belongs to Al-Shabaab.
A local aid agency in central Somali region of Galgadud on Thursday distributed financial aid to a 150 small scale women traders in Guri'el, Abudwak, Balanbal, and Herale districts of Galgadud region. The Agency, SAADO, distributed a total amount of $75,000 donated by a Dutch-based humanitarian agency, Novib, to these women who have earlier undergone business training. After the training each of the participants who support their families through selling meat, vegetables and clothes were given $500 to support their business and an additional amount of $25 for their participation of the five days training. SAADO's head officer in the area, Mohamed Khadar, told Bar-Kulan the intention of the money is to help these women grow their business, adding that his organization will monitor whether the beneficiaries are making gains or not.