26 June 2012 Daily Media Roundup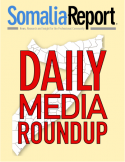 Somalia News Highlights: Somaliland President Sends Independence Day Greetings 52 Years After British Rule; GCC Should Support New Somali Drive for Peace; Uganda Detains Five Pakistanis Suspected of Rebel Ties; 200 Britons are Fighting Alongside Al-Qaeda Terrorists in the Middle East and Africa; Amid Insecurity, More Somalis Cite Difficulties Sustaining Themselves; Telecoms Firm, Hormuud Draws Militia's Ire in Somalia; A High-Ranking Delegation Visited Baidoa to Assess Security Situation; Somali President Reaches Dubai to Attend Global Anti-Piracy Conference; Al-Shabaab Claims to Have Killed Four Burundian Soldiers Including a Female in Mogadishu; TFG Leader of Elasha Biyaha is Allegedly Killed in Ambush; Al-Shabaab Claimed to Have Attacked Maslah Military Base in Mogadishu; 23 Kenyan Soldiers Were Allegedly Killed in Northeastern Territory by Al-Shabaab; Al-Shabaab Forcefully Collected $13,000 from Residents of Galgadud Region; TFG-Kenyan Forces Killed Eight Al-Qaeda Affiliated Militants in Badhadhe; and Seven Were Killed in Clan Clashes Between Somaliland and Khatumo States.
COMMENTARY ON ISLAMIC WEBSITES
Somali Memo - The pro-al-Shabaab website claimed traditional elders and intellectuals of Abgaal Osman sub-clan of Hawiye held a meeting to discuss their clans role in the Islamic Jihad, especially when the infidel forces of AMISOM attacked areas inhabited by Abgaal clan. The clan representative in Bal'ad area claimed that it is this time that Abgaal people should demonstrate if they are in support of the Jihad or not. A 5-minute audio of an alleged interview with Abgaal elders was posted online .Somali Language
POLITICS
Somaliland Press - President Ahmed M. Silanyo has greeted Somaliland and its people on the occasion of the 52nd anniversary of the Independence of the Republic. This occasion, which brings together the past, the present and the future generations, commemorates Somaliland receiving their independence from Great Britain on 26th June in 1960. According to the presidential press office, in his message of greetings, Mr Silanyo said "on this day of great historical significance, I want to convey my good wishes to Somaliland and its citizens both in the country and abroad. I pray for prosperity and full statehood."
Gulf News - For more than two decades, any news from Somalia has been bad and it is routine to dismiss the country as a failed state with little hope of recovery. But hopeful events this week mean that regional and international friends of Somalia must rally around to support a new initiative to rebuild a state and a shattered society. The infant Somali state needs help. It is important that the African Union peace force stays in place till it is able to manage its own security and the African Union has made clear that it is ready to help. The economy needs help and more stable areas like Puntland in the far north east have already started to attract investors from the Gulf. This is where the GCC should be ready to help by offering investments and helping reshape the desolate Somali economy.
SECURITY/AL-SHABAAB
Reuters - Uganda has arrested five Pakistanis suspected of militant links, police said on Tuesday, two weeks before the second anniversary of a bombing attack in Kampala for which Somali Islamist rebel group al-Shaabab claimed responsibility. Officials say the country is vulnerable to further attacks from al-Shabaab who have vowed to keep striking until a Ugandan army contingent, leading an African Union-mandated force protecting Somalia's government, withdraws. "We got suspicious because these five Pakistanis were coming from Congo and entering Uganda through an ungazetted border point," Nabakoba said.
Mirror News UK - The renegades from across the UK have joined forces with the heavily armed Islamist terror groups in Yemen, Somalia, Libya. Syria and Afghanistan. al-Qaeda maniacs in the Middle East and Africa are waging holy war alongside around 200 radicalised Britons, it has been revealed. The renegades from across the UK have joined forces with the heavily armed Islamist terror groups in Yemen, Somalia, Libya and Syria – and have even fought British troops in Afghanistan. "Some will return to the UK and pose a threat here. This is a worrying development and could get worse as events unfold."
HUMANITARIAN/SECURITY
AlertNet - Conflict is normally cited by displaced Somalis as the main reason for flight, but in recent weeks we have seen an increase in IDPs and refugees also citing difficulty in providing for themselves. Over the past seven weeks we have registered some 6,000 Somalis who have cited such difficulties - usually arising from meager seasonal rains and resulting food insecurity. The majority are from Somalia's Bay, Lower Juba and Bakool regions. For 2012 to date, UNHCR has recorded 13,000 such displacements. However in May alone we registered 4,400. Insecurity is still the major cause of displacement inside Somalia, accounting for around 146,000 displacements so far this year. There are also reports that the regular commercial traffic carrying food and other commodities from the port town of Kismayo to Afmadow, Lower Juba Region, and Dobley has been hampered by roadblocks since late last week. We note with concern that the continuation of such paralysis would have negative consequences for already vulnerable internally displaced people (IDPs) and host communities in the region and will likely increase local commodity prices.
TELECOMMUNICATIONS/SECURITY
Standard Digital - A money transfer venture by Somalia's leading telecommunication company (Hormuud), modelled alongside Safaricom's M-Pesa system, has come under threat of closure by the Al Shabaab terror gang. Through public statements aired on some Somali radio stations and posted on the Internet, Al Shabaab claims the service, which has proved popular among the Kenya Defence Forces tracking down the rag-tag army in Somalia, is "an oppressive tool of the Jews and US." The real reason for their opposition, however, is believed to be the competition it offers traditional hawala money-courier systems, a source of revenue for the group. By cocking their guns at unarmed agents of Hormuud Telecommunication, the terror gang has succeeded to scare off operators across the country and totally disrupt the service.
OP-ED
Somaliland Press - The author, Yusuf Dirir Ali, states that the dialogue between Somaliland and the TFG is creating false hopes for both sides, the Somalilanders and Somali federalists. "Subsequent to that dialogue, Somaliland citizens were waiting to minimally witness the sovereignty of Somaliland unambiguously put into the agenda of the forthcoming talks with Somalia. Additionally, the Somalia people misunderstood Somaliland's acceptance of the Somaliland-Somalia dialogue and wrongfully misinterpreted it as a softening of the Somaliland government's stance on its sovereignty issue."
RADIO ROUNDUP
Radio Mogadishu - A pro-government radio station
A high-ranking delegation composed of officials from the Somali internal ministry, AMISOM, UNPOS, IGAD and Ethiopia visited Baidoa town on Tuesday and met with the local authorities and the elders of Baidoa. The aim of the delegation is to assess the situation of Bay region and how the security operations against al-Shabaab are going. The officials toured the front-lines and also the military camps in the region.
Somali President Sheikh Sharif Sheikh Ahmed on Tuesday arrived in the United Arab Emirates (UAE) to hold talks with UAE government officials. The president was accompanied by the foreign minister, defense minister and other TFG officials and is expected to attend a global anti-piracy conference scheduled to kick off on Wednesday in Dubai. President Ahmed will be among foreign ministers, senior government officials from more than 50 countries and heads of maritime industries at the two-day convention, which ends on Thursday.
Radio Andalus - A pro-al-Shabaab radio station
At least four Burundian infidel soldiers, including a female soldier, were killed and several others were injured as a heavy explosion targeted the infidels in Gubta Neighborhood of Mogadishu on Tuesday. Six pro-infidels militias were also killed after explosions targeted their base in Towfiiq village of Mogadishu.
Reliable sources of Radio Andalus claimed that the pro-infidel chairman of Elasha Biyaha district, Mohamed Farah Abdi, three of his bodyguards and three officials were killed in an al-Shabaab ambush on the outskirts of Mogadishu. Reports indicated that Chairman Abdi's vehicle crashed during the ambush and caused his death. This second important enemy officer killed within a week after days ago the Mujahideens killed the military operations chairman, Afrah Ali Afrah.
Radio Al-Furqaan - A pro-al-Shabaab radio station
Heavy fighting between al-Shabaab Mujahideen against TFG and foreign troops broke out in Mogadishu on Tuesday night. The fighting erupted when the Mujahideens attacked Maslah Military Camp in Hiliwa district. Local residents told Radio al-Furqaan that the Mujahideens military vehicles were taking part the fighting. Both sides used heavy gunfire, including machine guns and artillery.
At least 23 Kenyan soldiers were killed and nine others were seriously injured after al-Shabaab Mujahideen fighters ambushed Kenyan vehicles convoy in Haluuqa settlement in north-eastern region of Kenya on Tuesday, according to an al-Shabaab Mujahideen press release. The press release stated that seven of the soldiers were killed after a landmine targeted their vehicle and the other 16 were killed after shoulder fired missiles hit their vehicle. The convoy came from inside Kenya and was heading to Kulbiyow village in Lower Jubba region. The Mujahideen have safely returned to their bases after they fulfilled their aim.
Radio Bar-Kulan - An independent radio station
Al-Shabaab militants extorted large sums of money from locals in El-der and Gal'ad towns of Galgadud region. The group allegedly received a total of $13,000 from the locals, with each town paying the militant group around $6,500. TFG's former Commissioner of El-der District Hussein Mohamed Osoble told Bar-kulan Radio that locals were forced to pay the money our of fear of repercussions including beheadings. Mr. Osoble also alleged that the militant group formed a committee to forcefully collect the money from the locals in order to support their militant activities in the region.
Radio Shabelle - An independent radio station
A Somali army official claimed at least eight people, mostly Al Qaeda-affiliated militants, were killed and seven others wounded in a heavy battle between government soldiers backed by Kenyan military forces and al-Shabaab fighters in Lower Juba region in southern Somalia. The fighting erupted after al-Shabaab agents with rocked propelled grenades and machine-guns attacked Somali and Kenyan army bases in Badhadhe town on Tuesday morning, a town straddling the Somali-Kenyan border. "At least five al-Shabaab fighters are dead and seven others sustained a variety of wounds during the attack and counter-attack in Badhadhe town, said Somali army commander on the condition of anonymity. "Three from both warring sides were killed early on Tuesday fighting inside the town," said a local resident.
At least seven people were reportedly killed and several others were injured in heavy fighting between two armed militias loyal to local clans that dwell in a township near Buhodle city of Togdheer region, reports said. The firefight broke out after tribal fighters carrying weapons attacked a village run by a band of militia loyal to another clan in the area, according to a local resident. The cause of the skirmish could not be independently verified as the both rival sides have yet to release any comments on the violence. The town of Buhodle is one of the disputed areas in northern Somalia between the newly established Khatumo state, Puntland and Somaliland.