TFG and AMISOM Seize Bal'ad
Prime Minister Visits Bal'ad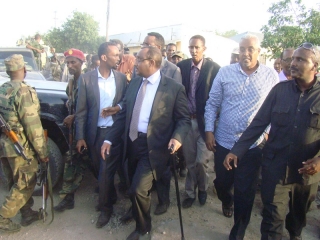 Somali government troops allied with African Union peacekeeping forces (AMISOM) seized Bal'ad district of Middle Shabelle region early Tuesday after battling the al-Shabaab militia, an Islamic group linked to Al-Qaida which had been in control of the town for the last three years.
The governor of Middle Shabelle region, Osman Mohamed Mahmoud, who spoke to Somalia Report indicated that Transitional Federal Government (TFG) and AMISOM forces set up positions in three main areas in the town including the bridge and police station.
"Thanks to our alliances, we seized the town after fighting. Al-Shabaab fighters escaped and moved out of Bal'ad. We didn't have any casualties from our troops or the AU. We are planning to secure the town as soon as possible and clear the land mines from the roads and other strategic places in the town," Osman said.
"We promise that we will take over other districts in the region. I am telling you that our troops will continue their efforts and attacks against al-Shabaab until the elimination of the Al-Qaida," he added.
"Government forces are 10 kilometers away from Jowhar. We are planning to confiscate whole the region and this might be the end of al-Shabaab," General Abdulahi Anod, a TFG army commander, told reporters.
Initial reports said landmines targeted battle wagons from AU and TFG forces during the fight.
"I heard a heavy blast which seemed to have occurred near the station. People said the explosion targeted a TFG convoy settling there," Halimo Afrah, Bal'ad resident told Somalia Report.
No comments were available from al-Shabaab officials, but dozens of al-Shabaab militia escaped the town around 05.00 this morning.
TFG Officials Visit Bal'ad
Somali Prime Minster Abdiweli Mohamed Ali and other AU and TFG officials visited Bal'ad district only hours after it was seized by the allied troops.
The prime minister spoke to government and AMISOM forces in Bal'ad and sent his congratulations to all the Somali troops. He asked commanders to push forward and take over the remaining districts in Middle Shabelle region.
The Importance of Bal'ad
Bal'ad, which lies about 36 km northeast of Mogadishu, is strategic city as it links many provincial towns in and outside the region. Three vital roads from Bal'ad link to Jowhar, the capital of Middle Shabelle region which is about 60 km meters from Bala'ad.
Bal'ad boasts of rich farming land, which created a financial base for al-Shabaab who taxed the farmers on a regular basis. For the past several years, the town served as a haven for senior al-Shabaab leaders in Somalia including foreign fighters.
The town is near the Shabelle River and some of its roads link to Mogadishu, Jowhar, Afgoye, and Baladweyne, the capital of Hiraan region. Seizing it provides the allied forces with a huge strategic advantage.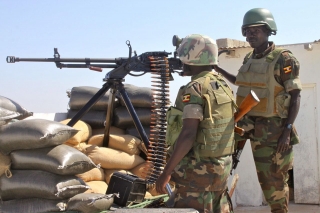 Tensions High in Jowhar
Sources close to al-Shabaab told Somalia Report that senior officials including the governor of Middle Shablle region fled from Jowhar in anticipation of an allied advance and moved to militant bases in districts of Lower Shabelle region.
Residents said tensions are high in Jowhar, the provincial city of Middle Shabelle region.
Meanwhile fighters from al-Shabaab shot to death Ahmed Ali Eynte, a driver, at a checkpoint about 10 kilometers from Jowhar town.
Other Attacks in Jubba Regions
Al-shabaab fighters attacked a Kenyan military convoy headed to Kulbiyow settlement of Lower Jubba region.
Fighting between al-Shabaab and Kenyan forces erupted in Haluuqe village when the militia launched attacks against a military convoy heading to Kulbiyow according to sources.
An al-Shabaab officer who refused to be named told Radio Andulus in Kismayo that they killed 23 Kenyan soldiers and wounded at least ten others.
Sheikh Hassan Ya'qub, the militia commissioner of Kismayo, said on Monday they designed their military tactics to defend Kismayo, a port city in Lower Jubba, from TFG and Kenyan forces.