Part Two: What is Lasqoray?
As part of our "What is" series, Somalia Report investigates Lasqoray (Las Qoray, Laasqoray), a seaside town in Somalia's disputed Sanag (Sanaag) region, claimed by both the breakaway region of Somaliland and the semi-autonomous region of Puntland. Part One examined the history, geography, governance, clan structure, and the conflict. Part Two covers the economy, natural resources and the rebuilding of the port.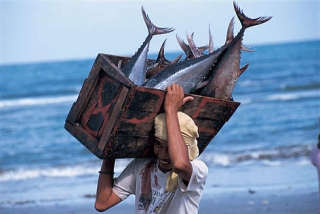 Lasqoray's Economy
Lasqoray is a growing city with an economy that relies on fishing, farming, livestock - most of which are exported. The mining of natural resources is also quickly becoming a thriving industry for the small coastal city.
Fishing Industry Fishing is the biggest industry in Lasqoray with fisherman mainly exporting their product for consumption especially to neighboring Arab countries.
"We export fish to the neighboring countries. Big fishing boats from Yemen, Oman and the United Arab Emirates (UAE) sail every day to and from the old jetty of city. We also sell them fuel," Abdirahman Abdullahi, a fisherman in Lasqoray, told Somalia Report.
Lasqoray had one of the most productive fishing factories, Lasqoray Tuna Fish (LTF), in East Africa. At its height it used to produce fish for local and international consumption. Although it collapsed during the civil war, later was re-established by a businessmen and the product was exported to Uganda, Kenya, Tanzania as well us the UAE before it once again stalled. While functional today, it is not as productive as it was decades ago due to the conflicts at sea from pirates, illegal fishing trawlers and international navies.
"Lasqoray has two fishing factories. One is owned by a private businessman and the other is a collective for many businessmen and that is the old factory built by the Russians. Right now it is not working because of the foreign vessels in our sea and lack of fish in the sea. Also it is now summer season and there is no more work in the coastal area," Yusuf Jama Debad, the mayor of Lasqoray, told Somalia Report.
Mustaf Mohamud Mohamud (Ma'ir), the head off staff of Lasqoray Tuna Fish Factory, spoke to Somalia Report.
"The factory was re-established 2000. It has around 800 staff consisting of 200 staff inside factory as well as 600 outside staff on the sea and who bring the fish to the factory. The factory produces great amount of fish daily. For example when we have two shifts a day, we produce 20 tons which is around 1000 cartons of fish and in one shift we produce half of it daily," said Mr. Mustaf.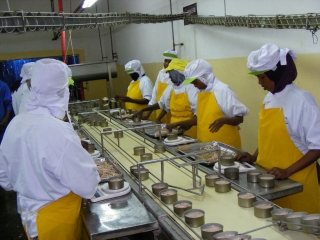 "When we were working at full capacity, all these products were used inside and outside the country. For tuna, the smaller 211 and the larger 307 are the most consumed fish," he explained.
"We also produce mackerel and sardines, which are very expensive. In the early years our products were sent to Syria, the UAE, Kenya, Uganda, Tanzania and even it reached Colombia in South America. The Somali merchants gave us great hand so that our product reached many countries. Nowadays, Thailand exports its fish to Somalia with the same price of ours and it depreciates our product," Mr. Mustaf Mohamed told Somalia Report.
The LTF factory was built in 1964 by the Russians after Abdullahi Ahmed Qablan, a Somali member of parliament, brought this project to Lasqoray and also began renovations on the jetty.
"MP Abdullahi Ahmed Qablan was one of the founding fathers of the Somali nation and among the first members of the Somalia parliament. He was a patriotic man and during his time he brought several projects to his region including Lasqoray port. He also developed the agriculture of Somalia," Ahmed H. Salad, a local resident, told Somalia Report.
Farming and Livestock
Lasqoray is ideal for farming and livestock, particularly near the foothills of al-Madow mountains as well as the biggest mountain of Somalia, Daalo of Sanaag, which is 200km to west of Lasqoray in Rad, Madarka Mashxaleed, Habashacawl, Moon, Mirci, Ragaad. It has one of the best climates in the country with mild winters and summers.
"Our land is very rich. We harvest here everything. You can find oranges, mangoes, watermelons, bananas, onions, dates. We don't use a lot of vegetable or fruits here so we sell them in other towns. The area is also good for our animals since there is a lot of water and grass. We have natural streams and valleys. We have only one problem and that is the roads are not good so we can't get goods to market. Therefore, we throw a lot of our products in the waste after they rot," Ruqia Hussein, a housewife and farmer in Mash-Haleed, told Somalia Report.
"Daalo is the biggest mountain in Somalia and it is splendid. It has different kinds of farms for fruits and vegetables. The government of Somaliland and local NGOs as well as governor of the region are part of a project to develop the mountain area into a tourist destination," Yoonis Abdirahman, a resident of Mirisho near Daalo Mountain, told Somalia Report.
Lasqoray is also suitable for the livestock, particularly the three main export animals: camel, cattle and goats.
Ganbiye Jama, a pastoralist in Ulheed, explained the important of livestock for the people of Lasqoray.
"Our region is rich because all kinds of Somali animals are found. Livestock is the backbone of our economy. We produces a lot of things from animals such as meat, milk and skin. Camel is the most precious animal and has the most value. If somebody is killed, the only property we compensate with is the camel, Goats and sheep are good animals because we milk them and we eat their meat. Cattle are important, but difficult because they are so vulnerable and consume more water and grass than other animals," Ganbiye told Somalia Report.
"In the al-Madow mountains and the whole Sanaag there are rare wild animals such as deer and ostrich, but unfortunately our wild animals are hunted by small aircrafts using big nets," Ganbiye added.
Natural Resources
In addition to fishing, farming and livestock, the economy of the city will depend increasingly on natural resources. Lasqoray is considered one of the biggest bases of natural resources and unexplored minerals in Somalia. It is a rich region for both land and sea resources.
26 years ago, a US company found two wells around Lasqoray - one is 10km off the coast and other well was found in Qoricad, in the western part of Lasqoray.
"In 1986 officials and engineers from an American company known as Chevron arrived in Lasqoray under the mandate of the Somali government. They started work in the sea and they found one petrol well. After they finished, they closed it and they started another in Qoricad which is not far from Lasqoray. They dug it and closed it as well. Maybe these two wells are ready because they put on covers them," Abdirahman Mohamed a resident of Lasqoray told Somalia Report.
The mountains area of Lasqoray is rich in a variety of natural resources and minerals, according to Daahir H. Ahmed, a geologist, who spoke to Somalia Report.
"Sanaag is a rich region and it is considered one of the richest regions in Somalia, especially the al-Madow mountains surrounding Lasqoray. It has all kinds of natural resources including surface earth resources like frankincense, aloe vera, and precious stones such as tin and gold," explained Mr. Ahmed.
"Oil and gas have also been found in the region. Majayahan, Dhalan and Dabayshin are the area of the natural resources especially valuable stones. What also can show the richness of this area is that you can find all the history of an ancient people included Pharaoh (Fircon) and old footsteps and fossils," he said. In 2006 the Puntland administration tried to mine the area of Majayahan, sparking a war between the local residents and Puntland government during President Mohamud Muse Ade's time. After serious attacks the government was forced to leave Majiyahan by a local militia. Later the militia changed into an Islamist group that led by Mohamed Said Atom that still taunts the Puntland government today from their base in the Galgala mountains.
Abdiqani Khalif, an economist, was asked about the mining and excavation in the area.
"This is the one of Somalia's most important areas for resources, especially precious stones. There has been several attempts by the administration of Somalia to mine this area. In 1972 Somali government excavated it and 2006 Puntland administration also attempted, but it is failed to mine after clan clashes," explained the economist.
"In Lasqoray the resources are worthless to the people of Lasqoray unless they are mined. It doesn't mean anything to them because they don't know how to mine or export. With help and a new port they can do this. I have the confidence in the people doing these project and I am sure there will be good things for the people, such as roads, hospitals, schools and universities," he said.
Rebuilding of Port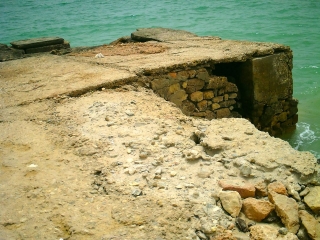 In order to import and export products, the coastal town requires a functioning port and jetty which are due to be repaired.
Maakhir Resources Company (MRC), responsible for overseeing the construction, according to the mayor of Laqoray.
"We are building here a port. The diasporas of the city and our educators stay in Lasqoray. They bring the shipments in order to build the port and the work of the port is going on now. It is a community project led by the residents of this land. Maakhir Resources Company is building the port," Yusuf Jama, the mayor of Laqoray, told Somalia Report.
Eng. Faisal Ahmed, the CEO of MRC, spoke to Somalia Report about the project.
"We have been trying to build this port for decades. We went everywhere in the world in order to build it. Several attempts have been made, but most of them failed. Now the community of this area decided to rebuild their land. Although it may take time, we will build this port and I call upon other Somalis to give us hand in order to complete this huge project," said Mr. Faisal.
Somalia Report also spoke to a number of residents in Lasqoray about the port projects.
"I am a member of the Lasqoray Women Organization (LWO). It is good day for us today. We are very glad to have this project. I am so happy I am going to burst. We were waiting to rebuild the port for a long time. This is the first time we are seeing the real work and efforts of our boys," Hawo Mohamed told Somalia Report.
Safia Osman, a member of LWO, wrote a poem about the port and development projects of Lasqoray.
Faisal, Faisal the day you left from Lasqoray
And the month you were absent
The natives and community of the city
Had a good wish about you
When you were coming to us
With the port, we are cheerful
We put red carpets for you
Your hometown is proud of you
We all stand in your shoulders
We all work for the port
Lasqoray is welcoming you with wet tree branches
Ibrahim Warsame, the owner of two small boats in Lasqoray, gave his opinion about this project to Somalia Report.
"This project was renewed for the second time by Faisal Hawar, who was living outside country. He came here to help when he saw his people are suffering. We are proud of him. As businessmen and fishermen, we faces so many problems. One of the problems is that lack of a good jetty when our boats arrive. There is no place to keep them. If we leave them on land, the tide will get them and take them away. If this port is built, we will save property and our businesses will grow," he said.
Interview with Lasqoray Mayor
Yousuf Yama Debed, the mayor of Lasqoray, spoke exclusively to Somalia Report for this report.
Mr. Mayor, thank you for your time. Tells us more about the situation of Lasqoray.
The situation of Laasqoray is calm. It is peaceful city. It is a coastal town and this time it is too hot. We are doing development projects and one is the building of the Lasqoray port. The people of this territory consulted together to develop their land. There is no external support - we only have the support of our people and the almighty Allah. We need nothing else. We are coastal people and know more about coast and its value.
When are you going to build the port?
The shipment of the port's equipment arrived. We already started the work. The city is working. The education and health centers of the city are working. We have primary and high schools as well as private colleges.
Who controls the city?
I am the one who is in charge of this city. We are the people of this land. Lasqoray is part of Puntland State of Somalia. We have all the systems of the government including police stations and courts. What can you tell us about the attack of Lasqoray coastal area?
Yes, Somaliland Marines attacked our ships carrying equipment because they wanted to violate our developments so we fought back. There were no casualties on our side. We were defending our properties because Somaliland does not want to see our development. They claim our territory and have brought nothing since the civil war so we decided to develop it ourselves.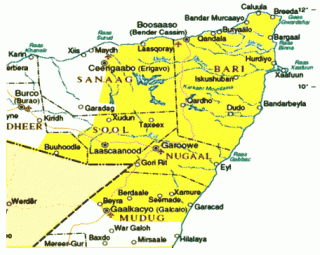 What is the reason behind this attack?
We don't know why they attacked our shipments. I talked to the Somaliland administration in Hargaisa, and they told us that they weren't aware of the attack and this action was not official.
What is your plan after that attack?
We are vigilant. Many youths arrived in the city from all the cities of this region, such as Badhan, Dhahar, Hingalol, and Elbuh. They are the people of this land. We paid them nothing to help defend our towns, but food and basic necessities. We deployed them on sea and the land especially the border in between us and so Somaliland, Laso-surad and Waqdariya. Since the central government of Somalia collapsed, our territory has been neglected and our people were denounced. We will take it upon ourselves to develop our land and soon we will establish an administration for whole the region.
Thank you.
Interview with CEO of MRC
MRC is the company involved the building of Lasqoray port and excavation of resources of Sanaag al-Madow mountains. MRC was established by educators originating from Lasqoray. Eng Feisal Ahmed Hawar, the CEO and President of MRC gave an exclusive interview to Somalia Report while he was in Lasqoray.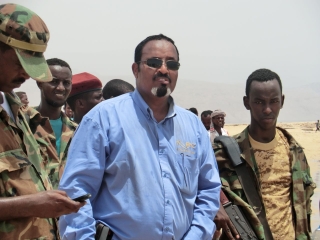 Thank you for your time. What is Maakhir Resources Company?
Maakhir Resource Company is a resources company that belongs to the people of Lasqoray. We have directors and offices in many countries. We are working for and working with the people of Maakhir (Sanaag region, Eastern Bari of Somalia), for the resources of our land. We are doing community projects and rebuilding our land after the entire infrastructure was destroyed by the civil war.
What are you doing Laasqoray? You are accused of illegally mining in the mountains of al-Madow. Is that true?
MRC is doing community projects, including the port project. We are also evaluating the resources of our land. This in not hidden. We never hide our work. Our shipments are commercial and they are internationally registered and there is nothing hidden. We use the airports of Bosaso and others of Somalia. Puntland is drilling for oil and Somaliland started drilling. The first project will be the port. The second be to build a road that connects the port to the other part of Somalia. The third will be to evaluate our resources.
Who is supporting your projects?
These projects are community projects and supported by the Diaspora, businessmen and politicians of Lasqoray community. We are the people of this land working together for our land; we are united for our future of development.
Are foreign investors funding you?
No, there is not a foreign investor. We have not received any external support or funds. We are expecting a Foreign Director Investor (FDI), but up to this time the people are moving ahead this project.
Why are you starting this project?
Somalia is divided into clans. In this region, we are very big clan with a large territory, suitable for marine resources and natural resources. We have everything in our land. We are the landlords and we do not need to wish or wait for the other clan's welfare. Somaliland was claiming our land for the last 19 years and put up barriers to development. They denounced our people and our land. They isolated us by telling the world and international community that our land was disputed and, therefore, inaccessible for development or aid. So how can we be a part of them while they are moving us back and they don't allow us to go forward. While Puntland has claimed our territory since 1998, they didn't bring a single project to the people of this region. Today they don't interfere with our project.
Who controls of Lasqoray?
The city of Lasqoray has it is own administrations we established an administration which is led by the mayor and people. We developed local troops to protect the work of the port and they are all residents. They are the youth of this area. They working on the sea and land.
Does MRC wants to start mining in Sanaag region?
Let me correct you, mining is a naked word and our work cannot be called 'mining.' We are resources company and we are evaluating the resources of our land. We want to find out the asset of our earth and then we will develop roads, hospitals, schools and any other infrastructure.
Why did you start the work at this time?
It is suitable time to start this time, because the international and UN agencies don't operate our land. We are the poor of the poorest. Our people are starving. Our youth are leaving otherwise they might fall into the hands of al-Shabaab. There is no work here. We will not watch our people dying for hunger when we have resources. We are going to create a good future of our younger generation. We are requesting international community and international agencies to come and assist our people in Sanaag and eastern Bari regions of Somalia.
What can you tell us about the attack of Somaliland Marine Forces on your shipments?
They tried to attack the ship carrying a consignment to the port. Thanks to God we loaded the ship with troops before it arrived in Lasqoray. After a serious attack which took three hours on June 2nd, we also sent troops from Lasqoray. We chased the militia of Somaliland from Lasa-Surad, where they were hidden, to Maydh were they started they piracy action. We gave them a lesson. There were no casualties and they left, We brought our consignment safely to the old port of Lasqoray, and the boys of land are taking control of it.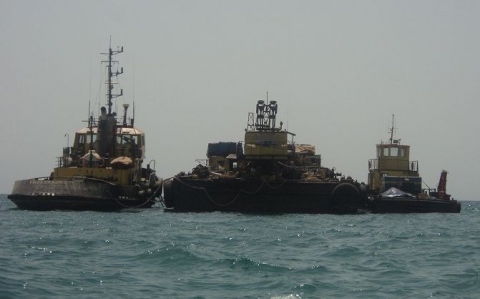 Was mining equipment in the shipment?
Assessment equipment to do a survey of the port. We docked one ship dragging two tags and one drone engine to be used for digging the port. Mining equipment was not brought here.
What have you done so far?
We have done the visibility study to identifying where the port will be, where the wind comes from as well as waves of the sea and where the stronger stones will be buried and how much the port will be cost. This is not a small project. The people of this land - elders, sultans, Diasporas, politician, youth and women - are running this project. There is nothing to hide. Eng. Feisal it the only person involved and has been given the authority to run these projects and is supported by the community. Somaliland Apologies for the Attack
Regional officials from the Somaliland Administration led by the governor of Badhan region, Abdihakim Ahmed Wahabi, and the commander of Somaliland army in Badhan, Col Yasin Osman Guray, arrived in Lasqoray on June 23rd to apologize for an attack on MRC supply ships by the Somaliland marine on June 2. The officials also made reconciliation among tribes in Lasa-surad where the marines attacked the ship.
"We came to Lasqoray to submit an apology for the attack which occurred second of June off the sea of Lasqoray. I am speaking on behalf of the president of Somaliland and I want to show that we are very sorry for that action. It was not authorized by the government; it was an action carried out a commissioner. It was not suitable. We are ready to work with people of Lasqoray," Governor Abdihaki told Somalia Report.
"We are supporting any development projects of this land. We come here in order to apologize as well as make reconciliation among local clans. As commander, I promised to pay 20 percent of our salary to the ports and it is security staff of Lasqoray. I also reached Lasasurad and we make a reconciliation among residents of that area in order to prevent another conflict and clashes," Colonel Yasin, the commander in charge of the Camp 93 of Somaliland, told Somalia Report.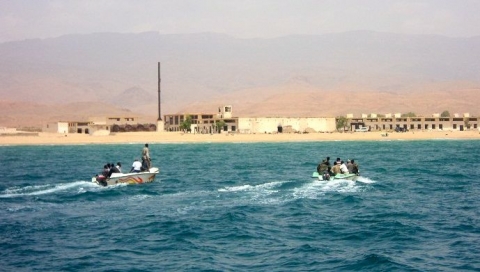 The defence minister of Somaliland, Ahmed Haji Ali Adami, a veteran politician who is originally from Lasqoray region, also spoke about the issue.
"Lasqoray is in Somaliland and occupied by one of our tribes. As a government, we were not informed the ships sailed to that city. We are not against the rebuilding of the port of Lasqoray; in fact, we are supporting it. I also call upon both Puntland and Somaliland not to invade or violate the development projects of that tribe," he said.
"The apology from the Somaliland regional administration it is not enough and it cannot satisfy the people of Lasqoray. An apology must come from the high ranking officials of Somaliland including President Silanyo, his ministers, and those who conducted the attack of our shipment," Ayan Said, a school teacher in Badhan, told Somalia Report.
The apology comes after the elders, educators and diasporas of Lasqoray called on the Somaliland administration to apologize for the attack.
Both administrations of Puntland and Somaliland agreed to allow the project to proceed peacefully. To be sure, officials from both administrations visited the city. Last week Puntland's port and counter piracy minister Said M. Rage, and his deputy, Abshir Salah, visited the city. That visit was followed by one from the Puntland's local governor and deputy security minister. Meanwhile Somaliland officials started sending officials to visit the city.
While the area is currently calm, if both administrations continue to visit, this will create tensions in the city. Puntland's deputy security minister announced last week that if Somaliland intervenes in Lasqoray, they will not keep silent.
Editor's Note: For more in our "What is...?" series, please see:
What is Alpha Group?
What is Galmudug?
What is the Galgala Conflict?
What is Bandar Beyla?
What is Khatumo?