25 June 2012 Daily Media Roundup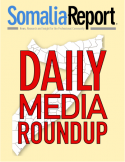 Somalia News Highlights: New Rift Emerges Between Constitution Committee and TFG; Somali Leaders Agree on Protocols to End Transitional Period; Somali Defense Minister Promises to Expand War on Al-Shabaab; Calm Returns to Towns After Violence; Somali Community in South Africa Hailed as Heroes; Dahabshiil Denies Telcom Somalia Takeover Speculations; Himan and Heeb State Started Literacy Campaign for More Than 14 Villages; Somali President Met the Ethiopian PM in Addis Ababa; Al-Shabaab Claimed Pro-TFG Militias Clashed Over Bribes in Baidoa; Al-Shabaab Allegedly Killed TFG Soldiers and Intelligence Agents in Mogadishu; Al-Shabaab and TFG-AMISOM Clashed in Afgoye Town; ASWJ Leaders Talk About Securing Areas Still Under Al-Shabaab in Beled-Hawo; ASWJ Distributed Tents to IDP Families in Guri'el; Over Ten Relief Food Trucks Stranded in Middle Juba Due to Heavy Rains; and the TFG Arrested Four Suspected Al-Qaeda Linked Al-Shabaab Members in Luq.
COMMENTARY ON ISLAMIC WEBSITES
Amiir Nuur - The pro-al-Shabaab website posted a video where Sheikh Ahmed Iiman of al-Shabaab, a Kenyan Islamist militant, vowed that the Kenyan government will pay the price for abusing the Muslim populations in Kenyan. The 13-minute video is released by Al-Kata'ib.Somali Language
POLITICS
Somaliland Press - Somalia's transitional federal government (TFG) appears to have strained her delicate relations with the Federal Constitution Commission, an independent body entrusted with drafting the constitution. The chairman of the technical committee, Abdullahi H. Jama, said they received a different draft text from the one recently adopted in Nairobi for review from the TFG. He said the copy handed to them on Sunday during a meeting with senior members of the TFG in Villa Somalia was drafted in Addis Ababa by another committee. "We met with government officials and they submitted a document they said was the final draft that was approved in Nairobi to us for review. They requested that we disseminate it to the National Constituent Assembly, NCA," Mr. Jama said.
Sabahi Online - After three days of talks last week in the Kenyan capital Nairobi, Somali leaders put the final touches on the draft constitution and agreed to several provisions for ending Somalia's transitional government. The meetings were held to address unresolved issues and finalise agreements previously reached at the meeting held in Addis Ababa in May regarding implementing the Roadmap to end the transitional period by August 20th. Somali Prime Minister Abdiweli Mohamed Ali said the approval of the constitution was the "most critical task to end the transition", and he urged leaders to continue to take swift action to that end. "Ladies and gentlemen, we have 58 days to make history. Let us not waste a single minute," he said in his closing statement in Nairobi on Friday, June 22nd.
SECURITY/AL-SHABAAB
All Africa - The Minister of Defense for Transitional Federal Government (TFG) of Somalia Hussein Arab Isse, promised Monday to expand fight against Al Shabab militants in south-central Somalia. The Minister told reporters on Monday that the coalition forces operating in south and central Somalia made much progress in fighting Al Qaeda affiliated Al shabab fighters. Minister Isse explained the TFG's objective is to wipe out Al Shabaab militants all from south and central strongholds of Somalia, in order to restore peace and order throughout in the country soon.
Shabelle - Steady calm has returned to the locations between Bardale and Yurkud districts in southern Somalia where on Sunday occurred a day of violence and fighting between Somali forces backed by Ethiopian troops and Al shabab militants. As the situation improves, hundreds of local residents began returning back to their homes on Monday morning after the battle completely subsided and the Somali and Ethiopian troops took control of the areas from Al shabab during yesterday skirmish. About 6 combatants from both warring sides were killed and more others were injured in the fighting on the outskirts of between Bardale and Yurkud districts, former Al shabab strongholds in Southern Somalia in Bay and Gedo regions of southern Somalia.
MARITIME
Garowe Online - Somalis living in South Africa were crucial in assisting in the release of two South African hostages freed after 20 months in captivity in Somalia, Garowe Online reports. According to Independent Online (IOL) a South African based media agency, the Somali Community in South Africa was essential in the release of the hostages. The group which represents Somalis across South Africa was credited in assisting the South African government in locating the hostages as well as playing a substantial role in negotiations.
HAWALA/TELECOMMUNICATIONS
Somaliland Press - Dahabshiil Group, a leading remittance company in East Africa, officially denied rumours on Sunday that it has purchased a majority stake in Telcom Somalia. The chief of media relations and public information, Hassan M. Jama "Heiss", said he was "pleasantly surprised" with the news, flatly denying the acquisition. "Lately, the Somali media have been circulating various versions of Dahabshiil's takeover of Telcom Somalia and that their staff have been laid-off," he said in a statement.
OP-ED
Daily Nation - The author, Murithi Mutiga, raises the question of who will fill in the security vacuum created by the defeat of al-Shabaab militants. "But the question which hangs over the whole enterprise is: Who will fill the void left by al-Shabaab? Are the administrations being installed in the areas liberated from the militants strong enough to resist the militants once Kenyans pull out? And what is Kenya's long-term objective when its surprise incursion into Somalia comes to an end?"
RADIO ROUNDUP
Radio Mogadishu - A pro-government radio station
A literacy campaign kicked off in areas under the Himan and Heeb regional state of central Somalia. The project is sponsored by Iftin and Rajo, local NGOs, and it is expected to benefit thousands of adults and children throughout 14 villages in that state. According to officials, the project will continue until the end of this month.
Somali President Sheikh Sharif Sheikh Ahmed on Monday met with Ethiopian Prime Minister Meles Zanawi in Addis Ababa, Ethiopia. The two leaders discussed the current political and security situation in Somalia and how to develop operations against al-Shabaab militias in Somalia. Also the leaders discussed how to cooperate on road construction, agricultural development, infrastructure and energy.
Radio Andalus - A pro-al-Shabaab radio station
At least three pro-infidels militias were killed and several others were injured as two pro-infidels groups fought in Baidoa town of Bay region on Sunday night. The fighting erupted after the two militia groups disputed over bribes and property they robbed from the local residents. Residents in Baidoa told Radio Andalus that the militias used heavy gunfire.
Al-Shabaab Mujahideen fighters on Sunday night conducted operations in Mogadishu, killing several pro-infidels militias and spies. At least three militias were killed and three others injured after the Mujahideen targeted hand grenades at pro-infidels military base in Bakaro junction. A top officer was killed in Salaama village of Mogadishu. Several explosions also targeted the TFG militias bases in Hiliwa, Wardhiiglay and Yaqshid districts.
Radio Al-Furqaan - A pro-al-Shabaab radio station
An unconfirmed number of TFG militias were killed after heavy fighting between al-Shabaab Mujahideens and TFG forces took place in Afgoye town of Lower Shabelle region on Sunday night. The fighting erupted when al-Shabaab Mujahideens attacked the TFG bases on the outskirts of Afgooye. During the fighting, the foreign troops shelled the villages of Afgooye but no casualties were reported. Al-Shabaab Mujahideen military officials told Radio al-Furqaan that they killed dozens of enemy soldiers.
Radio Bar-Kulan - An independent radio station
ASWJ officials of Beled-Hawo held a security meeting on Monday and discussed ways to bolster the security of the areas under the control of their administration and the Somali government. The group also discussed strategies to secure other areas of the region which still remains in the hands of al-Shabaab militants, according to the group's area spokesman Mohamed Hussein Issack. Issack praised locals in the region for maintaining peace and order in the area and also working with ASWJ group in order to avert militant activities aimed at derailing the prevailing stability in the region.
The ASWJ administration in collaboration with a local medical doctor in Guri'el town on Monday distributed tents to internally displaced families in the area. Over twenty tents were distributed to needy families camping in the area, according to the area deputy district commissioner, Ali Bashi Adan. Adan said the IDPs were more than the number of tents they had in stock. He urged well-off locals to help their countrymen who are in need of humanitarian support.
Over ten commercial trucks carrying goods to Bardera district of Gedo region are now stranded in an area between Bu'ale and Sakow towns due to heavy rains that hit the in the area over the past weeks. A truck driver told Bar-Kulan Radio that they could not deliver the goods they transported from Kismayo port to their destined area due to the rains that cut off the road liking between Lower Juba and Gedo regions.
Radio Shabelle - An independent radio station
Somali security forces on Sunday detained at least four people linked to the Al-Qaeda-affiliated militia of al-Shabaab. An eye witnesses in Luq district, told Radio Shabelle that TFG forces carried out operations in villages located on the outskirts of the town, arresting the four men. The suspects are now held at a prison in Luq town for interrogations.