Al-Shabaab Abuses of Civilians Continue
Al-Shabaab's Forced Taxation and Recruitment Condemned by Civilians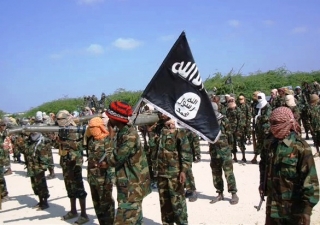 As the allied forces of Somalia, Kenya and Ethiopia advance on al-Shabaab strongholds, the Islamist group continues to harass civilians in areas under their control. Forced taxation on pastoralists caused protests near Afgoye in Lower Shabelle region while the forced recruitment of university students, teachers and school officials created tension in Kismayo, the militant group's stronghold in Lower Jubba region, according to Somalia Report research. Businessmen in Marka weren't exempt as al-Shabaab demanded them to pay US$1 million to their jihad.
The Al-Qaeda affiliated insurgent group has been weakened both militarily and financially resulting in the loss of several key towns to the allied forces; in turn, al-Shabaab has put more pressure on civilians to contribute people and money to enhance its war against the Transitional Federal Government (TFG) and the African Union peacekeeping forces (AMISOM).
Forced Taxation on Farmers
For the first time in three years Somali farmers in the strategic town of Afgoye, 30 kilometers west of the capital, expressed joy after the insurgent group was ousted from there in late May by the allied forces.
The elation didn't last long, however, as several secret meetings between local farmers and senior al-Shabaab officials including the group's spokesman Sheikh Ali Mohamud Rage reportedly have been held in parts of Lower Shabelle region in order to push local farmers to hand over money and crops to the insurgents.
Ahmed Abdullahi Gure, a local farmer based in Qoryoley in Lower Shabelle south of Afgoye, said they would not obey such commands. He said residents, farmers, herders and camel owners were already paying heavy taxes to al-Shabaab, but the group renewed its efforts to get money from them anyway.
"Each farmer was told to pay 2 million Somali shillings ($100) as soon as possible. We cannot get that money so the only option we had was to oppose their order," Gurre told Somalia Report.
To show their solidarity, more than 60 farmers gathered on their farms in Qorqooley during the last week and discussed how to show a one voice against the orders of the Islamist militia. Some farmers gave up farming while others are worrying about what to do due to the high taxes by al-Shabaab.
Most of those farmers told Somalia Report they produce crops such as maize, sorghum, mangoes, papaw, onions, bananas, apples, tomatoes and watermelon. They normally sell such crops in the markets by exporting them to the neighboring regions like Bay, Bakol and even Banadir region and cannot afford to pay the costs.
Farmers in Qoryoley, outraged at the demand, persisted in protesting against the high taxes by insurgents.
"We organized ourselves as farmers and agreed to ignore al-Shabaab's orders and we will die protecting our crops and our farms from anyone who wants to take or use our crops without paying money," continued Gurre.
Pastoralists in Lower Shabelle who spoke to Somalia Report expressed frustration about al-Shabaab's decision to make them pay taxes. Isak Kulow, a local herder, said he doesn't know about what to do since many cannot contribute.
"Many of our animals died in the recent drought that hit in the region and right now we are facing multiple challenges," said the herder.
Unlike the farmers, the pastoralists are not showing unity to oppose the order and for that, several of them may keen on to deal one-by-one with al-Shabaab officials in charge of collecting livestock from the nomadic people.
"We are not united like the farmers because we are scattered in all villages so we cannot even get a single voice to face against this matter," added Isak.
Al-Shabaab intends to use the money to finance their war against the allied forces. When they are short on funds, it is not unusual to see al-Shabaab taking food and livestock from residents to feed their fighters, according to locals.
Businessmen Ordered to Pay US$1 Million
According to several businessmen who spoke to Somalia Report and asked not be named, high ranging al-Shabaab officials included Shiekh Mohamed Abu Abdala, the group's governor for Lower Shabelle, called local businessmen and women in the city of Marka earlier last week.
At least 25 business people gathered in Marka where al-Shabaab officials told traders they must take part in the ongoing holy war or pay money to feed the al-Shabaab fighters who are fighting against the enemy of Allah, according the businessmen.
"We were asked to collect nearly one million US dollars. We expressed concerns over this but al-Shabaab officials insisted on their order and we are not sure what we will do to solve this issue. I'm not sure whether or not we will accept their order to pay so much money," said a businessman who asked to remain anonymous.
Forced Recruitment of University Students, Teachers
In a separate incident pressuring civilians, al-Shabaab held a meeting with teachers, students and lecturers of Imam Abdalla University in the port city of Kismayo and demanded the students participate in the war against the TFG and 'her infidels' while they are on their school break (holiday) from school.
"Definitely Kismayo is currently peaceful and there is law and order maintained by our Mujahedeen. People are drinking their milk peacefully, but if the infidels seize Kismayo it will not happen and there will be flames everywhere in the town," said al-Shabaab chairman in Kismayo, Sheikh Mohamed Habeb.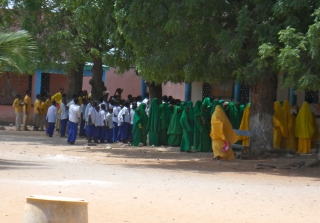 "I swear in the name of Allah that Kismayo will be in our hands and we will defend it from any group who want to attacks. We are going to defend the city by all means - direct or indirect. We will not allow any coloniser to occupy our beloved city Kismayo," he added.
The sheikh strongly 'urged' the students and teachers to take up guns and go the front lines in order to defend the city. He said if they refuse the order, al-Shabaab officials will assume the teachers and students are very delighted for the coming of the infidels and their pro-infidel groups and action will be taken by the Mujahedeen.
Students and teachers who were preparing to go a holiday are now facing a difficult choice of fleeing for safety or fighting on the frontlines.
"The militia group used three vehicles with loud speakers to inform the students and teachers who have recently closed the schools and universities to come at Imam Abdalla University compound for an urgent meeting. I was so frightened when I heard the information but when reached the scene I met the reality of long speech of Sheikh Habeb. The officials said it is compulsory for every student and teacher to go the battle field and defend the stronghold city," said a university student who attended the rally. He spoke to Somalia Report on the condition of anonymity after the meeting concluded
It was not only university students but even all secondary and primary students and teachers, lecturers and senior officials of education administration, he added.
"It is absolutely a tremendous shock to the students who are the future generations. We will try and figure out how we will stand against this strict law. As teachers we are believe that students do not need to go to any battlefield; instead, we encourage them to enhance and develop their career in the future. Al-Shabaab is now turning to harassment and are imposing very difficult rules on the people which will result in hostility between al-Shabaab and the people of Kismayo," said a secondary teacher who spoke to Somalia Report on the condition of anonymity.
"Somalia's hard-line insurgent group recently began to impose harsh rules and people rejected them. People believe that this is an indication of weakness in the power of al-Shabaab," he added.
According to political analysts, the Islamist militants seems now focusing on the local community for economic purposes.
"Al-Shabaab will continue to woo or force locals for both moral and financial support to gain against the AU and Somali government troops, but I think by doing so they will get nothing - let alone rebuild its popularity in the Somali community," a Mogadishu based political Hassan Horseed told Somalia Report.