Senior TFG Leader Killed in Ambush
Allied Forces Seize Port Village of Eel-Ma'an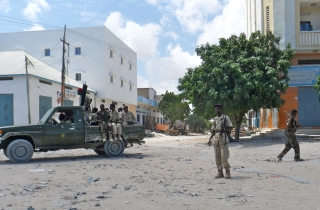 At least six people, including the senior police commander for Somalia's Transitional Federal Government (TFG), were killed today in an ambush by the al-Qaeda linked insurgent group al-Shabaab, witnesses and officials told Somalia Report on Friday.
Mr. Afrah Ali Afrah was in charge of the recently seized Elasha Biyaha areas on the outskirts of the capital where he was appointed as the new TFG commander in chief. At least two soldiers were killed along with Commander Afrah by militants who fled after the shootings.
At the time of his death, officials said the commander was trying to send reinforcements to other TFG troops battling against al-Shabaab inside Elasha Biyaha.
"The commander and two other government soldiers were killed near Elasha Biyaha where fighting between us and al-Shabaab fighters was going on at that time. We killed three militants and others suffered injuries but they escaped," senior TFG commander Ahmed Yare told Somalia Report.
Although al-Shabaab fighters were eventually ousted from power in Elasha Biyaha by the African Union peacekeeping forces (AMISOM) and Somali government soldiers, remnants of the militants are believed to be still active in the city to conduct hit and run attacks.
"Our brave fighters will be ready anytime to continue the attacks against the enemy who tries to capture our land in order to destroy our Islamic administrations. Whatever they do, they will remain with worries about their casualties caused by our hands. We will continue to punish the enemy until we force them to flee from here," an al-Shabaab official who identified himself as Abu Abdirahman told pro-islamist Radio Andulus.
Witnesses said they could see that just before the shooting of the commander, the gunmen shouting "Allahu akbar! (God is great)."
"His convoy was moving not far from our home here in Elasha Biyaha when heavily armed men ambushed the convoy and heavy fighting erupted between the two sides," a resident Qadro Abdullahi told Somalia Report.
According to initial reports posted on pro-al-Shabaab websites, the TFG commander was a senior Islamist official who served once with the Islamic Courts Union in Somalia in 2006, which al Shabaab was part of before it officially split.
Allies Attack Eel-Ma'an
UPDATE: The African Union Mission in Somalia (AMISOM) has secured Elma'an Port and Esaley Airstrip in Middle Shabelle region from Al‐Shabaab terrorists adding to the list of strategic locations the Al‐Qaeda linked group continues to lose as AMISOM supports the Somali National Army (SNA) to pacify the country, according to an AMISOM press release.
Meanwhile Somali military troops backed by AU tanks on Friday morning stormed Ceelmacaan (Eel-Ma'an), a small port, and its neighborhood villages 35 kilometers northeast of Mogadhsu, according to residents and officials. It is the latest of a series of advances by the allied forces into al-Shabaab held areas in the Middle Shabelle region.
"Our allied forces faced no resistance from al-Shabaab fighters who fled these villages," General Gacmadulle told state-run Radio Mogadishu.
Residents told Somalia Report they could see TFG troops along with AU tanks and forces flooding into the villages, particularly Ceel-cade (Eel-Ade) and Ceelmacaan (Eel-Ma'an) where fighters loyal to al-Shabaab were in control over the last several years.
The group had been losing key cities since August of the last year when they were forced from the capital, but stepped up their tactics by using guerilla warfare such as hit and run attacks and based small units in temporary jungle areas along the road between Mogadishu and Afgoye district.