21 June 2012 Daily Media Roundup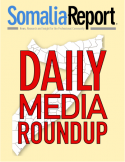 Somalia News Highlights: Somalia's Sharif to Stand for New Term as President; Somalia-Somaliland Talks Begin Outside London; Puntland State and the Somali Regional Administration of Ethiopia Signed Bilateral Agreements; Kenyan Borders Not Closed to Somali Refugees; Missouri Man Sentenced for Raising Money for Al-Shabaab; Somalis Ask Aid Agencies to Resume Work; Mogadishu, East Africa's Newest Business Destination; TFG Appointed New Somali Ambassador to Turkey; Al-Shabaab Vacated Several Villages of Lower Shabelle; Al-Shabaab Allegedly Killed Several Ethiopian Soldiers in Beletweyne Through IED Attack; Defecting ASWJ Allegedly Sell Their Weapons to Somali Pirates in Galgadud Region; TFG Forces Arrested 20 Suspected Al-Shabaab Militants in Afgoye; Puntland Singed Multi-Million Dollar Contract to Build Port in Lasqorey; Angola Arrested 60 Somali Asylum Seekers; 35 Somali Immigrants Downed in Lake Malawi; and Galmudug Authorities Accused to Have Diverted Humanitarian Relief Aid.
COMMENTARY ON ISLAMIC WEBSITES
Amiir Nuur - The pro-al-Shabaab website claimed that the TFG security forces have presented to media a large cache of weapons discovered in an underground banker and TFG claimed that the weapons belonged to al-Shabaab. But al-Shabaab denied TFG claims and stated that the weapons belong to Sa'ad sub-clan of Habargidir and the weapons were buried during the late warlord Gen. Aideed era. A lawmaker Mohamed Du'ale Gelle Heef and businessman belonging to Sa'ad sub-clan are expected to speak the media to deny the Somali government claims tomorrow.Somali Language
POLITICS
AFP - Somalia's President Sharif Sheikh Ahmed says he will run for a new term in office on the sidelines of meetings with representatives of the international community in the Kenyan capital Nairobi. Somalia's President Sharif Sheikh Ahmed said Thursday he would stand as a candidate for a new term in office, two months ahead of his job coming up for renewal. "My services are available to Somalia if I am trusted with the job for another term," Sharif told AFP on the sidelines of meetings with representatives of the international community in the Kenyan capital Nairobi.
Voice Of America - Representatives from the Somali Transitional Government and the breakaway region of Somaliland began two days of talks outside London Wednesday on a wide range of issues, including the future of the self-declared republic. Ten officials — five from each side — are taking part in the closed-door discussions organized by Britain and the European Union. The two sides agreed to meet during an international conference on Somalia's future in London in February. Reports say that if an agreement is reached, a meeting between Somali President Sharif Sheikh Ahmed and his Somaliland counterpart, Ahmed Siilanyo, will take place sometime next week in Dubai.
Garowe Online - The Puntland State and the Somali Regional Administration of Ethiopia have signed a bilateral agreement in commerce, security, and development sectors. The agreement was signed by the Puntland President Abdirahman Farole and the President of the Somali Regional Administration of Ethiopia Abdi Mohamoud Omar in Jigjiga City. Somali Language
SECURITY/AL-SHABAAB
The Star - The government has denied claims that it has closed its borders to refugees. Speaking during this year's commemoration of the World Refugee Day in Nairobi, acting commissioner for refugee affairs Badu Katelo yesterday said the country had closed its borders on diplomatic relations but not on refugees. This comes a day after Refugee Consortium of Kenya released a report calling on the government to reopen the Kenya-Somalia border and resume screening of asylum seekers. "There is no entry point in Kenya where we don't bar refugees from getting in the country. Our borders with Somali are closed on diplomatic ties but the humanitarian gestures are still on because apart from being compliance to the international law, it is our duty under the Refugee Act to give them a safe haven," Katelo said.
Government Security News - A federal judge sentenced Mohamud Yusuf on June 19 to 140 months in prison on charges of providing material support to a foreign terrorist organization. According to court documents, between February 2008 and July 2009, Yusuf conspired with others to provide money to al-Shabaab, a designated foreign terrorist organization. Yusuf transferred money to the terrorist group using fake names, telephone numbers and money transfer businesses in the U.S. A man charged along with Yusuf in October, 2010, Duane Mohamed Diriye, a resident of Kenya, remains at large, according to the FBI.
HUMANITARIAN/SECURITY
The Standard - Mr Maahlim Farah, a retired teacher, is appealing to NGOs to resume operations in the area and save locals from dying. "Donor agencies should as a matter of urgency supply the health facility with drugs as many people have succumbed to preventable and treatable diseases," Ma'allim said. Mr Hussein Osman, an elder, said expectant mothers have died in the hands of traditional birth attendants owing to lack of medicine and nurses at the dispensary. Though the locals call it Afmadhow Health Centre, it can hardly pass for a dispensary. Hassan Mursil, the clinical officer, is the only health manning the facility, assisted by two staff.
COMMERCE/SECURITY
How We Made Africa - Somalia's capital Mogadishu is emerging as the newest business destination in east Africa. New businesses have sprung up in 2012 as investors' confidence in the country improves. Some business people argue that Somalia's 20 years of turmoil are coming to an end, opening up endless opportunities. Though security has been a big issue in Somalia, the situation has improved. Since Kenyan forces launched an onslaught on al-Shabaab in retaliation to the kidnapping of tourists on Kenyan soil, the militant group has lost its stronghold in towns like Mogadishu and Afmadow.
RADIO ROUNDUP
Radio Mogadishu - A pro-government radio station
The newly appointed Somali Ambassador to Turkey, Mohamed Mursal Sheikh Abdirahman, reached Turkey on Thursday. The newly appointed ambassador was welcomed by both Somali and Turkish officials in Ankara. The new ambassador told Radio Moogadishu that he will soon present his credential letters to the Turkish president. He promised to promote stronger relations between the two countries and expand their partnership on most important issues.
Reports from Lower Shabelle region indicated that al-Shabaab militias fled from their bases in No50, No60 and Shalambood villages of that region over the last 24 hours fearing from the national forces and their allied troops. Local residents also told Radio Mogadishu that the militias are preparing o flee from the coastal town of Merka. Reports indicate that the militias gathered their weapons and fighters in Barawo district.
Radio Andalus - A pro-al-Shabaab radio station
Several Ethiopian Christian troops were killed in huge explosion targeted them in Beledweyne town of Hiiraan region on Thursday morning. The explosion were targeted at Ethiopians fetching water. The real casualties of the blast remain unknown, since the infidels protected the locals to reach the scene.
Radio Al-Furqaan - A pro-al-Shabaab radio station
Based on Radio al-Furqaan, the pro-Ethiopian militias of ASWJ started to sell their weapons to the Somali pirates to escape from Galgadud region after Ethiopian troops deserted that region two weeks ago. The price of the weapons decreased and many ASWJ officials started to escape to Kenya, so as to survive from the Mujahideens. Fear and terror faced ASWJ militias since the Ethiopian troops pulled out from El-bur, Wabxo and other parts in the region.
Radio Bar-Kulan - An independent radio station
TFG soldiers in Afgoye town on Thursday morning arrested twenty people in a crackdown aimed at suspected Islamist militants and their sympathizers. A contingent of police, military and the national security agency personnel took part in the crackdown at Hawo Tako neighbourhood. The operation affected business operation in the area. Reports say the crackdown came after a hand grenade was lobbed into a school in the area where government soldiers were stationed.
Puntland has begun an ambitious multi-million dollar project to build the first modern port in Las Qorey district in order to boost the transport infrastructure in the region. The plans to construct the proposed port had been in the pipeline for the last six years but the foundation stones were just recently laid by the regional ports and sea resources minister, Sa'id Mohamed Rageh, according to Las Qorey district Commissioner, Yussuf Jamaa Dibad. Dibad said a cargo ship carrying construction material and foreign engineers who were given the contract to construct the facility arrived at their coastline. He did not specify who is funding this multi-million dollar project.
Radio Shabelle - An independent radio station
At least 60 Somali asylum-seekers, mostly youngsters, were taken into custody by Angolan police forces in the past few days, witnesses said. Somali immigrants in Angola confirmed to Shabelle Radio that the police carried out sweeping operations in several locations, targeting Somali asylum-seekers. Sources said the police released some Somali detainees from the detention centers after taking a ransom. "We witnessed panic and hardship from the police forces of Angola in the recent weeks because of they are targeting only Somali asylum-seekers living here in a bid to earn or take an illegal ransom from the jailed Somali nationals," a Somali nationalist in Angola complained.
Malawi police recovered 35 bodies believed to be Somalis who were drowned in Lake Malawi in the northern border district of Karonga. Police say there could have been as many as 60 Somalis in the boat that was coming from Tanzania with the intention to enter Malawi illegally. The boat capsized, according to police. Lately, a number of illegal immigrants, mostly from hunger-stricken Ethiopia and war-torn Somalia have been arrested trying to sneak into the country through uncharted routes.
The locally displaced people (IDPs) living in makeshift camps in Somalia's central town of Galkayo accused Galmudug state of Somalia of misusing the humanitarian aid donated by the international community. The IDPs lay their blame on some Galmudug state authorities, namely Aweys Ali Sa'id, the deputy governor of Mudug region and Ahmed Mohamud Hassan, the deputy interior minister of Galmudug. These officials have been accused of diverting and mismanaging the aid meant for the IDPs in Galkayo town by the locally displaced people.