11 June 2012 Daily Media Roundup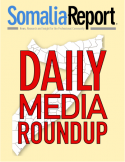 Somalia News Highlights: US Targeting Somali 'Spoilers'; Hope of a New Dawn in Somalia as Hundreds Flee Islamists' Ranks; Top Kenya Security Minister Killed in Crash, Al-Shabaab Rejoices; VOA Somalia Section Gives Airtime to Pro-Piracy Propaganda; French Prosecutor Seeks Jail for Six Somalis in Piracy Trial; Somali National Forces Kill 10 Shabaab Fighters in Bay Region; Second Round of Somali Premier Football League Began in Mogadishu; Somali President Escaped Second Assassination Attempt by Al-Shabaab at Afgoye; Lower Shabelle Elders Oppose Outcome of Istanbul Conference; Hargeisa Court Lawyer Shot in Somaliland; Gang Attacks Civilian Vehicles in Las Anod; Somali PM Attended Weekly TFG Ministers Meeting; Somali PM Vows to Eliminate Shabaab by August; and Somali PM Calls for Negotiations with Somaliland.
COMMENTARY ON ISLAMIC WEBSITES
Amiir Nuur - The pro-al-Shabaab website posted a commentary on the death of Kenya's Interior Minister George Saitoti and other top ranking officials in a plane crash on Sunday. Al-Shabaab Mujahideen spokesman Sheikh Ali Mohamud Rage welcomed the death of the Kenyan infidels. Al-Shabaab's spokesman Sheikh Ali Dhere stated that the death of Saitoti is a huge blow to the enemy and his death is equal to as if the Mujahideen killed him. Somali Language
POLITICS
UPI - Washington is ready to take action against "spoilers" in Somalia who are interfering with efforts to bring peace to the country, a U.S. diplomat said. U.S. Assistant Secretary of State for African Affairs Johnnie Carson met briefly with Somali officials last weekend, the first such visit by a U.S. official in nearly 20 years. Carson was quoted by the BBC as saying Washington would hit those suspected of standing in the way of Somali peace with stiff penalties. "The kind of action we must take against spoilers range from visa sanctions to travel sanctions to asset freezes," he said. "There is a level of vulnerability for all of those who might be spoilers."
The Telegraph - The last time a headless body was kicked out of a pick-up truck and dumped in the dirt in front of Fatima Ali's roadside shop, she was so used to it that she didn't bother to find out who it was. At the time, three weeks ago, the Islamist al-Shabaab group still held her home town of Afgoye, a row of tin shacks straddling a key junction half an hour's drive outside Mogadishu, the capital of Somalia. Their fighters were paranoid and desperate, becoming more brutal as they retreated, and executing any government soldier or suspected spy who fell into their hands. "Everybody was afraid of them," Miss Ali said. "When they slaughtered people they would display their bodies here to travellers driving past. Once I saw them behead a man in the middle of the road."
SECURITY/AL-SHABAAB
AFP - Kenya's internal security minister George Saitoti, a key figure in his country's fight against Al-Qaeda-linked Shebab insurgents in neighbouring Somalia, was killed in a helicopter crash Sunday. His death was hailed by his foes in the Shebab but they stopped short of making a claim of responsibility for the crash, whose cause has not yet been determined. "Al-Shabaab welcomes the death of the evil minister upon whose authorisation thousands of Muslims suffered both in Somalia and in Kenya," the group said a message on its Twitter account.
MARITIME
Garowe Online - On 9 June 2012, the Voice of America (VOA) Somali Section gave a five-minute interview on the air to a self-proclaimed 'Somali community elder' who claimed to be living in Puntland State. The interview subject, whom VOA reporter Abdullahi Nur Mohamed "Colombo" incorrectly identified as a community elder named Mr. Shire Farah Mohamud, claimed that he lives in Bali-Dhidhin village of Bari Region. Puntland Government has no information confirming the existence of a known community elder named Mr. Shire Farah Mohamud in Bari Region, and therefore the interview subject was a fraud. This interview with a self-proclaimed 'Somali community elder' is demonstrative of VOA Somali Section's biased reporting toward developments in Puntland State. The VOA reporter's lead-in questions portray the picture that the reporter is sympathetic to pirates and other criminal groups.
Al Arabiya News - The prosecutor in the Paris trial of six Somalis charged with holding crew of a luxury sailing ship hostage in the Gulf of Aden in 2008 on Monday called for sentences of up to 15 years. "These six men you are going to judge ... seriously endangered French lives," prosecutor Bruno Sturlese told the court. "They were ready to sacrifice them to get money," he added. Somali pirates seized 30 crew members of the luxury yacht Le Ponant in the pirate-infested waters in April 2008 and held them for ransom.
MEDIA
NUSOJ - The National Union of Somali Journalists (NUSOJ), is relieved the recovery of Bar-Kulan Radio reporter and one of its member journalists in Benadir branch after he survived an assassination attempt on Friday evening June 8, 2012 in Mogadishu's Hamar-jajab neighborhood. Two unknown assailants armed with pistols shot Mohamed Noor Mohamed better than as Mohamed Sharif twice below the heart which penetrated the back and the stomach on Friday evening June 8, 2012 around 7:30pm local time near Horn Cable Television office in Hamarjajab neighborhood as he was returning from work. The attackers fled the area immediately, according to witnesses. Two journalists helped rush the wounded journalist to Madina Hospital, where he went under a successful surgery.
OP-ED
BBC - The author, Gabriel Gatehouse depicts AMISOM as a cheap peacekeeping force and questions if the African forces could totally defeat Al-Qaeda linked militants fighting in Somalia. "The African Union knows it needs more than just military victories. The gun has become a way of life. 'Africans solving African problems' seems to be working for now."
RADIO ROUNDUP
Radio Mogadishu - A pro-government radio station
At least ten al-Shabaab militias were killed after the Somali National Forces completed a military operation in Qasah-Dhere district of Bay region. TFG official in Bay region, Hassan Baydhabo, told Radio Mogadishu the national forces attacked the area after they learned that al-Shabaab were collecting bribes from the local residents. The national forces also seized one vehicle from the militias. The second round of Somali premier league started in Mogadishu on Monday. Elman FC club, which is defending the title played against LPP Jeenyo, but both sides scored one Goal. Eight teams, including Daalo, Horseed, Heegan, Banadir tellocom, Dekedaha, Elman and Badbaado are participating the tournament.
Radio Andalus - A pro-al-Shabaab radio station
The pro-infidels' leader Sharif Sheikh Ahmed survived an assassination attempt after the Mujahideen ambushed his convoy in between Mogadishu and Afgoye. Sharif, who returned from Afgoye, where he visited, met the bullets of the Mujahideen. The Mujahideen military vehicles were involved the fighting. Dozens of his guards were killed and this was the heaviest fighting in between Mogadishu and Afgoye since the infidels took control the area.
After days of meeting in Janale village of Lower Shabelle region, the Somali traditional leaders opposed the outcome of the recent Istanbul meeting, which was attended by so-called Somali elders. A statement from the elders stated that they will fight anything against the Islamic Sharia. The elders informed the Somalia people that Turkey is a part of the international attack against Somali Muslim people.
Radio Shabelle - An independent radio station
Armed gangs shot and wounded a lawyer in Hargeisa, the provincial capital of the self-declared state of Somaliland, witnesses said on Monday. According to the locals, Abdirashid Duraan, the attorney for Hargeisa court, was injured by unknown attackers as he walked out of a mosque near his house in New Hargeisa neighborhood after morning prayer around 5:00 am local time. The victim was rushed immediately to one of the local hospitals in Hargeisa to receive medical treatment. Somaliland officials have yet to release any comments on the incident. The attackers escaped before Somaliland security force reached the scene.
Somali Prime Minister Abdiweli Mohammed Ali announced plans to eliminate the Al Qaeda-allied al-Shabaab militants from the entire country before August 20, the deadline to implement a Roadmap for a new government of Somalia. "Somali government troops with the help of African Union peacekeepers are committed to finish the reign of al-Shabaab control in Somalia," he said. The PM stated that Somali and AU forces have previously secured several key areas in south and central Somalia and now pursuing the Islamist militants in many front.
Radio Bar-Kulan - An independent radio station
Two people were killed on Sunday evening on the outskirts of northern part of Karin village of Dabeyl-weyn, 57 kilometers south of Las Anod town in Sool region, after the vehicle they were travelling in came under attack from unknown gangs. The gangs reportedly ambushed the Galkayo bound vehicle and killed two men who were among the passengers. The gangs also took the vehicle to an unknown destination, according Abdullahi Mohamed Muse, a local resident who spoke to Bar-kulan.
Radio Kulmiye - An independent radio station
As part of its weekly ministerial sessions, the council of ministers of the Somali's Transitional Federal Government (TFG) on Monday focused on special issues including security and the Roadmap process. The Somali prime minister attended today's session and briefed the ministers about his latest trip to several nations including the neighboring countries. Somali Prime Minister Abdiwali Mohamed Ali Gaas called for negotiations with Somaliland ahead of scheduled reforms in Somalia in August. The PM has said that he is very optimistic about opening new negotiations to end the prolonged conflict with the breakaway state.