7 June 2012 Daily Media Roundup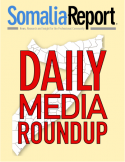 Somalia News Highlights: U.S. Offers Millions in Bounty for Top Somali Militants; Kenya Shells Kismayo, Al Shabaab Cordons City; Interpol Joins Uganda's Hunt for Terrorists; Kenya Alert as Top Al-Qaeda Man is Killed; U.S. Efforts To Fight Piracy; FAO Launches National Tree-Planting Campaign in Somalia; AMISOM Commander Tours Frontlines in Lower Shabelle; Al-Shabaab Attacks TFG in Elasha Biyaha; Militants Claim They Entered Afmadow After Kenyans Fled; 5 People Died in Baidoa Blast; UN Says Seven Buildings at Risk for Shabaab Attack; Turkey to Strengthen Developmental Projects in Somalia; Somali Ambassador to EU Injured in Car Accident in Brussels; Galmudug's Vice President Plans to Run for Galmudug President.
COMMENTARY ON ISLAMIC WEBSITES
Somali Memo - The pro-al-Shabaab website responded to the US government's issuance of $7 million reward for information about the whereabouts of al-Shabaab's top leaders. The Islamist website claimed that this is not the first time the infidel nation of America issued such monetary rewards to wage war against Muslim leaders. Offering a reward to fight against Islam is an age-old practice and it goes back to prophet Mohamed's era where leaders of the Qureysh tribe offered a reward of 100 camels on the whereabouts of Prophet Mohamed after he and his army escaped from Mecca. At that era, camel was equal to today's dollar as currency. Somali Language
POLITICS
Reuters - The United States is offering rewards of up to $7 million for information leading to the location of seven key leaders of Somalia's al-Shabaab, seeking for the first time to target top echelons of the Al-Qaeda-linked militant group. U.S. officials said the rewards, to be announced on the State Department's "Rewards for Justice" website on Thursday, opened a new front in the battle against al-Shabaab and signaled Washington's determination to press the fight against terrorism across Africa. "This is the first time we've had key leaders of al-Shabaab as part of the Rewards for Justice program," said Robert Hartung, an assistant director at the State Department's Bureau of Diplomatic Security, which administers the program.
SECURITY/AL-SHABAAB
Garowe Online - The Al Shabaab controlled port city of Kismayo, was shelled by helicopters on Thursday, as Kenyan troops backed by Somali forces attempt to capture the city, Garowe Online reports. According to local sources in the Lower Juba region, the airstrikes hit three districts under Baadeera and Kismayo city. Bulohaji, Sadeh Lugood and Santaro districts were hit heavily by helicopters that belong to the Kenyan military, residents said. There have been no reports of casualties as of yet, but residents suggest that the size of the bombardment could result in many civilian casualties. In an effort to cripple Al Shabaab in Kismayo, Kenya has reverted to strikes from both naval warships and helicopters. Kenyan troops entered Somalia in October of last year, and as of yet have failed to capture the stronghold of Kismayo.
New Vision - The International Police (Interpol) has joined the hunt for terror suspects suspected to be in Uganda. At least four suspected terrorists are believed to have sneaked into Uganda recently, prompting the security agencies to issue security alert. The Police have circulated photographs of the suspected terrorists and heightened security in the Capital City as well as other urban areas including Mbarara where the national Heroes' Day celebrations will be held this weekend. The measures include manning security at some of the shopping centres and high-rise buildings.
Standard Digital - Kenya's security agencies were put on alert following reports a drone strike in Pakistan had killed Al-Qaeda's number two Abu Yahya al-Libi. This is because Al-Qaeda had announced it had merged with Somalia's militant group al-Shabaab in their terror related activities. Highly placed security officials said they feared the criminal gang would react to the killing of the commander in Kenya following their links. "We continue to urge for vigilance amongst all in the country and given the reports that the Al-Qaeda commander was killed, things may be bad but we are on high alert," said one senior officer who asked for anonymity.
MARITIME
Voice Of America - Piracy off the coast of Somalia remains a critical issue for the United States, the international community, and the global economy, said U.S. Principal Deputy Secretary of State for Political-Military Affairs Thomas Kelly. In confronting piracy, the U.S. has pursued an integrated multi-dimensional approach, which has begun to turn the tide on this transnational crime. In 2009, the U.S. helped establish the Contact Group on Piracy off the Coast of Somalia to promote action and coordinate efforts to suppress Somali piracy. It will also be critical to re-establish stability, responsive law enforcement, and effective governance in Somalia. Since 2008, Somali pirates have hijacked 175 vessels and attacked at least 445 others. They have kidnapped 3,000 crew members from over 40 countries and are still holding 241 hostages today. They hijacked 27 ships last year and six already this year.
FOOD SECURITY/ENVIRONMENTAL CRISIS
Mareeg - The Food and Agriculture Organization of the United Nations has launched a national tree-planting campaign in Somalia in a bid to restore the country's fast-disappearing forest cover. The "Plant-A-Tree" campaign, which started in Hargeisa, Somaliland--coinciding with the World Environment Day celebrations on June 5--saw hundreds of trees planted by dozens of volunteers, civil servants and members of the general public. Luca Alinovi, the head of FAO in Somalia, said the country's food security future largely depends of the environment calling for more investment in reforestation and sustainable agriculture stressing the organization's environmental mandate.
VIDEO
British Channel 4 - This is 12+ minute video depicting Somali-British families repatriating their children to Somalia to avoid youth delinquencies in UK. "Back in the UK he faced so many challenges. His family was always worried about him getting into trouble and ending up in jail - or dead."
RADIO ROUNDUP
Radio Mogadishu - A pro-government radio station
AMISOM's chief commander General Andrew Gutti on Thursday toured the frontlines of Lower Shabelle region. The commander visited Afgoye district and the recently liberated areas on the outskirts of Mogadishu. Gutti hailed the troops for their operations against the terrorist group of al-Shabaab. He urged them to continue their efforts until they secure Somalia and eradicate the radical group from the country.
Radio Andalus - A pro-al-Shabaab radio station
At least four pro-infidels militias were killed and several others injured as the Mujahideen attacked the infidels in Elasha Biyaha village, where they were robbing the residents. The Mujahideen succeeded to chase the enemy from the area and save the property of the Somali people. Meanwhile al-Shabaab Mujahideen fighters burned pro-infidels vehicles and killed four militias passing Bisharo Street on the outskirts of Mogadishu.
Al-Shabaab Mujahideen fighters on Wednesday night entered Afmadow district of Lower Juba region after the Kenyan infidels and their followers fled the district. Officials from the Mujahideen addressed the residents in public arena and warned them to cooperate with the enemy. Also the Mujahideen met with the local elders and traders and discussed how to defend the district from the enemy.
At least five pro-infidels militias were killed as an explosion rocked Baidoa town of Bay region on Thursday. An eye witness told Radio Andalus that the militias detained innocent people after the blast.
Radio Shabelle - An independent radio station
An internal UN security report says the Kenyan Police listed seven buildings, including the headquarters of the revenue authority, as being under immediate threat of a terror attack from an al-Qaeda-linked militant group. Somalia's al-Shabaab militant group last week threatened to attack Kenya's skyscrapers within two weeks, a warning that followed a bomb attack in Nairobi's city center which killed one person and injured 32 others. It was the third time al-Shabaab has threatened to bomb Kenya after the country sent it troops into Somalia to pursue the militants in October. The UN report circulated late on Tuesday says police are restricting parking at the buildings listed and are screening all people going into them. Police spokesman Eric Kiraithe said the UN report is misleading and denied designating any building as being under threat.
Radio Bar-Kulan - An independent radio station
Turkey promised to strengthen its developmental projects in the Somali capital, Mogadishu, the Banadir regional governor has revealed. In an exclusive interview with Bar-Kulan, the governor who is also the mayor of Mogadishu, Mohammoud Ahmed Nur Tarsan, said the Turkish government has promised to support his administration by working on infrastructure projects like roads and provision of other essential public services like water and electricity. He said Turkey will also scale up all its activities in Mogadishu to help the country regains its original status in terms of developments. Tarsan said during his recent trip to Istanbul he met local government authorities and was promised all kinds supports he needed in order to redevelop Mogadishu.
Galmudug Vice President Abdisamed Noor Gulleid on Thursday declared his interest in the region's top seat. Speaking at a meeting in Galkayo, Gulleid said he will be running for the regional presidency during the forthcoming August elections. He said he is quite optimistic that he will be elected to the post. Gulleid promised to prioritize reconciliation, the expansion of the regional administration, and security and development if he is elected to the top seat. The former Somali police commander, Abdi Hassan Awale Qeybdid, also declared his interest in Galmudug's top seat few months ago.
Radio Kulmiye - An independent radio station
The Somali ambassador to the European Union was slightly wounded after his car accidentally crashed on a highway, according his office in Brussels, Belgium. Other sources said the ambassador is in good health, but was hospitalized during his treatment. Nur Hassan was appointed as Somalia's top representative in European Union in 2009. He served as prime minister of Somalia's transitional federal government when President Abdullah Yusuf led the country.