17 May 2012 Daily Media Roundup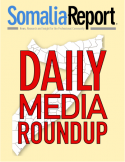 Somalia News Highlights: Prime Minister Abdiweli Says Puntland Entitled to 'Constitution Response'; Somalia Must Find Own Way, US Diplomat; Somaliland Military Court Sentences 17 Civilians to Die; Ethiopian Court Says 11 Will Face Terror Charges; Somalia's Puntland Spurs India Oil Hope; War on Somali Piracy Needs Rules and Impregnable Citadels; Somali Parliament Speaker Traveled to Baidoa; A Harardhere Fisherman Criticized EU Airstrikes; Al-Shabaab Claimed to Have Killed Six Pro-TFG Soldiers in Gedo; Al-Shabaab Said They Are Assisting Al-Qaeda Militants in Yemen; 11 TFG Soldiers Were Killed in Grenade Attacks in Villa Baidoa of Mogadishu; A Land Dispute in Galkayo Injured 11 People; An Al-Shabaab Leader Surrendered to the TFG in Mogadishu; and TFG Forces are Expected to Reach Hudur District of Bakol region.
COMMENTARY ON ISLAMIC WEBSITES
Somali Memo - The pro-al-Shabaab website claimed that a political rift emerged between the Ethiopian and Ugandan over the handover and control of areas captured from al-Shabaab Mujahideens. The invading forces of Uganda wanted a speedier transfer of towns and regions seized by the Ethiopian troops to AMISOM. The Ethiopian government wrote to the Ugandan leadership and AMISOM and requested AMISOM forces to take over those areas in order for Ethiopian troops to withdraw from the Somali nation.Somali Language
POLITICS
Garowe Online - Prime Minister Abdiweli Mohamed Ali Gaas said that the elders' conference in Mogadishu is continuing as planned and that the delays are not due to disagreement between Puntland and the Transitional Federal Government (TFG), Radio Garowe reports. "Of course as a federal state and a very important region in Somalia, they have the right to request amendments or revision of certain articles they have an issue with," said Prime Minister Gaas. Contrary to what some news agencies in Somalia are saying, Abdirahman Omar Osman (Yarisow) spokesman for the TFG said Wednesday that the elders' conference in Mogadishu has delayed but Puntland's concerns with the Somalia draft constitution are not the cause of setback.
The Columbus Dispatch - A U.S. State Department official told local Somali leaders that it's up to them and other Somalis, not the U.S. government, to forge a new course for the broken country. The United States has been trying to stabilize the country through institution-building — health care, schools, training Somali troops — said Donald Yamamoto, the principal deputy assistant secretary of state for the Bureau of African Affairs. He spoke to local Somali leaders in Columbus yesterday. "We can only do so much. It's their country," Yamamoto said. "They have to do the work."
SECURITY/AL-SHABAAB
BBC Africa - A military court in Hargeisa, the capital of the self-proclaimed Somaliland, has sentenced 17 civilians to death for attacking a military base. The death penalties were handed down the day after the attack in which seven people were killed, a Somaliland official told the BBC. An armed group carried out the attack, claiming the military had built on land that they had owned for generations. A group of almost 30 armed civilians belonging to the same clan attacked soldiers in the camp on Tuesday, leading to a firefight in which three soldiers were killed, Somaliland's Defence Minister Ahmed Haji Ali told the BBC's Somali service.
Associated Press - Ethiopia's federal court ruled Thursday that 11 people should face terror charges after prosecutors said they formed a cell with an Al-Qaeda-linked group from neighboring Somalia. The charges come amid signs of increasing militancy in the East African nation. Ethiopian troops moved into Somalia at the beginning of the year to fight the Somali militant group al-Shabaab. Prosecutors said the suspects, who include one Kenyan national, formed a cell with the Al-Qaeda-linked group. Five suspects are in custody. Six others are to be tried in absentia.
MARITIME
Bloomberg - The 90th session of the International Maritime Organization's Maritime Safety Committee, under way in London, will cover much territory, including passenger-ship safety ("Remember the Costa Concordia"), standards for voyage data recorders and the protection of crew members' hearing from engine noise. But the big topic is piracy, not just off the coast of Somalia -- where there were 237 attacks last year, up from 219 in 2010 -- but increasingly off western Africa, South America and Southeast Asia. The incidents cost the shipping industry, insurers, navies and law enforcement more than $7 billion in 2010. In the end, the only "cure" for Indian Ocean piracy will be stability and economic growth in Somalia. Not even the strongest citadel afloat can hold out till that distant day. But a global agreement among owners and global bodies like the IMO on standards and practices can make the wait less dangerous and costly.
OIL EXPLORATION/PUNTLAND-INDIA
Deccan Chronicle - An energy-hungry India has yet another region now on its radar from where it can hope to import a valuable resource, oil. Not many here would be familiar with the Puntland region of Somalia, a country located on the horn of Africa whose name has become synonymous with piracy. But Puntland has recently discovered abundant reserves of oil. Puntland President Abdir-rahman Mohamed Moha-mud Farole, who is currently on a visit to India, has invited Indian oil companies to participate in oil exploration in Puntland. Mr Farole met Union minister of state for petroleum and natural gas, R.P.N Singh here on Wednesday and shared with him details of the recent oil find in Puntland, said official sources.
RADIO ROUNDUP
Radio Mogadishu - A pro-government radio station
The speaker of Somalia's parliament, Sharif Hassan Sheikh Aden, on Thursday flew to Baidoa in central Somalia. The speaker was accompanied by other parliament members and government officials. Sharif Hassan met with the elders and elites of Bay region. Both sides discussed how to tighten the security of the region after the national forces eliminated the enemy from Baidoa and other districts in Bay region. His visit becomes the third of its kind since Somali forces, backed by allied Ethiopians, ousted the rebel rule in the area earlier this year.
A fishermen in Haradhere district of Mudug region, Hassan Abdi Jim'aale, blamed NATO navies of shelling the populated area in that region. He stated that a shelling took place days ago near Haradhere killed civilians and urged the Somali government to take measure against killing civilians. (Editor's note: EU NAVFOR was responsible for the strike.)
Radio Andalus - A pro-al-Shabaab radio station
Reports from Gedo region indicate that five separate explosions targeted Kenyan infidels and pro-infidels militias' bases in Fafahdhun village on Thursday. Initial reports indicate that at least six pro-infidels militias were killed in the attack. The casualties of the Kenyan infidels remain unknown, since they prevented the civilians from reaching the scene. Mortars hit the enemy's bases in the village on Wednesday night.
Radio Al-Furqaan - A pro-al-Shabaab radio station
Al-Shabaab Mujahideen officials declared that they will lend a hand to their Mujahideen brothers in Yemen. Al-Shabaab military spokesman Sheikh Abdiaziz Abu Muscab stated that international infidels started fighting against al-Qaeda in Yemen, so the Somali Mujahideen must get ready to support them. "Our brothers in Yemen want our support, we will not watch while the international infidels are united to fight against them," he said.
At least 11 TFG soldiers, including three main officers, were killed and dozens injured as a huge explosion rocked Villa Baidoa military camp in Mogadishu on Thursday morning. According sources close to TFG military, the explosion targeted in the center of Villa Baidoa.
Radio Bar-Kulan - An independent radio station
At least ten people were injured in northern Somali central city of Galkayo after a scuffle erupted between local grocers on Thursday. Reports say the clash erupted after the grocers differed on the ownership of a piece of land in a market they were selling their vegetables. The market is now said to have been shut down due to the incident. Seven injured women and three men are now being treated at local health facilities in Galkayo town where they were rushed to immediately after in the incident. Crude weapons such as machetes were reportedly used during the clash.
Al-Shabaab's Mogadishu representative, Ali Mohamed Hussein, has reportedly denounced his group's activities in the country and asked for amnesty, reports say. Hussein also requested forgiveness from the Somali population in the city. He is said to be willing to address the public and officially denounce the militant group and seek forgiveness from the public. He has also reportedly asked people to refer to him anybody who he had previously wronged during his tenure in the militant group.
Radio Shabelle - An independent radio station
Forces under The Transitional Federal Government (TFG) of Somalia are approaching towards villages around Hudur district, the capital of Bakol region in southern Somalia and an al-Shabaab stronghold, an official and locals said on Thursday. Somali MP Ahmed Sheik Mohammed told Shabelle Radio that heavily armed Somali government troops with battle wagons have moved on Wednesday night in the direction several al-Shabaab controlled areas near Hudur district and expect to seize the city within hours. "If God wills, we will be in the rest of rebel-held locations near Hudur soon from al-Shabab fighters. We are only 10km away," said the lawmaker. Residents in Hudur expressed frustration saying neither the government nor aid agencies have come to their assistance nor fear fighting is imminent, forcing many to flee.