15 May 2012 Daily Media Roundup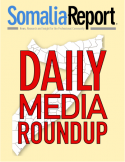 Somalia News Highlights: Somalia Entering 'Critical Stage' as End of Transition Period Nears; Somali President Addresses UN Security Council; Northern Clans Accuse Mogadishu Government of Marginalization; Land Dispute in Somaliland Leads to Five Deaths; Terror Suspect Held in Kenya is Swiss; UN Voucher Programme Adds More Fresh Food to Diets in Somaliland; Somali Leader Will Support Indian Military Action Against Pirates; The 56th Anniversary of Somali Youth League Celebrated; Al-Shabaab Hits Villa Somalia With Artillery; Galgala Mountain Insurgents Expanded Territorial Control After Puntland Forces Flee; TFG-Kenyan Forces Battle Al-Shabaab in Hayo Village of Juba Region; and Al-Shabaab Vacated Several Bases in Galmudug After Pressure From ASWJ-Ethiopian Forces.
COMMENTARY ON ISLAMIC WEBSITES
Somali Memo - The pro-al-Shabaab website posted pictures and a brief commentary on the establishment of Somali Unity Council (SUC) in Stockholm, Sweden. The founding of the SUC was result of a two day meeting held in Stockholm where the SUC members selected 10-member executive committee. The SUC membership feels that unity is the only way out of the Somali conundrum. (Editor's Note: The Islamist website didn't indicate the political affiliation of the political party.) Somali Language
POLITICS
UN News Center - Somalia is entering its "most critical stage" as the end of its transitional governing period approaches in August, a United Nations envoy said today, calling for the international community to boost their efforts to help the east African country through its peace and national reconciliation process. "As Somalia faces the greatest opportunity to end the transition, after so much investment by the international community and well-wishing Somalis, we must complete the tasks at hand," the Special Representative of the Secretary-General for Somalia, Augustine P. Mahiga, told the Security Council in New York. "We must provide timely logistical and financial support to enable us to complete the implementation of the roadmap before August this year, as well as strengthen international cooperation and coordination."
Hiiraan Online - Somali President Sharif Ahmed Addressed the UN Security Council today in New York. Speaking at the UN Security Council meeting for Somalia, the Somali president spoke about various issues including the drafted constitutions, progress made in the roadmap process and the upcoming Istanbul Conference for Somalia to conclude the transitional period. The president also urged the international community to financially support Somalia. Somali Language
Somaliland Press - Somali Tribal chiefs, religious leaders and intellectuals meeting in Somalia's capital Mogadishu accused the TFG government of excluding them from law making bodies and power sharing. The mainly northern Dir and Harti clan leaders say they will walk out on the meeting which brought together Somali figures to deliberate on the proposed constitution. They accused the weak transitional government of Sheikh Sharif of favoring southern clans such as his own Hawiye and leaving the rest in the cold.
SECURITY/AL-SHABAAB
Garowe Online - At least 5 people were killed and scores injured after a land dispute turned violent between civilians and Somaliland's armed security forces in the northern breakaway region's capital, Hargeisa, Radio Garowe reports. The dispute was over land that belonged to the former government of President Siad Barre. According to local sources in Hargeisa the Somaliland government sold the disputed land to a businessman. The alleged owners of the disputed land, took the case to court but their appeal was turned down by the Somaliland courts. According to Hargeisa media the clashes erupted after Somaliland authorities tried to evict the alleged owners of the land. The clashes led to 5 deaths including 3 police officers and two civilians.
The Local - Kenyan police had arrested what was first believed to be a Swedish national, suspected to have links with the Somali Islamist militia al-Shabaab, a senior police officer told news agency AFP on Monday. "He is being interrogated on his mission in the country. We have reason to believe he has terrorism links (with al-Shabaab)," the official said on condition of anonymity. A police spokesman later confirmed the arrest but declined to provide any further details.
MARITIME
Two Circles Town - Against the backdrop of Somali pirates currently holding over 60 Indian sailors as hostage, the African country's Puntland state backs military operations to rescue them and to fight piracy, even as its President Abdirahman Mohammed Mohamud Farole is in India to work out a naval capacity building agreement. "I always support the military operations to fight piracy," Farole told reporters on the sidelines of an event he addressed at the Indian Council for World Affairs (ICWA) at Sapru House here. He was responding to queries if the Puntland government will support Indian military action to rescue its sailors held hostage by Somali pirates all along Somalia's 3,300-km coast. Puntland is a semi-autonomous state in north-eastern Somalia.
HUMANITARIAN/FOOD SECURITY
UN News Center - Thousands of people in Somaliland, in northern Somalia, are getting more fresh meat in their diet as a result of an innovative UN initiative that provides parents with vouchers to help them afford nutritious food from local traders, according to the World Food Programme (WFP). "Using vouchers gives people greater choice about what food to eat, and gives WFP a powerful new tool for providing food assistance to the most vulnerable," WFP's Country Director for Somalia, Stefano Porretti, said in a news release today. "At the same time, vouchers help the local economy by supporting local small and medium-scale producers and retailers." Under the programme, people receive $80 in vouchers each month, and can use them to buy a variety of food including rice, cooking oil and fresh camel and goat meat. So far, around 15,000 people in north-western Somaliland are being given the vouchers as an alternative to food rations, and WFP plans to expand the initiative to other areas later this year.
RADIO ROUNDUP
Radio Mogadishu - A pro-government radio station
Well organized ceremonies commemorating the 69th anniversary of the establishment of Somali Youth League (SYL), the first political party in Somalia, were held in different cities of Somalia on Tuesday. On May 15, 1943, a group of young Somalis established the SYL party, which played a key role in Somalia's road to independence. The ceremonies were held in Mogadishu, Galkao, Garowe, and Bosaso cities.
Radio Andalus - A pro-al-Shabaab radio station
Al-Shabaab Mujahideen's artillery department shelled the pro-infidel presidential palace on Monday night. Al-Shabaab Mujahideen military officials told Radio Andalus that at least ten mortars hit in Villa Somalia, which terrified the enemy. The casualties remain unknown.
Reports from Galgala Mountains indicated that the Golis Mujahideens in that area have expanded their territorial control after the pro-infidels militias of Puntland vacated large military bases. Also hundreds of new Mujahideens have reached the Galgala Mountains to join the fighting against the enemy of Islam.
Radio Bar-Kulan - An independent radio station
Four people are reported to have been killed and dozens of others injured when a fierce gun-battle today erupted between al-Shabaab militants and government soldiers backed by the allied Kenyan forces at Hayo village of Afmadow district, Lower Juba region. The fighting occurred after the allied forces launched attacks at rebel base located on the outskirts of Hayo village in order to dislodge them from the area. Speaking to Bar-Kulan over the phone from Qoqani town, TFG military official Col. Mohamed Abdullahi claimed that they killed three militant fighters and wounded several others during the gun battle. He said they only lost one of their soldiers but al-Shabaab did not comment on the Tuesday fight.
Al-Shabaab militants on Tuesday vacated their military in bases parts of Galgadud region following reports that Ahlu Sunna Waljama' militias backed by the Ethiopian troops were advancing towards these areas. Confirming the incident, ASWJ's El-bur Security Chief, Abdi Hassan Mohamned, told Radio Bar-Kulan that al-Shabaab militant fighters were noticed evacuating their bases in Ja'ar, Gal-Hareri and Bargan areas located along the administrative border between El-Bur and El-der districts. He said the militants were deserting their bases in large numbers in fear of renewed assault from the allied forces who are now heading towards these areas.
Radio Shabelle - An independent radio station
Heavily armed police forces in battlewagons loyal to Somalia's northern semi-autonomous administration of Puntland have carried out on Tuesday morning a security operation in Garowe town. Ali Hirse, the Governor of Nugal region told reporters in Garowe town that weapons were seized in security operations at several Garowe neighborhoods. The governor of Nugal also welcomed the ongoing security operations. The security operations were ordered by the security committee of Nugal region due to insecurity acts and illegal weapon possessions in Garowe town, the capital of Puntland.