11 May 2012 Daily Media Roundup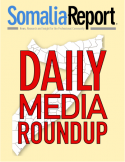 Somalia News Highlights: A Row Between Somali Regions Slows Oil Exploration; Al-Zawahiri Video Urges Somali Militants to Fight; Armed and Angry Groups Confronted TFG Soldiers Ordered to Demolish Business Stalls in Mogadishu; Somali Pirates Are Back, and so is Their PR Machine; Ship Guards Trigger Clashes With Pirates; Somali-Americans Close Wells Fargo, US Bank Accounts Over Remittances; The Mogadishu Mayor Returned Home After Official Visit to Turkey; Al-Shabaab Accused TFG Soldiers of Collecting Bribes at Mogadishu Checkpoints; Al-Shabaab Claimed a Top TFG Officer Surrendered to al-Shabaab Mujahideens; Two Puntland's Anti-Terrorism Officers were killed in Bosaso by Armed Men; TFG and UN Human Tights Agencies Signed MOU to Protect Human Rights; and a Ugandan Soldier Was Convicted for Selling Bullets to a Somali Boy.
COMMENTARY ON ISLAMIC WEBSITES
Amiir Nuur - The pro-al-Shabaab website posted the 14-minute audio recording, called 'The Lions of Somalia Fighting the Children of Abi Raqib' by Al-Qaeda Leader Al-Zawahiri. In his speech to the Somali militants of al-Shabaab, the leader urges them to keep on fighting despite the challenges and drone attacks. Somali Language (Editor's Note: For more information, see Associated Press story below.)
POLITICS
Reuters - A dispute between two semi-autonomous regions in Somalia is delaying exploration for oil and gas over fears that local authorities are issuing licences to explore blocks that overlap in each other's territories, officials said. The boom has led to speculation about the potential for finding oil offshore Somalia in the Horn of Africa, which so far has no proven hydrocarbon reserves. "Put it this way: Puntland and Somaliland have what's called 'disputed areas.' It's really created a quagmire," said Ali Abdullahi, the chief executive officer of Amsas Consulting, a Somali firm that advises private oil firms in the region. Companies are unsure whether their contracts with the local authorities to drill wells will remain valid. The dispute between Somaliland and Puntland mirrors another between Kenya and Somalia over their maritime border, which may also deter oil exploring firms.
Garowe Online - The Puntland President Abdirahman Farole traveled today to Addis Aababa city of Ethiopia. The Spokesman of Puntland government spoke Ahmed Omar Hirsi to Radio Garowe stated that the President Farole is invited by the Ethiopian leaders and the president will have talks with Ethiopian leaders. Mr. Hirsi did not specify the reasons behind the invitation for President Farole. Somali Language
SECURITY/AL-SHABAAB
Associated Press - Al-Qaeda leader Ayman al-Zawahiri has released a new video in which he encourages Somali militants to fight on despite the challenges. In the video, reported Friday by the Site Intelligence Group which monitors militant activities, al-Zawahiri urges al-Shabaab militants not to be deterred by U.S. drone attacks. It is al-Zawahiri's second video address to al-Shabaab, which formally joined Al Qaeda in February.
Hiiraan Online - Armed and angry groups have confronted TFG forces instructed to demolish business stalls at Benadir Intersection of Mogadishu. The angry groups fired at the TFG soldiers and the government soldiers backed off after facing an armed resistance. The clashes caused a huge traffic jam at the intersection. Somali Language
MARITIME
The Atlantic Wire - Somali pirates are officially back in action, with a spate of attacks over the last few days culminating in the capture of a huge oil tanker in the Arabian sea. Now, capturing ships is what pirates do so perhaps that doesn't seem so impressive, but did you notice you haven't heard much about it lately? That's because, as Reuters' George Obulutsa reports, this is the first successful pirate attack in more than a year. And the ship, a Greek-owned, Liberian-flagged tanker called MT Smyrni, is full of about a million barrels of oil, so it's a massive haul. And then there's the pirates' spokesman, Ahmed, who gave Reuters the pirates' side of the story and with whom we're now rather fascinated.
UPI - The growing use of armed guards on merchant ships plying the piracy-plagued waters of the Arabian Sea and the Indian Ocean has spawned increasingly violent encounters with Somali marauders, maritime security experts say. This development illustrates how the pirate menace, which a few years ago was limited to the Gulf of Aden between Somalia and Yemen, has grown, and with it a maritime security industry that embraces at least 120 companies, more than half of them British, that provide protection for many of the 40,000 vessels that sail those waters every year. These include U.S.-made Stinger shoulder-fired anti-aircraft missiles and sea mines. "We found that Libyan weapons are being sold in what's the world's biggest black market for illegal gun smugglers, and that Somalia pirates are among those buying from sellers in Sierra Leone, Liberia and other countries," she explained.
HAWALA/TERRORISM
MPR News - Somali-Americans say they're closing their accounts with US Bank and Wells Fargo, a fallout from the banks' decisions to stop facilitating money transfers to Somalia. Demonstrators from the Somali and Latino communities are marching alongside economic-justice activists Friday afternoon in downtown Minneapolis to protest recent challenges in sending cash to families in their war-torn homeland. Hindia Ali, of the advocacy group Somali Action Alliance, said she is moving her private banking account from Wells Fargo to a credit union. "Wells Fargo is not doing business with the only lifeline and vehicle we have to send money to our loved ones, so it doesn't make any sense for us to have our money there with them," Ali said. "We're only going to do business with banks that supports what we need."
RADIO ROUNDUP
Radio Mogadishu - A pro-government radio station
After a one week visit to Istanbul, Turkey, Mohamed Ahmed Nur Tarsan, the mayor of Mogadishu, returned home. During his visit, the mayor met with his counterpart in Istanbul and other Turkish officials. Tarsan spoke to the media and said Turkey promised to take part in the rebuilding of the Somali capital, Mogadishu.
Radio Andalus - A pro-al-Shabaab radio station
The pro-infidel militias started to establish illegal roadblocks on Mogadishu's main streets to take bribes from the traders and transport vehicles. Over the last several days, fighting over bribes has been taking place on Industrial Street and caused the deaths of at least three militias.
Radio Al-Furqaan - A pro-al-Shabaab radio station
Reports from Gedo region in southern Somalia indicate that a top TFG military officer surrendered to al-Shabaab Mujahideen administration in that region. Al-Shabaab officials in Gedo told Radio al-Furqaan that they bought the weapons from the officer and will allow him to go wherever he wants in Somalia.
Unidentified men armed with pistols shot and killed two Puntland "anti-terrorism officers" Major Hassan Gurhan and Ali Biib in Bosaso town on Thursday night. Local residents told Radio al-Furqaan that the two officers were working to fight against the Galgala Mujahideen in Bari region. This will be a huge blow to Puntland military, which is fighting against Galgala Mujahideen and recently united with al-Shabaab Mujahideen.
Radio Bar-Kulan - An independent radio station
A Memorandum of Understanding (MoU) was today signed between the Office of the High Commissioner for Human Rights (OHCHR), the UN Political Office for Somalia (UNPOS) and the Somali government to support enhancement of the situation of human rights in Somalia. The MOU was conceived in a collaborative spirit and developed at the request of the TFG to formalize and strengthen cooperation in seven thematic key areas identified by Somalis including: Signature, ratification and implementation of international human rights treaties, protection and promotion of the rights of vulnerable groups, including women, children, internally displaced persons and journalist and facilitation of effective cooperation with Special Procedures of the Human Rights Council. The MOU also includes strengthening the rule of law and the administration of justice. Other issues includes building institutional capacity to promote and protect human rights, raising about human rights through media and advancing economic and social rights in the country.
Radio Shabelle - An independent radio station
A Ugandan soldier attached to the African Union Mission in Somalia (AMISOM) peacekeeping force convicted of selling ammunition to a Somali boy in Mogadishu is challenging his sentence. Mubarak Magiri was convicted by the UPDF unit disciplinary committee in Mogadishu after he pleaded guilty to selling 35 rounds of live ammunition to a boy in March this year. He was sentenced to one year and dismissed from the force with disgrace for the offense of failure to protect was materials. The unit disciplinary committee heard that Magiri, while deployed at Sheik Abdul AMISOM detachment, sold 35 rounds of ammunition on March 24, 2012. The ammunition were later recovered from the boy.