9 May 2012 Daily Media Roundup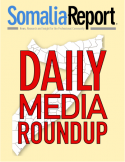 Somalia News Highlights: General Indha Adde Claimed TFG Leaders Agreed to Remove Controversial Articles from the Draft Constitution; The UN Threatens the Somali Democratic Movement; At Least 17 Killed in Somalia Fighting; Breakaway Somali Regions Boost Education to Deter Militancy; Sri Lanka Rescues Drifting Somali Men; Cuts Force Royal Navy to Drop Somalia Piracy Patrol; Jamal Osman Named One World Media Journalist of the Year; Al-Shabaab Kidnapped 100 Traditional Elders from Three Southern Regions of Somalia; Al-Shabaab Claims to Have Killed Dozens of Ethiopian Troops; Unidentified Armed Gunmen Kill Aid Worker in Baidoa; Somali Religious Council Leader Said Drafted Somali Constitution is Against Islam; and Somali Defense Minister Pledges Continued Fight Against al-Shabaab.
COMMENTARY ON ISLAMIC WEBSITES
Amiir Nuur - The pro-al-Shabaab website claimed prominent Somali traditional leaders and intellectuals both in the country and overseas are actively engaged in the opposition of the drafted Somali Constitution and the momentum against the proposed constitution is gaining traction. The website claimed TFG leaders and UN Envoy Augustine Mahiga are misquoting the support of individuals who say they support the draft. Somali Language
POLITICS
Hiiraan Online - General Yusuf Mohamed Siad known as Indha Adde who one of those who opposed the drafted Somali Constitution. Speaking to the media today, Gen. Indha Adde stated some of the controversial article of the proposed Somali constitution will be totally removed from the constitutional draft. "I had meeting with top officials of TFG including the Somali president and discussed about those controversial articles, and they agreed with us," said, Sheikh Indha Adde. Somali Language
Aljazeera - The hope was that AMISOM, as African brothers, will defeat al-Shabaab and give the Somali people a chance to rebuild their country, but that hope has been dashed as the UN and the AU try to suffocate Somalis' democratic aspirations. Fortunately the Somali democratic movement will endure the latest humiliation and shall prevail sooner or later as they seek freedom, justice, and democracy in their own home.
SECURITY/AL-SHABAAB
Voice Of America - A Somali lawmaker said at least 17 fighters with militant group al-Shabab have been killed in fighting with Ethiopian and Somali government troops. Parliament member Mohamed Mashru told VOA Somali Service the troops attacked an al-Shabab base Wednesday at Agab-Bedey village, near the Somali town of Hudur. Mashru said he saw the bodies of the al-Shabab fighters lying on the ground after the battle ended.
Al Arabiya News - Spared the violence that has ravaged southern Somalia for two decades, the breakaway Somaliland and Puntland regions are investing in education to lure youngsters away from extremism and piracy. "Several generations have been lost, first under the (Somalia ex-president Mohamed Siad) Barre regime and then during the civil war," Puntland's president, Abdirahman Mohamud Farole, recently told an EU delegation. The European Union, Somalia's biggest donor, contributes 85 million euros, $112 million a year to the education sector in the whole of Somalia, including the two breakaway regions.
MARITIME
The News - A Sri Lankan trawler found the men last Wednesday in international waters in the Indian Ocean, thousands of kilometres from Somalia, a police official said. "The Somali men were handed over to us today," police spokesman Ajith Rohana said. "What we gathered from the fishermen is that the Somalis were not armed at the time of the rescue. But, we can't say if they are pirates or not." In January last year, Somali pirates operating in the Indian Ocean region killed two Sri Lankan fishermen and seized three men along with their trawler.
The Guardian - The UK has had to scale back its commitment to counter-piracy because the Royal Navy no longer has enough warships to dedicate one to Somalia all year round. While the US, France, Italy, Denmark and other nations still send frigates to thwart criminals who cause havoc with international trade, the Guardian has learned that Britain has quietly withdrawn its ships from these patrols, even though David Cameron has made Somalia's piracy problem a foreign policy priority.
MEDIA
Channel 4 News - Somali reporter Jamal Osman is named journalist of the year at the One World media awards for a collection of his films for Channel 4 News. The awards, presented by Channel 4 News Presenter Jon Snow on Tuesday night, recognise outstanding journalism on the developing world. Jamal beat fellow nominees Sue Lloyd Roberts (Newsnight) and Felicity Lawrence (The Guardian) to take home the prize for a portfolio of work on Somalia. In the first piece in his entry, Jamal travelled to Mogadishu to meet a team of athletes training for the Olympics. Their training ground is the "road of death", the dividing line between government forces and al-Shabaab militia.
RADIO ROUNDUP
Radio Mogadishu - A pro-government radio station
Al-Qaeda militias in Somalia kidnapped more than 100 traditional elders in Lower Shabelle, Middle Shabelle and Hiiraan region over the last 48 hours, according to lawmaker Dahir Amiin Jeesow, who is currently in Hiraan region. Also the MP stated that hundreds of other elders have escaped from al-Qaeda controlled regions fearing they will be kidnapped.
Radio Andalus - A pro-al-Shabaab radio station
Dozens of Ethiopian Christian infidels were killed and one military truck was burned as al-Shabaab Mujahideen and the infidels fought in between Awdiinle and Qansahdhere districts in Bay region on Wednesday. The fighting erupted after the Mujahideen ambushed a convoy of Ethiopian vehicles that came from Qasahdhere and were heading to Baidoa. Meanwhile, heavy fighting also continued for more than six hours in Bakol region on Wednesday as the Mujahideen attacked enemy bases.
Radio Al-Furqaan - A pro-al-Shabaab radio station
At least three Ethiopian soldiers were killed and more than ten were injured after heavy explosion rocked an Ethiopian base in Beledewyne town of Hiiraan region on Wednesday. An eye witness told Radio Andalus that the Ethiopians fired in every direction after the blast, but no casualties were reported. Also the TFG militias started massive operations and detained civilians.
Radio Bar-Kulan - An independent radio station
Somalia's chief of prison services refuted claims that corruption and abuse is rampant in Mogadishu's central prison. In an exclusive interview with Bar-kulan, Gen. Cadi Ismail Mohamed said such allegations are unfounded and baseless, saying that the facility is a corruption free zone. He said no one has ever been secretly released from this detention center. Mohamed said their officers are well trained and no torture or mistreatment of prisoners has ever been reported, adding that the facility now holds hundreds of detainees who are either serving their jail terms or are waiting for their sentencing. His sentiment comes a time there are growing concerns of alleged mistreatment of convicted prisoners at this TFG controlled facility in Mogadishu.
Unidentified gunmen shot and killed an Islamic relief aid agency officer in Baidoa town on Wednesday night. The killers were armed with pistols and escaped from the scene. The TFG security forces started massive security opeartions and arrested several suspects.
Radio Shabelle - An independent radio station
The leader of Somali Religious Council in Mogadishu, Sheik Ahmed Dhi'isow, says the drafted constitution for Somalia is absolutely against Islam. "Every elder at the ongoing so called Somali traditional elders in Mogadishu supposed to select the constituent assembly that will adopt the draft constitution and choose a parliament is the enemy of Allah and the Islamic region," he said. Sheik Dhi'isow also mentioned that the draft constitution is worse than the former Berlin conference which was divided the nationhood of the country because it will weaken some of most sacred points of the nation including religion and the sovereignty of its borders. The remarks came as the Somalia's traditional elders are holding a major conference in Mogadishu to select a National Constituent Assembly of 825 clan-based members that will adopt the draft constitution as well as a new parliament.
Minister of Defense Hussein Arab Isse promised to continue the TFG's fight against al-Shabaab and Al Qaeda in south and central Somalia. The minister told reporters on Tuesday that the coalition forces working in southern Somalia have made much progress in fighting the terrorist organization. Minister Isse explained the TFG's objective is to eradicate al-Shabaab from southern Somalia in order to build peace in the region. "Although al-Shabaab have left Mogadishu it does not mean we can snooze, our troops will continue to fight," he said. "After Al shabab fighters were defeated in the battle in Mogadishu they shifted their tactics and began to melt into the population as to carry out deadly attacks against civilians so that I urge to Somalis to work with TFG forces from preventing the threat so we can stabilize and promote peace in the region," he added.