Feature
Harardheere's Newly Declared Female President
Somalia Report Interviews Marian Abdi Ghedi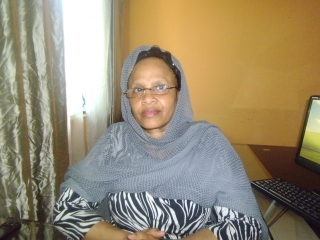 In March this year, a group from the Somali diaspora originating from Harardheere finalised their two-year long quest to create a semi-autonomous administration in the coastal city in the southern Mudug region.
Somalia Report interviewed Marian Abdi Ghedi, the only woman 'president' in Somalia. Marian is from Columbus, Ohio, and she was involved in Barack Obama's presidential campaign in 2008. She enjoys good relations with American politicians, and recently met with the US ambassador to Kenya, Major General (Ret) Scott Gration.
President Marian Abdi Ghedi, could you tell us about the events that led up to the creation of this state?
The process of declaring a new state has taken myself and my fellow diaspora members two years to accomplish. We want to help the people living in Harardheere, and want to help the area develop. The process was initially launched in the US and Europe, where a number of meetings were held to discuss the idea. Finally, in March we held a joint meeting in London, and declared the new administration of Harardheere. Following this meeting, a group of us travelled to Nairobi where we met with the Harardheere community based there. On April 15, we held another meeting attended by local elders, youths and businesspeople from Harardheere.
How is the new administration structured?
We are currently in the process of selecting people from Harardheere to take up the appropriate positions. We believe that these representatives must be living in the country, which is why our next stop is Mogadishu. We will meet with a number of local elders, who have a detailed understanding of suitable candidates. One of our main aims is to rid the region of pirates and militants.
How did you become the president if you are still working on selecting the administration's personnel?
After we agreed together to announce the creation of Harardheere state in London, the diaspora selected me to be president. I have worked for a long time to help Harardheere residents affected by drought, so I was well-known in the area, leading to Harardheere's diaspora voting me in to the position.
According to the Transitional Federal Government (TFG) constitution, a state has to be located over two regions. Harardheere is only part of the Mudug region, and so how can it be declared a state?
Harardheere is big in size - it has a number of districts and at least 20 small villages. Although the TFG has provided this guideline, a number of other states have ignored it - Galmudug, for example. What is important is how many people live in an area.
How does the clan dynamic work in your administration?
All of the clans present in Harardheere had a voice in the meetings. The administration includes members of the Suruur, Cayr, Saleban, Abgal, Dir and Shiikhal clans.
No official authority is able to exert control over Harardheere, a city overrun by pirates and militants. Do you have a plan to remove such elements?
After the administration is complete, we will return to Harardheere. The pirates and militants were never originally from the area, the simply moved there because they saw that there was no functioning administration. Once ours becomes ingrained, they will find it more difficult to operate from Harardheere, and we will do our best to remove them. Myself and my administration has the support of military leaders in Harardheere, however before we take these steps we must meet with the TFG and traditional elders to ensure we are all on the same page.
What do you think about the EU NAVFOR mandate extension? They are planning to attack pirate bases on Somalia's coastline - Harardheere will likely be a target. Does this worry you?
We support everything that promotes the stability and security of our region, whether it anti-piracy or anti-terrorism. We just require that we are informed. If we develop infrastructure and jobs, these youths will not continue on the path of piracy.
You are the first woman to become president of a state in Somalia, how does it feel?
I am so happy about it. It shows that the people of Harardheere are more respectful of women. I hope all Somali girls can grow up and believe that they can do the same. My political consultant is a woman too, Fadumo Ahmed Caalim, she was Deputy Minister for Education under Siad Barre's regime.
For a full report on Somalia's apparent 'federal' shift in clan based mini-states, please see here.