Mubarak's Musings
Battle Between Mogadishu Mayor and Radio Shabelle Heats Up

For the greater part of the past two weeks, Somalia's Transitional Federal Government (TFG) governor for Banadir region, Mohamud Nur Ahmed "Tarzan" – who is also the mayor of Mogadishu (an important post, given that Mogadishu is the only city that the TFG really controls) – has been involved in a war of words with Radio Shabelle, an independent radio station based in Mogadishu.
The mayor's feud with the radio originates from interviews run by the radio which allege that the mayor had previously burned the Ethiopian and Somali flags; the former in London outside the Ethiopian embassy in protest for the country's invasion of Somalia and the latter in Kudha near Ras Kamboni, in the southern tip of Somalia along the coast just near the border with Kenya. Shabelle also ran stories blaming the mayor for being responsible for the insecurity in Mogadishu.
The Tarzan-Shabelle war of words provides insight into the TFG's intolerance of media scrutiny, and also the questionable methods Shabelle – and many Somali journalists by extension – uses to survive the treacherous environment that is Mogadishu and the lengths they go to further the causes they believe in.
On April 10th of this year, Tarzan shot the first rounds of his war with Shabelle, threatening the independent media as a whole and alleging that the Mogadishu politicians who oppose him have ties to al-Shabaab.
Despite the threats, Shabelle continued with airing and publishing on its website interviews with politicians who oppose the mayor, not ceding territory to the mayor's offensive. In this spirit, on April 11th, Shabelle interviewed a Mogadishu politician from the same Abgal clan as Tarzan and claimed that Tarzan is famous for being a clan-centric politician who fuels clan-based conflict. Shabelle played this well; media outlets in Somalia always gain audience confidence for having an interviewer attacking a fellow clansmen for being clan-centric, not people from other clans. Otherwise it would seem like the radio was being unfair.
While this may not be true that Tarzan is a tribalist, it shows how the radio has gone on an all-out offensive on the mayor, who, it must be stressed, indeed has many shortcomings such as his failure to do basic services such as cleaning the streets, but nothing he has done or said in public shows that he targets particular clans. In fact, he clearly warned members of his clan about a year go on the dangers of clannism and told them not to compete with others on basis of clan but on achievement in peace building.
Anyone who wants to voice their opposition against Tarzan is apparently being given the microphone by Shabelle; nevermind whether or not the interviewer is clearly out to get him. This is simply revenge, the Somali media way.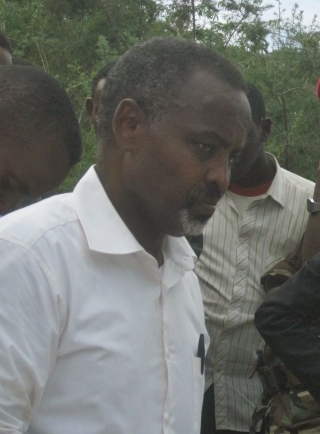 On April 12 Shabelle ran a story about "an attack by Tarzan and his troops" on the seaside Mogadishu district of Abdi Aziz, in which it seemed like Tarzan attacked the district headquarters for no apparent reason.
It was clear by the 14th, when a handover ceremony was held in the district for the commissioner, that Tarzan had not gone mad and that the Abdi Aziz district commissioner had refused to step down, prompting the mayor to attack him (the TFG way of settling matters).
Despite clearly misrepresenting the facts, Shabelle had the audacity to claim on the 12th that Tarzan was out to get them and that he had threatened "to finish-off the employees of Shabelle" at a paltalk chat with Somalis. (Paltalk is a popular website among the Somali Diaspora.) The headline in Somali makes it look like he said he was going to kill them all.
To understand what he really said, one must review the quote Shabelle itself posted on its website: "soon you shall see Shabelle ceasing to exist... if somebody has failed, it is Shabelle ", apparently replying to Shabelle's assertion that the mayor had failed in restoring peace to Mogadishu.
He also admitted that he had burned the Ethiopian flag because "we were at war with Ethiopia and we defeated them", but denied burning the Somali flag. Burning the Ethiopian flag will not lose a politician any political capital in Mogadishu; on the contrary, you might actually be more likeable by the people.
To make matters worse, Shabelle was using less-than-respectful ways to quote him, in Somali saying he "hadaaqay" (talked without thinking).
Having prodded the mayor, they almost had it coming when he went ballistic on them on Tuesday, accusing them of everything, from lying, to wanting "to beg around" on the back of the honor and the blood of people who die working for them.
Even though the mayor insulted Shabelle, he said something that perhaps Shabelle had hoped he would; he gave them an assurance that he was not out to get them.
"They said that I, Tarzan, had threatened them. I can catch them all now if I want, but I don't want that because I don't want to give them something to use to beg the world...", declared the mayor.
He also claimed that he did not know Hassan Turki and where on earth Kudha is located at. Shabelle would not budge and insisted that he did know the location of the alleged flag burning incident.
Shabelle management and the employees there were clearly kicked by the mayor and made it clear that they felt insulted. Their response: more disrespect to Tarzan, at one point making it seem like they did not recognize him as the mayor, quoting him as someone "who claims to be a government official".
They went further and interviewed members of parliament (MPs) who criticised Tarzan and called for investigations into his alleged burning of the Somalia flag. Shabelle posted an article about this in its 'broken-English' section.
It is important to note that the Somali flag was lowered and cut apart, not burnt as Shabelle is falsely claiming. The place was not Kudha either; it was Kismayo in 2006 when the Islamic Courts Union had taken the city. If the MPs investigate the matter (which they obviously won't: the TFG have more pressing matters) they will find out that Kudha did not even have a Somali flag in 2006. It was continuously ruled by the Ras Kamboni brigades under Hassan Turki who had given his blessings to the flag-lowering exercise at Kismayo in 2006.
Apparently, facts don't seem to matter here and the dispute is not about what Tarzan did or did not do almost six years ago, but it has to be looked at in the context of the ideological battles within the TFG, which is divided into many secular and Islamist factions.
A source in Mogadishu with knowledge of the TFG factions told me that it seems Shabelle was being used by secular factions of the TFG to discredit the Islamist Tarzan, by painting him as a traitor to the national flag.
While this can not be verified, it does seem plausible. After all, the media in Mogadishu, especially Shabelle, have a history of activism, famously playing a big role during the "Muqawama" (resistance) to the Ethiopians in Mogadishu. Shabelle was the voice of resistance; airing attacks and taking interviews with insurgent leaders. This made them an obvious target of the then-TFG (this had no Islamist members), with their premises raided a number of times in 2007 and 2008.
They may oppose Tarzan and Islamism all they want, but the sad thing is that they are clearly propagating a false allegation. It is one thing to make up false stories about al-Shabaab (a pastime for some Somali journalists) who tend to ignore false propaganda targeting them, but another thing to make up a false life history for a sitting mayor of Mogadishu.
There remains a slight possibility that Shabelle is a victim of misinformation by politicians who are out to get Tarzan. Somali politicians are known for accusing each other of anything the local population and the world considers horrible. Now the "horrible thing" is having ties to al-Shabaab (Tarzan's opponents, according to Tarzan), or not being a nationalist (Tarzan, according to his opponents).
Despite the war with Shabelle, the fact remains that Tarzan is more liked than the last notorious TFG's Mogadishu mayor, Mohamed Dhere, who was known to go to markets and personally punch and kick traders who built their stalls in the wrong places.
The TFG has to pass a media law against defamation. But to make sure that the law is not abused by the government, there must be an independent judiciary. And that would require sliding a whole new government system underneath this broken 4.5 institutionalised cronyism system. That will not happen any time soon, as the new draft constitution is still based on the 4.5 formula.
Journalism ethics will continue to be overlooked by Somali media houses and news-fabricating journalists for many years to come – a fact that Somalia Report itself has learned the hard way. Open your eyes and ears: if it looks and smells fishy, it really is fishy.