Exclusive
Horn Relief Rebrands as ADESO
African Development Solutions Better Expresses Growth And Future of Aid Agency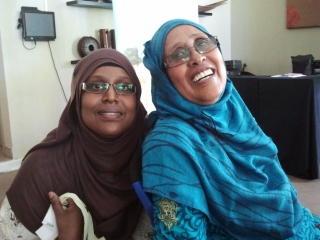 The Horn Relief aid organization has announced that they have changed their name to ADESO (African Development Solutions) after two decades of operations in East Africa. The announcement was made at a 20th anniversary celebration held in Nairobi on Thursday, attended by more than 180 representatives from governments, diplomatic missions, United Nations agencies, non-governmental organizations (NGOs) and private sector participants.
"Over 20 years ago, we began our work in one town, in Badhan, Somalia. Now we are working with communities in three African countries: Somalia, Kenya and South Sudan. We are a very different organization today than we were in 1991," said Degan Ali, ADESO's Executive Director. "We touch countless lives in Kenya and Somalia: women, youth and pastoralists, as well as returning refugees in South Sudan. Having worked with this new brand for over a year now, we feel it best captures where we came from, our growth, and where we are today," she added.
"Today, we are bringing yet another change to the organization by adopting a new name, ADESO, and a new image. As always, however, we remain committed to improving livelihoods and enabling communities to stand on their own feet," read a statement from ADESO.
Fatima Jibrell, the founder of Horn Relief, was among the guest speakers at the event.
"I was devastated by what was happening to the country of my birth, Somalia: what was happening to its people, its women and youth, and its environment," said Mrs. Jibrell.
"The need to create change drove much of the work I have done, and led me to found this organization," she added.
The founder of Horn Relief and current senior advisor to the organization, Fatima Jibrell was living in the US before 1991, but was devastated by what was happening to Somalia and decided to return to her country of birth. She founded a small grassroots organization dedicated to helping the Somalia pastoralist groups, particularly women and youth.
"When the Somali civil war started, I was living in USA with a comfortable life, but I couldn't enjoy life in the USA while the Somali people starved and suffered back home. People were dying in Baidoa and Mogadishu, as well as in other regions in Somalia, so we decided to migrate to our country so that I could help my people. My children and I settled down in Somalia and started working, at first in only two towns, and from this came this great work we are doing now," Fatima Jibrell told Somalia Report.
"We urge all Somalia people to preserve the environment. The tree is alive, a living creature like humans that needs care and preservation. People should not use living trees for charcoal, if there is a need for charcoal, then you should not uproot the tree entirely, but cut only pieces from it, so that it can continue to grow and exist," she advised.
According to the founder, there have been many barriers faced by the organization since it started its work in Somalia. Al-Shabaab militants have closed down all their offices in the areas under their control. Three years ago, the agency faced its greatest difficult after their chief officer in Kismayo was killed and all the equipment in the office was looted. In 2009 in the Sool region of northern Somalia, a security staff member of the organization was killed.
ADESO now works in three African countries, including South Sudan, Somalia and Kenya. The organization is headquartered in Nairobi, Kenya, but recognized as a charity in the USA, UK and Kenya. They have nine field offices: four in Kenya, three in Somalia and two in South Sudan, which employ approximately 40 staff in Nairobi and nearly 200 staff in the field.
Now an international non-governmental organization, ADESO is committed to an Africa that is not dependent on aid but on the resourcefulness and capabilities of her people. In 2003, ADESO — then known as Horn Relief — launched the largest charity service seen to date in Somalia. Since then, the organization has emerged as a leader in a new field, providing guidance and trainings to other organizations, and having implemented more than 20 charity services across three countries.