Medical Supplies Required at Garbaharey
Beseiged City May Crumble Under al-Shabaab Pressure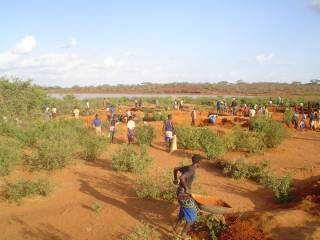 Health workers in Gedo's capital city of Garbaharey expressed their concern regarding the shortage of medicine in the city. The manager of the Garbaharey General Hospital Dr Ahmed Ali, told Somalia Report that 60 patients are admitted in the wards, some of whom have sustained bullet wounds from recent battles and 20 of them are suffering from malaria and other communicable diseases. However, the hospital has not yet provided full treatment to them since there is a shortage of drugs supplies within the town.
Garbaharey is currently under control of the Transitional Federal Government (TFG) who ousted al-Shabaab fighters from the area last year. Al-Shabaab militants have positioned themselves on the outskirts of the city and set up blockades on routes leading into the city. Garbaharey remains inaccessible and is bound to give in to the siege by militias.
Dr Ahmed appealed to all aid agencies and Non Governmental Organisations (NGOs) for help in the form of essential drugs and medical supplies to cater for the health needs of residents in the city. Dr Ahmed urged all medical agencies and the Transitional Federal Government (TFG) to act upon the situation immediately. He warned that that if the aid agencies do not provide relief aid in the form of essential drugs, the situation will worsen.
The TFG Governor of Gedo, Hussien Mohamud Farey, who spoke to Somalia Report, explained that the TFG is struggling to clean off al-Shabaab remnants in Gedo and pave way for aid agencies and TFG's Ministry of Health to access the area.
"Our administration cannot fully cater for the needs of the region. There is no assistance from the TFG in Mogadishu. We have been awaiting the salaries of the TFG troops in Gedo for several months now," he said.
Al-Shabaab fighters have blockaded all roads to the area making it impossible to supply medicine, food and other humanitarian aid to Garbaharey.
Abdulahi Mohamed Ali, a patient in Garbaharey Hospital who spoke to Somalia Report, stated that they have not received any treatment during the two months he has been in the Hospital. He also mentioned that aid agencies have not arrived in Garbaharey since al-Shabaab barred the roads to the city three months ago.
Another Garbaharey resident informed Somalia Report they have not gotten sufficient food supplies and clean water for months since TFG troops and Kenyan Defence Forces (KDF) drove out al-Shabab fighters from the area.
Garbaharey has only one General Hospital which consists of ten rooms and the operating theatre. World Health Organization (WHO) used to supply drugs to the hospital but they left after al-Shabaab banned them from the region.