UN Humanitarian Delegation Arrives in Baidoa
Officials Assess the Levels of Humanitarian Need in IDP Camps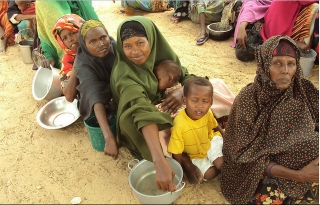 A United Nations (UN) delegation led by the United Nations Resident Humanitarian Coordinator and United Nations Development Programme Resident Representative for Somalia (UNDP-RRS) Mark Bowden, visited Baidoa this Saturday.
UN officials were warmly received by government officials, local community elders, Non Governmental Organization (NGOs) and the leaders of Internally Displaced Persons (IDP) camps in Baidoa.
The main aim of their visit was to assess the humanitarian situation in the city and ways they might help the IDPs in Bay region.
According to some of the local administration officials in Baidoa, the UN delegates met government officials including the Chairman of Bay region for the TFG, Abdifitah Mohamed Ibrahim (Geesey). He also visited IDP camps where hundreds of people reside due to violence and drought in their villages in the countryside.
TFG officials stated that the high level UN delegation had arrived as part of an assessment activity for the camps.
The chairman of Bay region for TFG said that they have discussed how to implement humanitarian projects in the war torn city and have reviewed available options in assisting the needy in IDP camps.
"For the past three years UN did not deliver any humanitarian assistance to the locals, so we have held a discussion on emergency aid projects for the IDPs in the city," he said. He added that the UN officials pledged to re-open their local offices in the city to provide their continued assistance to the internally displaced people in the entire region.
The city of Baidoa in south-western Somalia is seemingly safe after Ethiopian and TFG troops captured it on the February 22 this year.
Mark Bowden who was leading the UN Delegation's visit to Somalia said their trip to Baidoa was meant to ascertain the level of the humanitarian crisis in the city.
He confirmed that UN agencies will return and re-open their offices in Bay region to deliver humanitarian assistance to the locals.
Mr. Bowden outlined that Baidoa has its multiple share of humanitarian crises and it needs the implementation of projects to ensure the availability of basic needs for IDPs.
This is the first official UN visit to Baidoa since January 2009 when al-Shabaab fighters seized the south-western town which was the seat of the TFG from 2006 to 2009.