Feature
Plight of Somali Refugees in Tanzania
Refugees Fleeing Somalia Detained in Tanzania Face Difficult Circumstances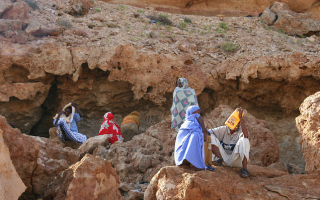 Many Somali men and women who are eager to migrate to countries in southern Africa travel through Tanzania. Some of them fall into the hands of Tanzanian authorities and find themselves behind bars. Were it not for the corrupt nature of the police in this country, very few refugees would be able to continue. To learn more about this unfortunate situation,
Somalia Report
interviewed Mohamed Abdi, who was recently released from Tanzanian custody.
Thanks for your time, Mohamed. What took you to Tanzania in the first place?
I thank Somalia Report for their concern. In June of last year, I discovered that there were smugglers taking people to South Africa for $1000 US, personal expenses not included. My father struggled and acquired this amount. We departed with a group of other Somalis, both men and women. The route was to take us through Tanzania, I didn't have any intention of going to Tanzania otherwise. We were arrested here for illegally trespassing the border.
How were you arrested?
We were passing through a checkpoint in a town known as Mpanda. The police asked for our identification. Most of us were not even able to communicate in Kiswahili, and we didn't have enough money to give to them because we paid a lot of bribes at previous check points. They arrested us and took us to their prison. We did our best to convince them to free us, because we meant no harm to them, but they did not listen.
How is life in those prisons, and what was the worst condition you encountered?
It was the most difficult moment of my life, waking up every morning on the cold cemented floor and finding yourself in such a place is an experience that no-one would wish to find himself in. The facility was not conducive and we really suffered a lot as we waited to be taken to court. Language was a major problem as you cannot even ask for anything. They just reply 'nini', meaning what.
Were you all taken to court at the same time?
No, they took us in groups, almost twenty people were taken to court at a time. Also they were considering those with the same case. As some wait for trial, others other were being taken to court to answer their cases.
Were you allowed to defend yourself?
In court, you are only allowed to confirm your presence, they don't give you chance to speak. There was no lawyer for us, or any other form of assistance whatsoever. They call your name, after which you are required to raise your hand. You could not even hear what they are saying, because the translator was not fluent in Somali. It was difficult to bear with them, because you are required to be attentive throughout the session.
On which conditions were you released?
After the court order, we were then taken back to the prison, Later on, we got information through the guards that we were required to reach our relatives to pay $250 US so that we could be released and deported back to Somalia. We contacted our relatives to send us the money so that we can go home, through the Somalia ambassador to Tanzania. The ambassador demanded a lot of money, imagine the heartless man collected $700 US from just me and another refugee. I even have the receipt from Tawakkal money transfer (hawala). This so-called ambassador is very corrupt. Instead of assisting us to be freed, he is there to oppress his own country men and women - what a shame!
Are there any other Somali officials in Tanzania?
I don't think so, apart from that self-serving ambassador. And even if there are, they they didn't show up to assist us.
Do you know his name or ever heard it before?
I have never had him before, but my colleagues say that he is called Diriye somebody. I am not certain about this.
What is your message to the Transitional Federal Government (TFG) of Somalia concerning this ambassador?
I know that His Excellency, President Sheikh Sharif, is good to his people. Those he gave posts, to represent the government, are letting him down, and these are who should be blamed. I think the president should take immediate action against these people.
How many other Somalis are still detained in Tanzania?
I don't have the exact figure, but Somalis travel daily across Tanzania and they are caught and held in police custody. Hundreds of them are currently being held there, amongst them are vulnerable women, who are not strong enough to face the tough challenges.
Do Tanzanian authorities have a policy for the refugees?
I don't know, maybe they have. But they don't treat us like refugees, they treat us the same as the Ethiopians who were in the country illegally.
Are you allowed to get identity cards or the UNHCR registration?
This was not possible. How can you think of identity cards when you can't even express yourself? And you are in custody most of the time. I did not see any UNHCR representative in the area I was held.