Analysis
Suspended Aid Work in Dadaab
Refugee Health of Children Mothers and Elderly At Risk; Schools Also Closed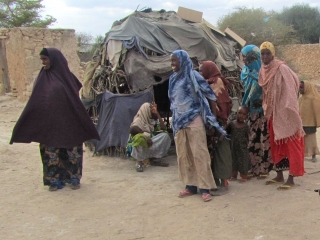 Since NGOs suspended their work in the Dadaab refugee camp in northeast Kenya due to insecurity, there have been notable humanitarian concerns for refugees in the camp, including poor health conditions and the loss of other social amenities including education. However, the health sector is the most affected area, resulting in the death of many people including young children, expectant mothers and elderly who have not received proper medical treatment.
Somalia Report
's Abdihakim Warsame investigated.
Recent reports from local hospitals indicate a high number of deaths.
"The security problems in Dadaab refugee camp has undermined the work of the hospitals and caused death of many people, especially young children below ten years and pregnant mothers who need special care. International health aid workers have abandoned the refugee camps due to insecurity and threats from al-Shabaab insurgents, therefore many hospitals have no doctors or medicines at all," said Abdu-Nuur Mohamed, a health worker in Dadaab camp.
The mothers of children who have died due to lack of proper medical attention have called for an international aid workers to resume their work and save the refugees who used to get medical support and treatment from them.
"As refugees, we suffer from ill-health and are requesting the NGOs concerned with health matters to continue serving us. This rainy season there might be an out-break of malaria and other communicable diseases and that may increase the number of both young and old people who will fall sick to serious diseases which need to be immediately treated or fatal," said Mumino Kafi, a Dhagahley resident who spoke to Somalia Report.
UN officials in Dadaab assured refugees the services will resume as soon as security matters have been addressed. "We have talked to aid workers about returning to take up their work effectively. Although there have been a tough negotiations, we finally managed to settle the issue over the security matters and they are coming back soon," said Sophia Abdirahman, a UN official in Dadaab refugee camp.
On October 13, two Medicins Sans Frontiers (MSF) aid workers were abducted by gunmen who crossed from Somalia and seized them while they were working in Dadaab refugee camp. Since al-Shabaab started hunting foreign aid workers in the refugee camps, many aid workers have relocated to Nairobi, those who remain have faced serious threats and intimidation from al-Shabaab extremists.
UN agencies have encouraged the government of Kenya to beef up security in the refugee camps and maintain law and order, to protect foreign aid workers from kidnapping and other security threats.
The schooling available in the refugee camps has also declined due to the withdrawal of aid workers, because many schools relied on foreign NGOs for educational material.
High schools have been most affected, some schools have no started this year, due to lack of teachers.
"The schools were run by Kenyan teachers from other parts of the country, and for security reasons they left and never come back. The schools are still closed because teachers never turned up for the work. When I contacted them, they told me that they are not coming to work due to the lack of security in the area. So I have no choice but to tell the students to go home until further notice," said Yussuf Abdirisack, principal of Halane high school.