Feature
Life On the Move
Mogadishu's IDPS Tire of Temporary Sanctuaries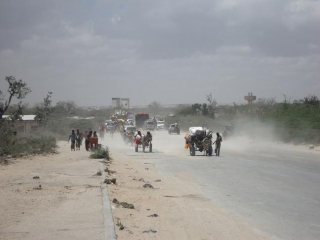 A substantial number of Internally Displaced Persons (IDPs) reside on the outskirts of the capital of Mogadishu, after they were rendered homeless by years of violence in the country.
Somalia has experienced decades of civil strife since 1991. Fleeing populations are a common sight and characteristic of this fragmented state. Families that have been subjected to constant upheaval are weary of relocating to old sanctuaries and seeking new ones.
Lately, hundreds of these families are again moving from the outskirts and into Mogadishu every day
Past residents of Mogadishu frantically search for safety and a semblance of peace. They are running out of places to hide from the constant battles. The rootless existence exposes them to unfamiliar challenges that are taking a toll on them
The movement was recently sparked by Transitional Federal Government troops (TFG) and African Union (AMISOM) soldiers attacks on al-Shabaab positions near the Shabelle University compound which is close to a highly populated IDP camp. Ensuing air strikes targeting senior al-Shabaab members have not improved matters for IDPs.
Once again, Fadima Nuur and her family are fleeing from conflict. This time, they have returned to Tarbuunka area in central Mogadishu. She had previously fled to Elasha Biyaha during the Ethiopian invasion. Faduma is a mother of four and cares for her elderly mother.
She says the situation in the outskirts is worsening since al-Shabaab were sent out of Mogadishu last year.
"I came to Mogadishu a week or so ago, to help save my children and my parents as well, because there was widespread fear among people who were displaced from Mogadishu a few years ago like us. It is difficult and troublesome for us to continue moving. We fled three years ago when it was impossible to stay here as a result of the continued fighting between the Islamists and the government troops," said Fadima.
When asked why she fled from her makeshift home in Elasha Biyaha on the outskirts of a residential area, Fadima reiterated that the risks are too high there.
Fadima once lived in her home in Karan District and hopes she will be able to return soon. Life on the move has turned out to be a costly affair for her family. Aside from the high cost of transportation, fleeing populations are forced to pay off al-Shabaab militia at various checkpoints on the way to Mogadishu. The transportation provider equally shares the unanticipated cost amongst all in his vehicle for permission to seek sanctuary in the city.
Abdirahman Muse is a father of four and has been on the move since 2006. His family fled from Karan to Madiina then returned to Mogadishu before fleeing again to Siinka on the outskirts of the city. They recently left Siinka and have returned to Mogadishu again. He is spent by the constant upheaval.
"My family is tired of fleeing from conflict. We are still homeless. We have just fled from Siinka and have been here for only one week. I left my job and my children are without education. I worked at a cafe there but it is closed now. My children were attending free classes there which were provided by a local Non-Governmental Organization (NGO). We had a house in Karan district but it cannot be rebuilt now. Our village remains deserted and neighbors have not yet returned. We cannot return home alone," he laments.
The southern village known as KPP close to the former Tarbuunka square is now overwhelmed with IDPs who arrive daily to resettle in the neighborhood. Fear of possible air raids fuels the exodus. The local population informed Somalia Report that they believe al-Shabaab is not looking to avert another serious offensive which could be conducted by the government and AMISOM forces.
As previously displaced people move to new locations for safety, most of the IDPs who spoke to Somalia Report say that they are not able to afford the transport costs to return to Mogadishu where it is currently safer to reside in.
Somali senior activist for refugees Abdullah Mohamed Shirwaa, told Somalia Report that they are trying to get help for the IDPs. He insists that the rates of displacement are much higher and called for wider support to IDPs still en route to Mogadishu.
"We want to try to help those who recently fled from the outskirts, and we also plan to arrange for resettlement for a similar number of people who are likely to do the same because people in the south have also started to flee," he said.
Twelve year old Liban Abdirahman is worried about his future since his education is always interrupted by the necessary relocation.
"I fear for my education after missing so many lessons. We have been fleeing the fighting in Mogadishu. I have enrolled in many schools since our family has resided in different places but I am unable to continue or complete my studies due to the constant battles," he said.
Earlier this month African Union soldiers warned that they will attack Mogadishu's outskirts, which are largely populated by IDPs who have been trying to rebuild their lives and homes since the Ethiopian invasion of 2006. After reclaiming Mogadishu, Afgoye is set in the sights of AMISOM and TFG forces that have set up positions on the road to Afgoye. This has resulted in another desperate exodus of IDPs returning to previously fled Mogadishu.
Many, like Faduma and Abdirahman have very little control over their lives and the future of their children. In this state of constant motion, they cannot get employment, feed families or shelter and educate children for a chance at a stable future.
Desperate youth provide cheap fodder for TFG, local militias and Shabaab front lines. All adversaries shamelessly tout their green-eyed recruits who may easily buckle under the weight of a rifle. IDP families remain trapped in a vicious and endless cycle that sinks more Somalis into destitution. Currently, the TFG have joined the list of IDP hazards after initiating numerous security operations on camps in an attempt to flush out al-Shabaab sympathizers and accomplices.