London Conference: A Positive First Step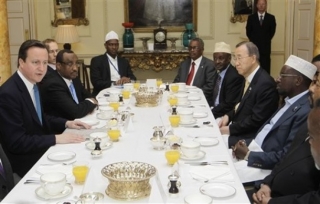 The conference has come to an end, and the 55 delegates are either heading on home, or soldiering on to the next international conference on a country in crisis (the next one is taking place tomorrow in Tunis; where Syria will be the focus). As the attention fades and refocuses somewhere else, the question to ask is what good has come out of the conference?
The agenda was incredibly broad in scope; security and justice, piracy, terrorism, stability and recovery, humanitarian aid and international organization were all items on the discussion board, which was rather ambitious for a six-hour conference.
There is room to be positive, however. The fact that the conference actually took place, that high-level delegates including Ban Ki-moon and Hillary Clinton were enthusiastic and willing to join the debate makes clear that political capital is, and will continue to be invested in the country. The follow up conference is to be held in Turkey in June, and will provide an opportunity to take stock, and guide Somalia's leaders in the implementation of any changes.
While it is easy for politicians to agree that Somalia needs security, stability, elections, aid, and the multitude of other objectives that contribute to good governance, concrete plans tend to be less forthcoming.
Today, however, with so many international observers looking on, many of the nations involved put something real on the table. Hillary Clinton confirmed that the US was going to contribute $64 million in humanitarian aid, on top of the $234 million already donated over the past year. France confirmed that it would continue to train Somali security forces, and Britain is ready to provide £51 million to support Somali refugees who have fled to Kenya and Ethiopia.
It was not just a question of pulling out the cheque books, and capacity building was a widespread understanding of the requirement to build 'legitimate and peaceful authorities' in order to establish 'durable solutions'. The plans for capacity building, however, are somewhat weak. The establishment of a Joint Financial Management Board to 'increase transparency and accountability in the collection and efficient use of public revenue, as well as international aid' is good in theory, but effective implementation will pose a tough task. The absence of any detail as to how this Board will actually operate, and how the various nations involved will divvy up responsibility was a common theme at the conference.
The London conference brought a variety of international actors together to develop a common understanding and framework of Somalia's next steps, in the run up to the end of the transitional period. What is required now is a detailed plan of implementation, which will hopefully top the agenda in Istanbul in June.