Feature
IDPs in Galkayo Suffer as NGOs Suspend Work
Aid Agencies Say the Move is Only Temporary Due to Rising Insecurity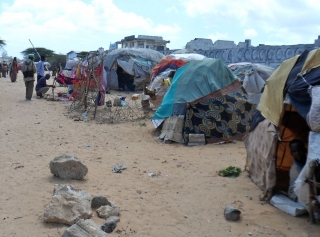 Internally displaced persons (IDPs) living in Buulo Kantarol camp in southern Galkayo of Somalia's Galmudug region are suffering from severe food shortages and lack of shelter now that aid workers have suspended operations due to rising security concerns, according to IDPs who spoke to Somalia Report.
Mohamed Askar, a father of five kids living in a makeshift house in the camp, explained how dire the situation has become.
"I have five kids and they need me to take care of them, but how? I can't get work that will generate enough money to take care of them. I have donkey cart and I get little money from it. We used to get some food from aid workers, but for a while we have not received food from them. They left us with no food, no water and if it becomes rainy, we don't have anywhere to go to stay dry,'' complained Mr. Askar.
To survive, Mohamed's elder son, Ali, now 14, and his mother, Khadijah, 36, work with a restaurant in South Galkayo.
"I go with mother every morning to clean in the restaurant. We get a little money and sometimes food,'' he told Somalia Report.
Khadijah is more concerned about what future holds for her little son and her other kids.
"He is 14 he doesn't have the chance to go to school. I am worried about his future. He and my other kids have the right like any other kid to get an education," she said.
Aid agencies say the move is only temporary until security is restored to the city, and are still based in the area, but not currently operational.
"No agencies have pulled out of Galkayo. We have stopped our work temporarily because of on going insecurity concerns,'' said Andreas Needhaam, the spokesman for the United Nations High Commissioner for Refugees(UNHCR) Media person for Somalia.
Mohamed Askar wondered what the aid workers were doing in the city if they weren't helping anyone.
''They said we did not withdraw. Ok, then what are you doing in Galkayo, because I sure haven't seen you. How can you claim to be an aid worker but at the same time let people die of hunger? Are you based in Galkayo just to sleep comfortably? You better go where you came from instead lying to the world by saying you are aid workers,'' he said.
At least 9,863 IDPs families (59,178 people) live in 21 IDP settlements throughout Galkayo, according to the UNHCR.
This comes as insecurity is rising in Galkayo, including a recent attack by a suicide bomber who blew himself up in the house of a former warlord and TFG police commissioner in the city. Aid workers American Jessica Buchanan and Dane Poul Thisted were kidnapped in Galkayo in October of last year, and freed by US Navy SEALs, while American Michael Moore was kidnapped from the city in January of this year and is still being held.
Galkayo is divided in half with Galmudug controlling the southern section and Mudug controlling the northern section.