Rent Skyrockets in Mogadishu
Influx of IDPs Drives Up Cost of Living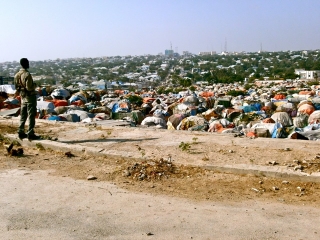 The massive population exodus from the outskirts of Mogadishu continues, after African Union (AMISOM) peacekeepers, backed by Transitional Federal Government (TFG), forces began pushing north towards the militant stronghold of Elasha Biyaha a few days ago.
The internally displaced persons (IDPs) find themselves facing hardship once they reach the city, as the cost of rent has skyrocketed, with some spending the night in the open, while others sleep in mosques or wherever else they can find refuge.
The rent of an average five-room house was $100 per month a short time ago, but now stands at $150 dollars—something many families cannot afford.
"We slept on the street corners last night because we simply cannot pay such a huge amount of rent," Farhan Isse, a father of six, told Somalia Report.
Mohamed Salad, who owns a five-story building in Bakara market, told Somalia Report that the cost of a single room had jumped from $50 to $70 within the last few days.
Transportion costs have also gone up sharply after the price of petrol rose in Elasha Biyaha, although the cost of basic food staples remain unchanged.
"20 liters of gas cost $24 before the displacement, but it is now $35," Bashir Farey, a taxi driver, told Somalia Report. "We used to charge $30 from Elasha to Mogadishu but we now charge between $60 to $70."
Most fleeing families use minibuses to make the journey, but these costs have also been dramatically hiked.
"We used to charge about $16 for moving a family from Elasha to Mogadishu, but it is now $80," Mohamed Ganey, a minibus owner, told Somalia Report.
The exodus has placed an extra burden on families already in difficult financial straights.
"Two extra families of our immediate relatives have joined us, and our house is getting more overcrowded," said Hawa Adan, who owns a house in Mogadishu.
Those fleeing from al-Shabaab controlled areas have been lambasted by Shabaab head of preaching Sheikh Fu'ad Mohamed Khalaf, who has labeled them "non-Muslims."
"It is clear that the majority of Somalis are on the side of the non-believers," he said. "Two-thirds of Elasha residents have fled to the land of the non-believers."
The fleeing people are joining hundreds of families who have already been made homeless by government evictions from previous state-owned buildings.