Breaking News
3 Children Killed Playing with Landmine
Tragedy Strikes IDP Camp in Galgudud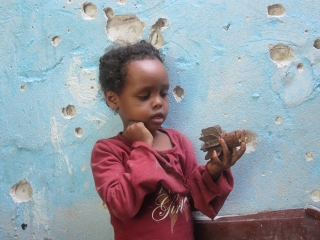 At least three young children, who were living in a camp for internally displaced people (IDP) in Bali-Jiir village of Galgadud region, lost their lives this evening after a landmine they were playing with exploded, according to eyewitnesses who spoke to
Somalia Report.
"The children were playing with an explosive device which attracted them like a toy, but they were killed immediately. I heard the blast and saw the smoke, frightening me," said Abdullahi Hussein, an IDP in the camp.
Two other young children survived the blast and are suffering from shock, added Mr. Hussein blaming the rising mounds of trash for the accident.
"There is rubbish everywhere in the camp, some of which includes military debris, and there is nobody coming to clean it," complained the IDP.
This is not the first time children have been killed by such devices which are strew throughout the war-torn country. In September of last year, four children died playing with an explosive device in a Mogadishu market. Two other children died when they played with a bomb in Bakool region in July of last year.