Analysis
Attacks in Garissa Leave Locals Terrified
Police Seem Unable to Stop Wave of Violence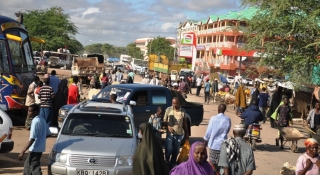 A series of attacks attributed to al-Shabaab militants have terrified residents of Garissa, which is the biggest town in north-east Kenya and inhabited by diverse communities of ethnic groups with different religions and languages. Garissa is also home to the largest group of Somali refugees between Nairobi and Mogadishu, and has suffered from a security crisis since the Kenyan Defence Forces (KDF) entered Somalia in October. Several attacks in Garissa over the past three months have claimed more than 20 lives, with dozens more seriously injured. Somalia Report On
November 25, three people were killed and dozens of others were injured by grenades thrown into a hotel and a crowded street
. Bombings and similar attacks have followed. The attacks have been claimed by Shabaab militants, who have threatened Kenya's security since Nairobi sent troops and tanks into Somalia in mid-October to fight the Islamist insurgents who are blamed for a series of attacks on Kenyan soil.
On January 2, another attack left attackers dead and 20 others injured when gunmen attacked a club holding new year's celebrations. Residents said that four attackers in military uniforms hurled grenades into the club before indiscriminately spraying bullets at hundreds fleeing from the blast. A guard at the nightclub, who was shot in the incident, described the scene, "I heard people crying loudly, as bullets were shot at those fleeing from the bar."
Incidents like these have scared Garissa residents, as despite the continuous attacks police have not visibly stepped up their protective role or acted to defend civilians. "The police seem to forget their role in restoring law and order, because the attacks continue to target the citizens," a local related to one of the victims told Somalia Report. Many Somali refugees blend with the local population whom they resemble to deter suspicion.
On Febuary 5, gunmen shot two refugees dead in front of a hotel. Al-Shabaab was again suspected of those killings. These angered the residents as they called for immediate investigations. Although several suspects were arrested, locals still feel the police have not responded to these attacks appropriately. Police claim that it is difficult to distinguish the criminals from locals. "We are trying to curb the crimes, and we urge the residents to report any strange people they suspect might be planning something bad," said Eric Kiraithe, a police spokesman.
Religious leaders have condemned the attacks and described them as works of evil. Sheik Omar Ali, a scholar in Garissa, told Somalia Report, "Residents should be vigilant and cooperate with the relevant authorities to waylay the criminals." Community elders also repudiated those responsible for the series of attacks and called for investigation to unearth those who have planned these attacks. "We can't sit and see our people being targeted by unknown attackers, this should never happen again," said an elder, Abdi Mayow.
Despite the public outcry, the attacks have continued. On Saturday night, gunmen fired at a man but missed. "I was going to the mosque when two people told me to stop, but I ignored them. One of them fired at me, but luckily the bullet missed me. I ran into a nearby house," said Bashir Abdi.
Although the series of attacks are blamed on al-Shabaab, residents have no evidence and the police seem unable to arrest those who are behind the attacks, a situation which leaves residents afraid.