American Rapper 50 Cent Visits Somalia
50 Cent in Gedo with World Food Programme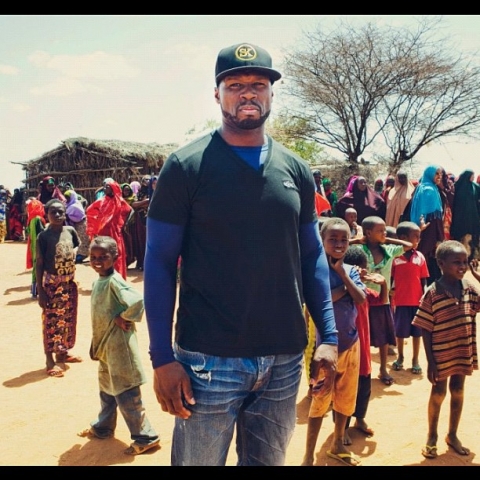 Popular American rapper Curtis James Jackson III (known as "50 Cent") visited Somalia for the first time on Wednesday during a World Food Program (WFP) sponsored humanitarian trip to Gedo region.
50 Cent arrived in Dolow, in southwestern Somalia, and visited camps for internally displaced people (IDP) and schools, speaking to people displaced by war and drought.
Regional officers, local residents and students welcomed the singer and explained their needs to the famous rapper, including educational equipment.
50 Cent expressed his camaraderie with the displaced Somalis and vowed to assist them.
"I am feeling what they are feeling. They need more support to have a better future and I will try to do something for them," he said.
The American also met with IDP mothers and children.
"It is my first visit here and I am very sorry to see victims like this, particularly women and children suffering various problems," said the rapper.
During the height of the drought and famine that plagued Somalia last October, 50 Cent "promised to provide a meal to a child in need every time his new Street King energy shots receive a 'like' on Facebook through Sunday. He's teaming up with the United Nations World Food Programme, and if he gets a million likes by Sunday, he'll donate an additional one million meals," according to the WPF website.
50 Cent's visit may be one of the most tweeted events in Somalia with comments evenly split between chiding him for promoting his energy drink and those praising him for taking the time to visit Somalia and Kenya