Analysis
ICG Meeting on Somalia Concludes
Meeting Calls For Support of the Roadmap, Return of Ousted Speaker, and Unity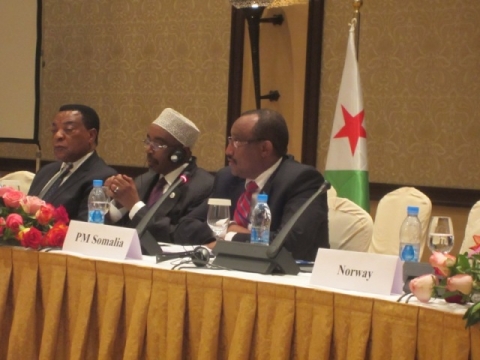 A meeting of the International Contact Group (ICG) on Somalia concluded in Djibouti on Monday, and many issues were discussed, including implementation of the United Nations (UN) Road Map and how to overcome the transitional period of Somalia with the building of a full government.
The ICG meeting in Djibouti over the weekend also covered the security of the country, strategies for pursuing operations against al-Shabaab militias, how to sustain civilians freed from the hands of al-Shabaab and the UK-backed conference on Somalia which will take place in London on February 23rd.
Some of the agreed points were the interim situation should be finalized by October 21, and at the same time implementation of the completed constitution, and a thorough reshuffling of the parliament, considering their education qualification, past criminal record and that all representatives should be well-respected by the Somali people.
The participants of the meeting agreed to reject opposition to the government and also to minimize and restrict the political movements which against the Road Map.
The prime minister of Somalia, Abdiweli Mahamed Ali, ended the meeting with a speech where he requested participants to be united in the London meeting, especially reinforcing the Somali national forces and to reconstruct the security agencies in the country. He also called for implementation of the UN Road Map and the Garowe agreement known as the Garowe principles.
Somali political experts consider the meeting a blow to the Somali parliament members who voted out Sharif Hassan Sheikh Aden and elected Madowe Nunow Mohamed to be the new speaker. "The international community is opposed by more than 300 MPs and has supported Sharif Hassan who has no good reputation in the Somali society. Whatever happens, Somalia will be led by whomever is accepted by the international community," Dr Abdirisak Jim'aale, a former Somali MP, told Somalia Report. "The agreed point on this meeting plus those of latest by IGAD, both support Sharif Hassan so it's a big setback for those MPs who elected Madoobe Nuunow, since they don't have any support from the donor countries," he added.
Source close to the office of the Somali prime minister told Somalia Report that there was a secret meeting where it was agreed upon to sanction all the MPs who opposed Sharif Hassan, in order to finalize the Road Map and implement Kampala Accord. "If it was not for the Kampala Accord, right now the TFG would have collapsed and the victories against al-Shabaab would not have been achieved. So in order to save the future of Somali people from destruction, the world agreed to stop those MPs who are creating chaos and want to destroy the achievement reached," the source said, on condition of anonymity.
However, the international community headed by the UN are preparing to convince the Somali people the replacement of Sharif Hassan was illegal, although it appears they will have to use force to remove Madoobe Nunoow, when most of the Somali people consider him the legitimate speaker for the Somali parliament.
It also seems the international community is willing to help Somalia, after more than 20 years of civil war which forced millions of Somalis to become refugees. The Somali people have high hopes of a lasting solution to a century of massacre and bloodshed. Recently, several countries have opened embassies in the Somali capital of Mogadishu, and the UN has, after 17 years, moved their regional offices from Nairobi to Mogadishu.
FULL TEXT OF SPEECH
5 Feb 5, 2012

Statement by the President of Puntland State of Somalia

H.E. Abdirahman Mohamed Mohamud (Farole)

21st Meeting of the International Contact Group on Somalia

Djibouti City, Djibouti

5-6 February 2012

"Mr. Chairman, Excellences, Honorable Delegates, Ladies and Gentlemen:

I am pleased to address this 21st Meeting of the International Contact Group (ICG) on Somalia. Our people and country has been in turmoil two decades and it is encouraging to see growing international attention towards Somalia. I am very hopeful that this renewed attention and engagement will bear positive results in advancing peace, security, stability, development, and democracy for the people of Somalia, the region and the wider international community.

Today, I would like to briefly touch on three key issues: 1) security and stabilization efforts; 2) political developments; and 3) humanitarian issues.

Security and stabilization

Security remains precarious in Somalia as a whole, and more particularly in Mogadishu and the south-central regions. We welcome the international community's efforts to increase the AMISOM peacekeeping force deployment in Somalia. We remind the international community that Al Shabaab terrorists continue to hold control over strategic areas in Somalia – particularly the port towns of Kismayo and Merka, in Lower Jubba and Lower Shabelle regions, respectively. These ports, and nearby airports at Baidoa and Balidogle towns, serve as Al Shabaab's cash flow and must be liberated in a coordinated effort between AMISOM, neighboring countries and Somali forces intent on stabilizing home regions.

We commend AMISOM troop-contributing countries' commitment to serve in Somalia peacekeeping operation. However, we are concerned about the progress made since Al Shabaab's declared retreat from Mogadishu 6 August 2011. We believe there should be more rapid movement towards regional towns under the control of Al Shabaab, with particular emphasis on towns with airport and port facilities, in order to cut-off the terrorists' supply of funds, arms and fighters.

Furthermore, while we welcome the Kenyan army's intervention in Lower Jubba and Gedo regions in partnership with local forces, we encourage more rapid progress towards liberating the key port town of Kismayo and we warn against availing time for terrorists to regroup and have a morale boost to launch attacks across Somalia, the region and around the world. Furthermore, we caution the Kenyan army to avoid collateral damage during military operations.

In Puntland State, we continue to improve internal security and we continue to train our security forces, including the Puntland Maritime Police Force, which targets piracy and illegal fishing activities in Somali waters. Puntland security forces have successfully disrupted terrorist cells and our courts have convicted and sentenced terrorists. I send my special thanks and praise to Puntland government forces, who serve to defend and safeguard our freedom and our way of life.

To maintain our hard-won peace and stability, it remains vitally important to provide Puntland Government with security-strengthening support, as Puntland's strategic location has geopolitical significance that is of great importance to international security arrangements. Puntland State urgently needs security sector support as part of the international community's Somali stabilization efforts, particularly counterterrorism training, investigations, and capacity-building for our courts and prisons.

Puntland State has embarked to develop its natural resources, including exploration for oil and minerals. As security and development reinforce each other (no security, no development), we need international support to strengthen our security institutions and to advance socio-economic development projects.

We welcome investors to develop economic sectors in Puntland State, such as the development of hydrocarbons, construction and socio-economic infrastructure, livestock, fisheries, agriculture, transport and communications, banking and finance, among other economic sectors. It is noteworthy to mention that Puntland needs to develop its human resources sector, with the particular focus on economic development experts, which is crucial to alleviate poverty, address unemployment and contribute to improving security.

Political developments

Puntland Government remains fully committed to supporting the UN-backed Roadmap peace process. In September 2011, I traveled to Mogadishu leading a large Puntland Government delegation to sign the Roadmap agreement, alongside other Somali stakeholders. This marked a historic moment in Somalia, which showed the Somali people's commitment to peace, security and the restoration of national governance in Somalia.

We are concerned to hear about the political infighting among members of the Transitional Federal Parliament (TFP), which coincides at a time when the world's attention is fixed on Somalia. It is unfortunate to learn that Members of Parliament are trying to disrupt the internationally supported Somali stabilization process to end the transition by 20 August 2012, reform the Parliament, and eliminate the terrorist threat in Somalia.

Since the collapse of the Somali central government in 1991, the international community has tolerated the perpetrators of conflict in Somalia, unlike other parts of Africa where perpetrators have been made to face justice. It was encouraging to see U.N. Secretary-General Ban Ki-moon's recent statement on Voice of America (VOA) that the "era of impunity has come to an end" and we urge the international community to act strongly and decisively against perpetrators of conflict in Somalia who have engaged in organized crimes against civilians and who continue to work today against the interests of peace and security with impunity.

The international community should ensure the end of the Somali transitional period by 20 August 2012, under the guidance of the Roadmap and the Garowe Principles. The Roadmap has already produced tangible results, as witnessed during the historic Somali National Constitutional Conference held in Garowe (21-24 December 2011).

Humanitarian issues

As we all know, the humanitarian situation in Somalia is devastating to say the least. We would like to recognize and thank the international community's commendable efforts to assist the drought and famine victims, both within the country and at refugee camps across the border. The immediate international response to alleviate the plight of Somali victims is an admirable and unforgettable humanitarian gesture. However, we would like to bring to the attention of this conference that it is not a panacea at all times to provide humanitarian and emergency relief aid every time a disaster occurs. A long-term solution needs to be instituted to address the preventable underlying causes of drought and famine, in order to avoid future tragedies.

Some of the discrepancies that need to be reversed include the negative effect of dumping food aid at local markets, which not only entrenches dependency, but also creates opportunities for food aid to end up illegally in the hands of profiteers. Because of this, we are deeply concerned about the management of humanitarian food aid in Mogadishu. Some of the food aid distributed in Mogadishu is brought to Puntland for sale at half-price, thereby impacting local traders with the effect of bankruptcy and job- loss for food traders, and eventually leads to revenue loss for the existing administrations like Puntland.

Furthermore, some humanitarian organizations buy food from importers before the food arrives at Somali ports and passes through customs, which allows traders to avoid taxation. This is a worrying trend that should be addressed immediately and comprehensively.

Therefore, we propose as a remedy that food aid supply should be bought from local traders and passed through customs, in order to protect employment and revenue generation. This is a cost-effective strategy that avoids excessive costs in transportation and distribution of food aid in major towns and rural areas.

Somalia is a country whose economy is based on livestock, therefore it is vital to address the scarcity of water in the first instance by undertaking a large-scale sustainable program of drilling boreholes, preventing land degradation and over- grazing, and introducing range management pilot projects. These programs create food security and need sustainable assistance, which is far more cost-effective than rushing relief aid whenever a humanitarian crisis occurs. We believe that more aid should be diverted to create job opportunities for vulnerable youth and to fund labor-intensive projects, such as construction of feeder roads, rehabilitation of existing highways, and support for vocational schools. It is also pertinent to emphasize that these steps will help to boost the security sector across Somalia.

I am hopeful that the international community's renewed interest and engagement in Somalia strengthens and reinforces ongoing progress towards sustainable peace, security, stability, and development and democracy.

Thank you and God bless."