UPDATE
UN Declares End of Famine in Somalia
Conditions Still Dire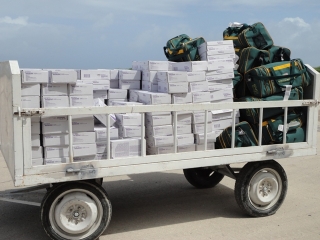 The United Nations (UN) has declared the end of famine in Somalia, six months after it announced a deadly drought in the Horn of Africa.
According to the Food Security and Nutrition Analysis Unit (FSNAU), the situation in Somalia is beginning to normalize in most parts of the country following the long-awaited rains leading to substantial harvests and humanitarian assistance. However, the crisis is not over yet. A few areas lack access to food assistance.
The number of people in need of emergency humanitarian assistance in Somalia has dropped from 4 million to 2.3 million, 31 percent of the population.
In July, last year, the UN declared the worst drought catastrophe across the Horn of Africa region, which claimed many lives in Somalia and displaced millions of Somalis fleeing conflict and famine. A majority of them crossed borders into Kenya and Ethiopia.
Hussein Adow, an internally-displaced person told Somalia Report that survivors weere experiencing difficulties gaining access to food supplies.
"I think nothing has really changed the situation of famine here, I'm still where I was since I fled in search of assistance. My family has not received sufficient help and there are many others like me who are here today," he said.
Aid agencies say barriers in food distribution meant for famine-stricken populations in south are making the situation worse.
Recently, the International Committee of the Red Cross (ICRC) was accused of supplying contaminated relief food in the al-Shabaab-controlled southern regions. The al-Shabaab consequently banned the ICRC operations.
In a subsequent press release that was issued on Tuesday, ICRC denied the allegations and declared their continued commitment to helping Somalis overcome recurrent humanitarian crises, improve their livelihoods and enhance their access to health care, as it has done for the past 30 years.
ICRC was the only aid agency that until Thursday, had al-Shabaab's permission to distribute relief food in their tightly-controlled areas.
The United Nations also recently made an emergency appeal for millions of dollars to help cope with the situation of Somali's famine and the extreme influx of Somali refugees in Dadaab, one of the largest refugee camps in the world. There is a rising concern in the increasing population of Somali refugees living in sprawling makeshifts around the refugee camp.
Khadija Abdi Olow, resides in Dadaab refugee camp in north eastern Kenya. She told Somalia Report that situation has changed drastically within the past three months.
"We have lived in Dadaab since September last year, I really hope that things will improve for our families there. In Dadaab, my children are now able to get education, we are registered as refugees and received monthly rations. I feel that the drought is still remaining in some parts of the Somalia, we hope to be able to soon," she said.