Analysis
Enter England
Why is the UK Returning to Somalia?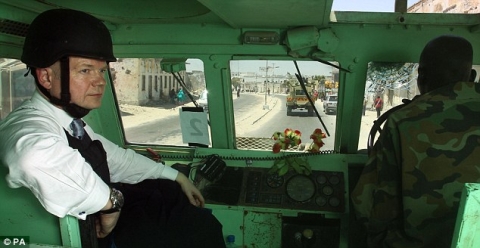 On February 23, 2012 senior representatives from over 40 governments and multi-lateral organizations will come together in London with the aim of delivering a new international approach to Somalia
.
The one day meeting hosted by Prime Minister David Cameron is expected to reboot the status quo between the United Kingdom and the region formerly known as Somalia. Twenty years of diffidence and neglect have destroyed the singular concept of Somalia and the emergence of al Shabaab as an international threat harks back to the neglect and consequences of ignoring Afghanistan between the UK covert program inside Afghanistan in the 80s and their failed military involvement over the last decade. The UK is dealing with this new Somali factionalism with welcome honesty.
The official reason for the conference, as stated on Ambassador Matt Baugh's blog, is "In short, Somalia matters. The stability, security and prosperity of Somalia is in all of our interests. Twenty years of conflict have left a terrible legacy. We have therefore made a renewed and strong commitment to supporting the development of a stable and secure country for the people of Somalia."
Despite the simple answer, there is no actual proof that stability or lack of stability of Somalia has affected the UK over the last twenty years. So the obvious question would be "why now?" and "why the UK?". Neighbors like Ethiopia, Kenya and even the UAE have a logical reason to be involved in Somalia. America and France take a stand off approach to the turbulent country and look at the area as more of an open range for terrorist hunting than a prospect for salvation. Economic motivation may be called into question. The UK frequently proclaims that pirates are a plague on their maritime business but it is primarily UK firms that generate significant profits from providing the intelligence, training, insurance, security and other services related to anti-piracy. Ignoring Somalia has actually generated a new growth sector for the UK.
Over the last few weeks, quiet and not-so-quiet UK-funded delegations have visited Hargeisa, Garowe, Bosaso and Mogadishu to assess security, review local programs and meet behind closed doors to form an agenda for the more public meeting in London. The conference was initially pitched as an "anti-piracy" conference but was rejigged to have a broader agenda.
Confident that the players on the ground will be receptive (and present) at the one-day event, the Foreign Secretary and UK Development made their public press tour. The one-day meeting will be more likely to be a series of announcements based on high level in camera meetings held with the leaders of Somaliland, Puntland and the TFG. The scope and amount of funding will remain a mystery until the actual conference.
Out and About
With all the groundwork carefully laid, a photo op to announce the conference was required. First UK Development Minister Andrew Mitchell and posse were dispatched to Garowe and boldly proclaim in colonial explorer style that he was the "first British Minister to visit Puntland ever." His role as head of the Department For International Development (DFID) is to encourage business development even going so far as proclaiming ""What... promotes growth and lifts people out of poverty? The answer is wealth creation and economic growth - it's cherishing your entrepreneurs." It is doubtful that there is a shortage of entrepreneurs or even investment capital in Puntland. Puntland is already booming and It would be difficult to see how this cash flow driven enthusiasm could deal with the regions recent famine.
Not to be outdone (or upstaged), the crisply dressed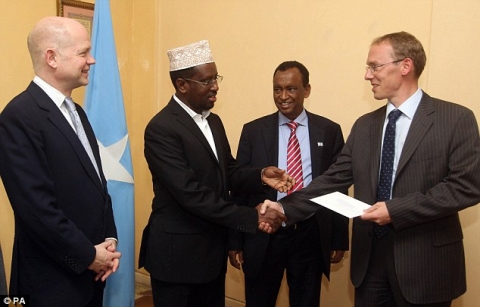 British Secretary of State William Hague donned a vest and teetered a helmet on his head while being photographed lumbering around Mog in a Casspir. Grand speeches captured by the Beeb crew in tow (with a carefully prepared map labeled "Who Runs Somalia") were made and the announcement of the first ambassador to Somalia was only offset by the fact that he will actually be based in Nairobi. At least "until security conditions allow an embassy to be built in Mogadishu". Until then there will likely be
more British citizens fighting inside Somalia for al Qaeda and al Shabaab than representing the UK government inside Somalia
.
A Less Than Pleasant Past
Despite the new glad-handing and photos it is true that the UK has not historically maintained a enthusiastic tone with Somalia or even a meaningful presence over the last few years.
The most recent Human Rights Report describes the TFG; "it lacks the power and capacity to deal effectively with many of the systematic human rights abuses that occur. The unstable security situation in 2010 prevented us from directly monitoring and verifying human rights abuses or from being able to apply pressure or push for changes and improvements." The UK call on what was going to transpire in 2011? "The human rights situation in Somalia is unlikely to improve significantly in 2011."
Despite that lack of historic visibility and clearly stated frustration with Somalia, the failed state is a "priority country" for the UK National Security Council. Somalia is also one of 26 countries that the UK has human rights concerns with. According to UK figures there are officially 100,000 Somali immigrants living in the UK, but President Sheikh Sharif Sheikh Ahmed told Hague that there are actually 350,000 Somalis living in the UK... and some are training as terrorists inside Somalia. Perhaps the UK should also engage Somali's in the UK more.
History Repeats Itself
Despite the two decade gap, Britain has had a long history in the region with Somaliland being a British Protectorate between 1888 until independence in 1960. Like much of the Middle East and South Asia the old colonial border claimed by Somaliland is still a major cause of violence with Puntland who claims more realistic clan boundaries. Perhaps if one wants to understand why UK sees themselves appropriate for their new role, one only needs to go back a century or so when Somalia was a major supplier of meat to the British garrison in Aden. There is some historical irony in the fact that Aden was a base set up to battle pirates.
As a major maritime nation that supplies most of the maritime security it is also in the UK's interest to promote this legacy and resultant pirate fighting cash flow. Expect to see an ambitious UK-centric training, equipment and operational program for land-based and maritime security. The May 2011 Department For International Development (DFID) plan lays out more concrete goals in four key areas: governance and peace-building, wealth and job creation, health care and humanitarian assistance. The UK agency shows a minimal increase of funds from £42M last year £46M next year and a jump to £80M a year in 2013 through 2015. A relatively respectable percentage for ten million Somalis when set against the £9B available via the Gross Public Expenditure on Development (GPEX).
The sudden UK interest in Somalia could be somewhat arbitrary. Faced with the end of combat operations in the UK and the looming shut down in Afghanistan, the UK is lock stepping with the US in the new proxy formula for foreign policy in Africa. Libya is an ideal example. The UK and the US via NATO robustly engaged Qaddafi (because the US was footing most of the bills) but refuses to engage Syria. It's not difficult when Libya's new government promises to "favor our friends" in developing the oil industry. The restarting of oil exploration in Puntland, the strategic naval position of Mogadishu and wide open opportunity for for development in Somalia is ideal for the UK to exploit.
Although the UK Embassy (and every other diplomat) was eager to bail out of Mogadishu when the Somalia government failed, it is not so eager to jump back in now that bullets and RPGs no longer splatter Villa Somalia. The appointment of a "Non-Resident Ambassador" in Matt Baugh brings a solid background in Iraq, Afghanistan, Sudan and Kosovo to Somalia problem solving. He will not be too daunted by the task ahead of him but the same complexity that the UK conference acknowledges may generate infighting and squabbling once their new Somali partners extend their palms.
One Day, Six Topics, Forty Countries, Many Agendas
Although the conference boasts of 40 countries. Everyone and their dog are descending on London to get in front of the funding firehose. To keep factionalism and squabbling to a minimum the conference is kept to a few hours and is in reality a backdrop for a series of expected announcements based on predetermined agreements. Although the conference is being held on February 20, 2012 the primary, secondary and tertiary sidebar meetings occurred before actual day-long event and will continue up to the day before. Most major players will be arriving in London on two days before and most concepts will be formed between the 8th and the 15th.
Although the focus is on "Somalia" the UK fully acknowledges the fractured and mercurial political situation. Invited are "Somalia's Transitional Federal Institutions", as well as the Presidents of Somaliland, Puntland, Galmudug, and representatives of Ahlu Sunnah wal Jamaah (ASWJ). In addition to the UN, EU, World Bank, IGAD, OIC and League of Arab States will have representatives present. All participants will hopefully be following the roadmap and all are guaranteed to be grabbing at the wheel.
Let's look at the agenda and speculate on some of the outcomes.
Security: The UK intends to gather or provide "sustainable" funding for AMISOM. This would cover the Kenyan's magically transformation from penny pinching invader to well paid "peace keeper". The invitation of Ethiopian backed ASWJ also means that they will probably not go home empty handed either. There will be most likely be funding for UK private contractors to provide training programs in the police, coastguard, intelligence and military sectors. Some dollars for the judicial and prison system (along with training). It is in vogue to build prisons in Somalia to house yet-to-be- captured and convicted pirates. Some deference to coastal areas will made but there has been no UK contact with the pirate areas of Galmadug and Puntland.

Politics: The UK is on board with helping the Americans giving the heave-ho to the 550 plus squabbling TFG members who occasionally grace Mogadishu with their presence. The Garowe Conference or Principles provided clear indication that the unwieldy transitional structure and that pugilistic politics would not longer be tolerated. What is revealing is that the UK will run the purse strings via their suggested "Joint Financial Management Board". Hopefully there will be no more candy for naughty boys.

Stability: The UK will promise to throw a few quid against other nations who will dole out donors dollars with parsimonious glee that would embarrass Scrooge. Most assessed and approved programs in Somalia are woefully underfunded and most are just good intentions. In keeping with the "multi track" approach a few dollars will hit the poor regions instead of being concentrated in Mogadishu.

Counter Terrorism: There will be plenty of podium beating on anti-terrorism but the UK will always take the back seat to the U.S. and the French, who are busy putting JSOC boots on the ground in the north, running drones from Ethiopia and funding militias to thump Al Shabaab. It is very interesting that ASWJ is a full fledged member of the Somalia representatives. The UK has shown remarkable lack of enthusiasm in rescuing his citizens (like Judith Tebbutt and the Chandlers before them).

Piracy: The conference promises to help in "breaking the piracy business model". This careful wording means more banking controls, criminal investigations and pecuniary pogroms. This is the high point of hypocrisy since it is the UK's curious blessing of funding piracy with ransoms that actually fuels piracy. The Serious Organised Crime Agency (SOCA) and the UK Borders Agency (UKBA) report to Secretary Hague and UK laws still allow payment of ransoms even if Somali laws do not. There is far too much enthusiasm in protecting the "ransom for ships" business model. Britain's laws on the payment of ransoms should be high on the list of topics. It would be refreshing to hear a simple statement that no UK business or UK related insurers would be allowed to pay pirates. Period. Keep in mind that all major ransom payments are specifically reviewed and approved by the UK government's anti-crime division before being delivered to Somali criminals.

Humanitarian: The UK's "renewed commitment to tackling Somalia's humanitarian crisis" is simply more of the same feel good verbage. "International coordination and agreement on improved international handling of Somalia issues." means exactly what? UK citizens delivered significant funds in response to the famine but the UN emergency appeal for Kenya was only 65% funded and the appeal for Somalia just 59% funded. It is doubtful that the UK will make up this shortfall when the need is virtually bottomless. Many grand statements made at the podium rarely translate into the full impact promised on the ground. The UK DFID program is an ideal mechanism to fund local programs and an increase in funding would be expected.
The British focus in Somalia should be contrasted to the apparent lack of interest in Somalia by the United States. The U.S. has an erroneous legacy of failure in
Operation Restore Hope
and is best known for the sideshow that become known as Black Hawk Down making any public expression of engagement by the U.S. toxic to politicians. DC beltway pundits still press for "disengagement" in the region while JSOC quietly puts boots on the ground, ships in the sea, drones in the air and missiles into al Shabaab leaders. Understandably the enthusiasm for American land-based initiatives being welcomed while anonymous aerial assassinations are going on is slim. So the UK and Hague has been thrust into the spotlight while their US counterpart promotes the UK agenda behind the scenes. In line with the sophisticated public outreach and stage managed event, British Secretary of State William Hague will answer readers' questions
via Twitter on February 6th 2012
Ambassador Matt Baugh's staff maintains a healthy interactive blog that provides background and responds to selected comments. He states, "I know how important the Internet is for communication about Somali issues, both in Somalia and between the diverse Somali diaspora communities around the world. So by going online I hope to be able to join and contribute to that debate."
The danger that this well-orchestrated conference creates is that Somalis in Nairobi coffee houses and simple khat chewing tents see this as an unwelcome connection between the political elite and an old colonial nemesis, similar to what happened when the British and Italians once negotiated deals with tiny sultanates to gain de facto control over the hinterlands. There is sure to be backlash and dissension once the Somali conference attendees leave their plush hotels and return to their dusty and battered homeland to sell the new programs.
Abdurahman Hosh Jibriil, a Canadian citizen of the Daarood Clan, Leelkase Subclan and TFG Minister for Constitution and Reconciliation commented on the conference during a press meeting in Nairobi. "We have heard that there are documents about Somalia which Britain and Italy have transferred to each other. The aim of the London meeting is to create a protectorate. Somali's will not allow this. It's the 21 century – no one would allow this."
A student at Bosaso's East Africa University has more deep rooted concerns. "We hear that the British want to colonize Somalia after 50 years. It's unbelievable, I am sure this will create more al-Shabaab and pirates in East Africa. Colonization divided our nation and denied our wish so we will not accept it again. We prefer to die. We hate al-Shabaab and pirates but if this happens a lot of students will join them to fight for our independence," Mohamed, a student in Bosaso East Africa university he told Somalia Report.
Recent overtures from Turkey and the UAE have generated little of the same controversy. Even Somalia's old colonial master Italy has barely created a ripple of dissension. It is understandable that Somali's are concerned about yet another distant conference in which foreigners will attempt to chart their destiny. To understand the roots of discontent one need only to go back to the 1884 Berlin Conference where the powers that be decided to " guide their commercial and civilising action in the little-known or inadequately organised regions of a continent".
For now the UK's well intentioned "return" to Somalia may only consist of handshakes and promises but it is part of the growing engagement of foreign actors to assist in Somalia's return from two dark decades.